Soft-baked, thick, and ultra chewy funfetti cookies with a delicious cheesecake pudding twist.
The other day I was cleaning out my pantry and I found a container or cute funfetti sprinkles. I was itching to bake with them because I haven't touched sprinkles much since at Christmas time. Everyone love sprinkles!
With all of this 8-12+ inches of snow talk, I needed something that sort of reminded me of spring – yep, colorful sprinkles do that for me.
Let's get back to cookie talk. I think they are currently my top favorite cookies right now because they sort of taste like a chocolate chip cookie without the chocolate chips, but you also have the cheesecake taste from the pudding and they are just cute. Definitely an interesting cookie – a GREAT interesting cookie.
If you didn't have any cute sprinkles in the back of your cabinet you can always omit them, I wouldn't. I am the type of person to go out just for sprinkles.
You can always substitute the cheesecake pudding with any other instant pudding you might have laying around. I think butterscotch would make another awesome cookie. You can get all kinds of creative with this recipe!
These cookies do require chilling time, about 2-3 hours at least. The longer the better and your cookies will be thicker as well.
Like my other cookie recipes, you will need to cream together the butter and sugars, then add in the rest of the wet ingredients. You will then need to add in the dry ingredients. Allow the cookie dough to chill in the refrigerator, and then you can bake them. 🙂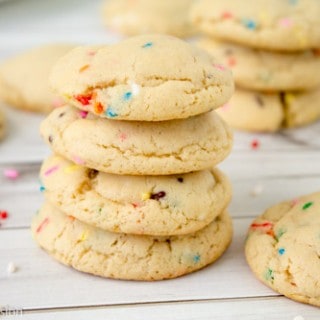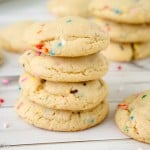 Funfetti Cheesecake Pudding Cookies
Ingredients
½

cup

1 stick unsalted butter, softened to room temperature

¼

cup

white granulated sugar

¾

cup

light brown sugar

1

large egg

1

and ½ cups all-purpose flour

1

package of instant cheesecake pudding mix

¼

teaspoon

salt

1

teaspoon

baking powder

½

cup

funfetti sprinkles
Instructions
In a large mixing bowl, cream together the butter, white granulated sugar, and light brown sugar on medium speed. Add in the egg.

Slowly add in the flour ½ cup at a time until everything is completely mixed together. Add in the instant cheesecake pudding mix, salt, and baking powder.

Using a plastic spatula, fold in the sprinkles.

Cover with plastic wrap and allow the cookie dough to chill in the refrigerator for at least 2-3 hours. Overnight is best.

Preheat oven to 350 degrees and line a cookie sheet with parchment paper or a silicone baking mat.

Spoon the cookie dough onto the cookie sheet and bake for 10 minutes. Allow the cookies to cool for 1-2 minutes, then transfer to a cooling rack.
Recipe Notes
Stores in an airtight container for one week.
You can substitute the instant pudding mix for any flavors that you might like. If you need a larger batch, you can always double or triple the recipe.