Homemade soft and chewy red velvet cookies. Showered in cute Valentine's Day festive sprinkles. 
Let's take a break from all of the New Year resolution recipes and the football recipes. I really wanted to get back to baking and why not start on cute Valentine's Day goodies. 🙂
I have very good this month with sticking to one of my resolutions, but I wanted to sneak in one delicious red velvet cookie - so I did! Gotta live life, right?
A couple weeks ago I was out looking for football decor for the big game at Party City and these cute little sprinkles showed up right in front of me and I had to get them. Aren't they just adorable? I love the hearts. 🙂
Yesterday we had a pretty big snow storm for the DC area. They were predicating 4-10 inches (that's a huge difference) and we got a little bit more than 3 inches, almost 4. Come on spring!! Well...come on Valentine's day, then my birthday (February 15), then SPRING.
These delicious red velvet cookies are super easy to make. You will have to chill the dough - I chilled it overnight, but 1-2 hours should be good. You can always tell if you should chill it longer depending on the stickiness of the dough. The less stickier it is, then bake away!
You will also have to remember to chill the dough until it is softened and have your egg at room temperature. No other biggies after that. I promise.
I also made these in a stand mixer, haven't tried with a handheld mixer. I will give it a try and let you guys know how it is. If someone else tries it before me, please share how it went. 🙂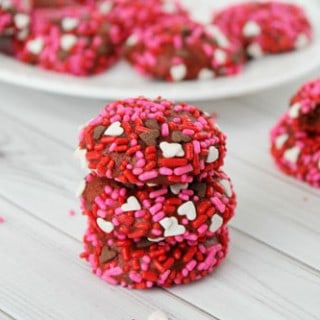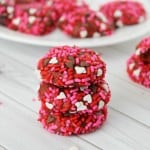 Red Velvet Cookies for Valentine's Day
Ingredients
1

stick

½ cup butter, softened to room temperature

¾

cup

light brown sugar

¼

cup

granulated sugar

1

large egg

room temperature

2

teaspoons

vanilla extract

¼

cup

cocoa powder

unsweetened

1

and ½ cups all-purpose flour

¼

teaspoon

salt

2

teaspoons

baking powder

1

tablespoon

red food coloring

½

cup

[festive Valentine's Day sprinkles|http://www.amazon.com/gp/product/B0000VMB38/ref=as_li_ss_tl?ie=UTF8&camp=1789&creative=390957&creativeASIN=B0000VMB38&linkCode=as2&tag=savcoudea-20]

to roll cookies in
Instructions
In a stand mixer, cream together the butter, light brown sugar, and granulated sugar.

While the mixer is set on low speed add in the egg and vanilla extract. Mix everything together. You might have to bring the speed up to medium to completely mix everything together.

Add in the cocoa powder and flour and mix on low. After everything is mix, add in the salt and baking powder.

Add in the red food coloring and mix together. You don't want to mix it too long.

Cover the mixing bowl with plastic wrap and let it chill in the refrigerator for 1-2 hours - overnight is best.

Preheat oven to 350 degrees and line a cookie sheet with parchment paper or a silicon baking mat.

Place the festive Valentine's Day sprinkles in a small bow.

Spoon the cookie dough and roll into a ball, then dip in the sprinkles.

Bake for 9-10 minutes.
Recipe Notes
Stores in an air-tight container for one week.
Ultimate Chocolate Peppermint Cookies