Homemade soft and chewy red velvet brownie bites that are sinfully fudgy.  Prefect red dessert for the big love day.
After I had finished working on taking photos of these sinful brownies, I looked outside and saw a cat in our garden in the backyard.
Now this might not seem alarming to anyone else, but it is to me. We did not move into the new house last year with a cat, but we rescued one in the middle of the summer of last year.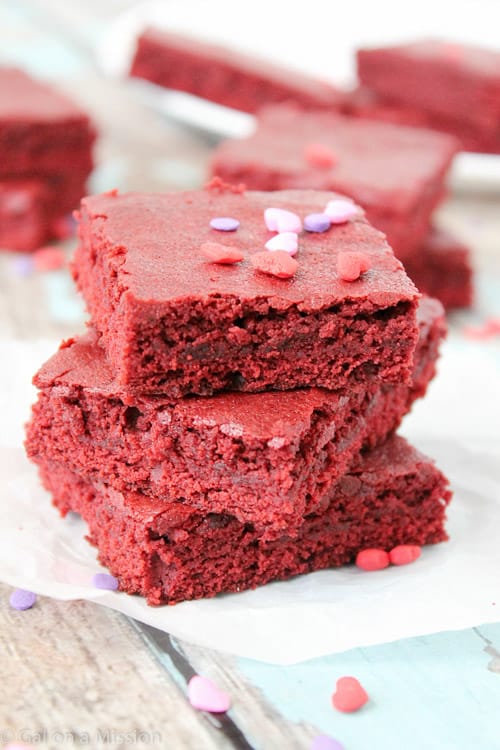 Before we took in Lucky, our cat, I have never seen a stray cat around here. Not even one. We had the occasionally ground hogs around that loved to tear apart the garden, but never a cat.
I have officially named our cat - The Ladies Man. We have seen so many cats around this winter. I am not sure how he attracts them, but he does a great job. I probably will not have to worry about ground hogs anymore in the garden; however, I will now have to worry about stray cats digging in the garden.
My life – at least we have a ladies' man in the house! 🙂
Now back to these cute red velvet brownies bites. I will say after I made these delicious peanut butter cookie red velvet brownies, I didn't think red velvet brownies could get any better. They have.
It is just a simple red velvet brownie – oh, so fudgy! We like to keep our brownies and cake separated here. No cake brownie here.
As all of my brownie recipes, you do not need a mixer. Everything can be mixed with a plastic spatula – my favorite. Yours too, right?
You will have to melt the butter in the microwave or on the stovetop for a couple of seconds. After that you just mix together the light brown sugar, white granulated sugar, egg, cocoa powder, flour, salt, baking powder, and red food coloring.
Simple, easy, and delicious. 🙂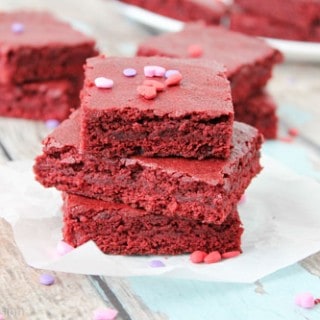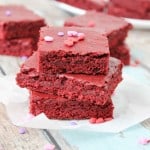 Red Velvet Brownies Bites
Servings
:
16
brownies bites or 9 large brownies
Ingredients
½

cup

1 stick unsalted butter, melted

1

large egg

¾

cup

light brown sugar

¼

cup

white granulated sugar

¼

cup

cocoa powder

unsweetened

¾

cup

all-purpose flour

¼

teaspoon

salt

½

teaspoon

baking powder

1

tablespoon

red food coloring
Instructions
Preheat oven to 350 degrees and line an 8x8 baking dish with aluminum foil. Lightly grease with shortening.

In a medium mixing bowl, combine the melted butter, egg, and sugars. Make sure the melted butter isn't hot because you do not want to scramble the eggs. Mix everything together with a plastic spatula.

Add in the cocoa powder, flour, salt, and baking powder, Make sure everything is mixed together.

Fold in the red food coloring.

Pour brownie mix into the baking dish and spread out with the plastic spatula. Make sure it is even. Bake for 25-26 minutes. You should know when it is done when you insert a toothpick into the center. The toothpick should come out clean.
Recipe Notes
Stores in an air tight container for one week.
Peanut Butter Cookie Red Velvet Brownies