Thick, fudgy, and chewy homemade brownie recipe! Say goodbye to boxed brownie mix! 
There are so many different ways you can make a brownie. For each person and their taste it can vary. If you are anything like me, then a brownie has to have a crinkle top, have a chewy and fudgy center.
To me, the definition of a brownie is chewy and fudgy. Nothing else.. well, besides a crinkle top. Everyone loves that, right?
Growing up, I always used a boxed brownie mix because it gave me the perfect brownie, so I thought. The results were my definition of a brownie.
Nothing else would achieve the same results. I tried so many different homemade brownie recipes and none of them were quite right.
Now a chewy brownie have a dense structure with a little bit of crumbs. Fudgy brownies are dense, moist, and have an ultimate - chocolate interior - kind of like a truffle of a decadent piece of fudge. Have those two together sounds amazing, right?
It is!
Like I state above, there are so many different ways of making brownies. You can use all cocoa powder, which you will need more fat to achieve the fudgy center.
I tried that and it wasn't quite what I was looking for. I decided to give it a try with melted butter and a little bit of cocoa powder and it was perfect. It was the perfect brownie. The best ever!
I used 2 Baker's Semi-Sweet Baking Chocolate Bar - 8 ounces. You are more than welcome to use milk chocolate or even a darker chocolate if that is what you like. I thought the milk chocolate would be too sweet for me.
If you like a darker chocolate taste, you can most likely use one dark chocolate and one milk chocolate bar to achieve the perfect brownie for you.
I like to coarsely chop the bar and melt it with the butter. You can either do that on the stovetop or in the microwave. Either way, just remember that you will need to stir it quite a bit because you do not want it to clump.
After you have melted the chocolate with the butter, you will need to allow it to cool for at least 10 minutes. You do not want it to cook your eggs. That wouldn't be good at all!
After it cools, just add the rest of the ingredients in and bake for 35 minutes. Another thing that is very important is allowing your brownies to completely cool before lifting out of the pan.
If you prefer a warm brownie, just nuke it in the microwave for a few seconds and then enjoy it by itself or with a scoop of ice cream - mmmm! My favorite.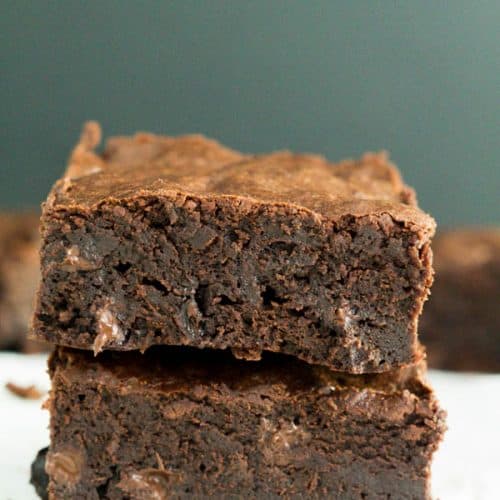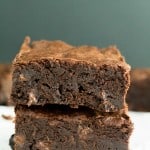 Chewy and Fudgy Brownies
Ingredients
½

cup

1 stick unsalted butter

8

ounces

semi-sweet chocolate bar

coarsely chopped

¾

cup

granulated sugar

¼

cup

light brown sugar

3

large eggs

½

cup

all-purpose flour

2

tablespoons

cocoa powder

¼

teaspoon

salt

1

teaspoon

vanilla extract

1

cup

chocolate chips
Instructions
Preheat oven to 350 degrees. Using a 8x8 baking dish, place foil over top and allow some foil to hang over the sides. Spray with cooking spray. Set aside.

Place the butter and coarsely chopped chocolate in a small pot on low heat. Keep stir until the butter and chocolate is melted.

Place the melted chocolate and butter and in a medium mixing bowl and allow it to cool for at least 10 minutes.

After the chocolate has cooled, ad in the granulated sugar and light brown sugar. Stir.

Add in the eggs one-at-a-time and mix together after you add each egg.

Slowly stir in the flour, cocoa powder, and salt. Fold in the chocolate chips.

Pour the brownie batter into the baking dish and bake for 35 minutes.

Allow the brownies to cool on a cooling rack. Once the brownies are cooled, using the extra foil on the sides and lift out. Slice and serve.
 I Just Got Dumped Brownie Bars