I am a member of the Collective Bias®  Social Fabric® Community.  This shop has been compensated as part of a social shopper amplification for Collective Bias and its advertiser.
A Spicy BBQ Bacon Wrapped Hot Dog recipe that is absolutely delicious and perfect for this time of year. It's about time to start thinking about delicious grilling recipes! #StartYourGrill
There is something about this time of year that I start craving hot dogs. Hot dogs of all kinds, especially flavored ones that are just out-of-this-world.
When I walked into the store the other day to do our shopping, I knew I had a taste for a hot dog and not any kind of hot dog. The funny thing is that the hubby wanted one too because he recently saw a commercial come on for a new brand called Park's Finest™ Frankfurters from Ball Park®.
We saw this at our local Safeway and he was excited because they look amazing. I had no idea that they came in so many different flavors. Here are all of their flavors:
Signature Seasoned
Cracked Dijon Mustard
Slow Smoked Hickory
Smokehouse Barbeque Seasoned
It was really hard to just pick out a few to try! They all sound great. Don't they? Which one would be your favorite?
The best part is, if you purchase them from your local Safeway or affiliates, there is a coupon for $0.55 off any One (1) starting on 5/26/14 and running through 6/1/14. Stock-up and have them for the entire grilling season. You will love them that much, trust me.
I finally settled on making a great recipe using the slow smoked hickory flavor - sounds amazing. Doesn't it?
Even though it had fantastic flavor just by itself with condiments, I knew I wanted to do something special with it and reallywanted to dress it up.
This recipe is super-easy - we love it! With it being grilling season, you can cook the bacon wrapped on the hot dog on the grill. You will just have to continue to turn it over kind of often - don't want to burn the hot dogs.
You can also do it in the oven at 400 degrees for 12-15 minutes.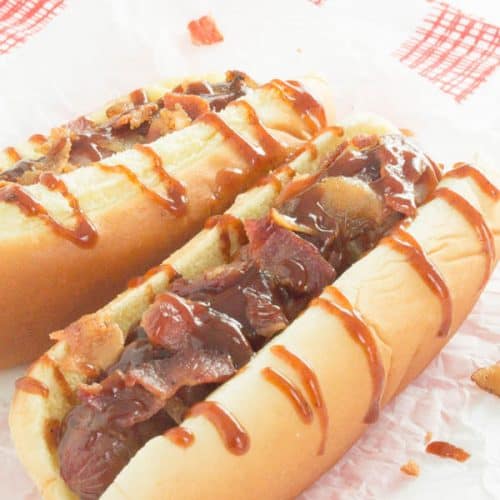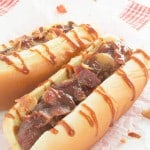 Spicy BBQ Bacon Wrapped Hot Dogs
Ingredients
1

cup

of BBQ sauce

¼

teaspoon

crushed red pepper flakes*

1

package of Slow Smoked Hickory by Park's Finest ™ Frankfurters from Ball Park®

8

slices

of bacon

5

hot dog buns
Instructions
Combine your BBQ sauce and crushed red pepper flakes in a small bowl. You will want to do this before you cook your hot dogs. It allows the flavors to come together.

Grill Method - Prepare your grill as you normally would. Wrap one piece of bacon around each hot dog and place onto the grill. Turn over a couple of times because you do not want to burn the hot dogs.

Oven Method - Preheat oven to 400 degrees. Wrap one piece of bacon around each hot dog and place onto a baking sheet. Bake for 12-15 minutes or until the bacon is done.

While the hot dogs are cooking, cook the rest of the bacon (3 slices) in a pan. When the bacon is done and has fulled cooled, crush into smaller pieces.

When ready to serve, add your spicy BBQ sauce and top of the bacon pieces.
Recipe Notes
* You can use more or less crushed red pepper flakes depending on your taste. Taste while you are adding it in.
 Here are some neat fun facts: 
During the hot dog season, between Memorial Day and Labor Day, 7 billion hot dogs are consumed according to the National Hot Dog & Sausage Council. Now that is a lot of hot dogs - wow!! 

In order to not lose the juice while you are grilling your hot dogs, use thongs instead of a fork.
Hot dogs sticking to your grill? Just lightly spray your grill with cooking spray!
Park's Finest™  is a premium Frankfurter: made with 100% beef, no artificial preservatives, no artificial colors or fillers, and no nitrates. Woohoo!
Thanks #CollectiveBias!