An incredible easy and delicious baked chicken ziti recipe that can be made in 30 minutes! 
Seeing all of the healthier recipes this past week, really makes me crave pasta, especially this delicious baked chicken ziti. I always seem to make an exception to a diet with pasta and chocolate. We love having pasta in the pantry because it makes for an easy weeknight or a quick weekend meal, but it can be a diet breaker.
I really love having pasta around because it's very versatile, you can add so many different sauces - white or red and it always tastes phenomenal. Well, at least to me!
It isn't very often I have a taste for a spaghetti-like dish - we had it way too often growing up, but when I do, I really love it. The easier, the better - right? Did I mention how incredibly quick this meal comes together, under 30-minutes.
These are two different ways you can make this baked chicken ziti - one very quick way and a quick way. If you do not have many spices in your pantry, you can take a shortcut with spaghetti sauce, instead of making your own sauce. We always seem to have a variety of spices on hand, so I love being able to make the sauce myself. You are able to control the flavors, plus it's still really easy to make.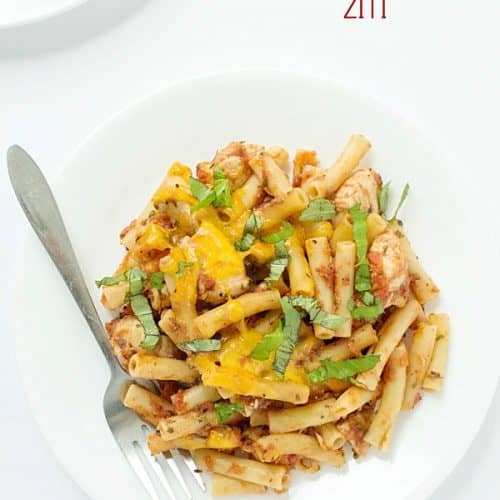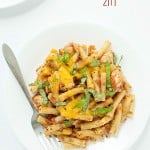 Baked Chicken Ziti
Ingredients
2

medium-sized chicken breasts

diced into bite-sized pieces

2

15 ounce cans of tomato sauce

1

tablespoon

dried oregano

1

tablespoon

dried basil

1

teaspoon

garlic powder

½

teaspoon

dried thyme

½

teaspoon

dried rosemary

1

teaspoon

onion powder

salt and pepper

to taste

16

ounce

box of ziti pasta

cooked and drained

1

cup

shredded cheese

I used cheddar
Instructions
Add the diced chicken into a skillet and cook over medium-heat until done. Set aside. While the chicken is cooking, prepare your sauce; add the tomato sauce, dried oregano, dried basil, garlic powder, dried thyme, dried rosemary, onion powder, salt and pepper in a medium-sized pot. Cover and simmer over medium-heat for 20 minutes. Preheat oven to 350 degrees.

Using the same pot you boiled your pasta in, add the tomato sauce and chicken; mix thoroughly. Pour the mixture into a 9x13 baking dish, add the shredded cheese on top. Bake for 10 minutes or until the cheese has melted.
Recipe Notes
You may omit the tomato sauce and spices for a 25.5 ounce jar of pre-made tomato sauce (marinara sauce).
Stores in the refrigerator for at least 1 week covered in an airtight container.
Other recipes you might enjoy: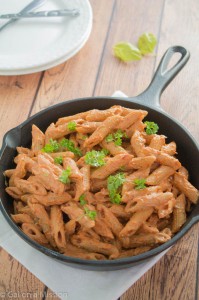 Chicken, Broccoli, & Pasta Skillet Casserole