A delicious spicy sesame beef stir fry recipe that can be made in 30 minutes! Loaded with tons of fresh bell peppers and onions. 
In our family we absolutely love stir fries. They are always so simple to make and only require a few ingredients. Stir fries are fabulous because you are able to use ingredients that may be bad soon.
There are so many different possibilities; however, we absolutely love this spicy sesame beef stir fry. Sometimes we love adding fresh or frozen broccoli and/or cauliflower.
We do not normally have a great beef stir-fry too often or if we do we make sure we find a great sale. When that happens, we try to stock-up because we love this dish so much. I am sure you will, too.
In this stir fry we added onions and peppers, you can always add in any vegetables that you may have on hand. Broccoli would be a delicious vegetable to add - sounds incredible!
For the beef, we used a top sirloin steak and cut it into thin strips against the grain, which was perfect. I think caramelized the onions and peppers in a little bit of oil.
When you are caramelizing the onions and peppers, you do not want to hurry this process. For them to caramelize perfectly it will take at least 40 minutes on a low-heat. When they are finished, they are so tender and the flavor is phenomenal.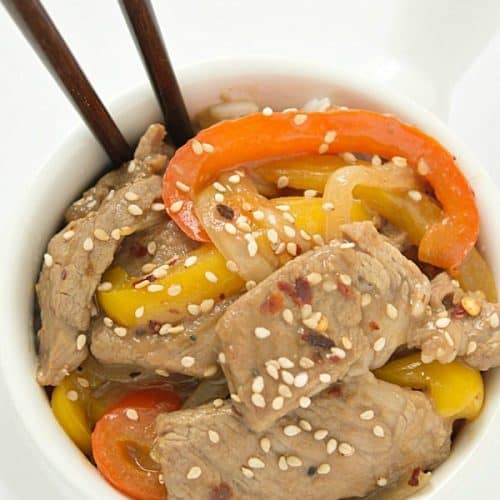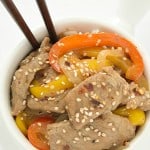 Spicy Sesame Beef Stir Fry
Ingredients
1

pound

top sirloin steak

diced against the grain into thin-strips

⅓

cup

soy sauce

½

cup

beef stock

2

tablespoons

red wine vinegar

2

teaspoons

ground ginger

3

garlic cloves

minced

2

teaspoons

cornstarch

1

teaspoon

crushed red pepper flakes*

2

teaspoons

oil

1

medium onion

sliced into thin-strips

½

red pepper

diced into thin-strips

½

yellow pepper

diced into thin-strips

pinch

of sesame seeds

to garnish
Instructions
Add the beef into a large ziplock bag. Set aside. In a medium bowl, whisk together the soy sauce, beef stock, red wine vinegar, ground ginger, minced garlic, cornstarch, and crushed red pepper flakes. Pour the mixture into the ziplock bag; seal and store in the refrigerator for at least 30 minutes.

While the beef is marinating in the refrigerator; add the oil, onion, and peppers into a large pan. Saute on low-heat until the onions and peppers have caramelized and are tender. Set aside.

In another large pan, remove the beef with a slotted spoon and cook under the beef is cooked. Add the beef to the pan with the onions and peppers, pour the marinate into the pan and simmer on low for 10 minutes.

Serve with rice and garnish with sesame seeds.
Recipe Notes
*You can add more red crushed pepper flakes if you would like it spicier.
Other recipes you might enjoy: