Easy homemade 5-minute microwave caramel sauce that tastes so much better than store-bought! I've never looked back. 
Ever since I learned how to make homemade caramel sauce as an alternative to buying the store-bought stuff, I've never looked back at the kind you buy at the store.
Making homemade caramel sauce tastes so much better and just calls for everyday simple ingredients that most people would have on hand.
You can use caramel sauce on everything: ice cream, apple slices, drizzle some on top of popcorn, mix in just a little bit with your coffee, etc. There are just so many different options!
Every time I make homemade caramel sauce, I always feel like I truly achieved something. It's something to do with the process of watching the sugar melt and magically transform into a deep amber, gooey, thick sweetness that we know as caramel sauce.
Of course it wouldn't be complete without the butter and cream!
I have always made homemade caramel sauce on the stove-top with a candy thermometer, making sure I do not burn it. Burned caramel sauce isn't very tasty, trust me.
Recently, I figured out how to make caramel sauce in the microwave and it only tastes 5 minutes. Yes.. just 5 minutes!! See my excitement!
No more to watching your caramel sauce on the stove-top and stirring constantly and watching the temperatures. Goodbye burnt caramel sauce and hello to 5-minute microwave caramel sauce.
It tastes just the same as when you do it on the stove-top, well if you do not burn it. Sometimes I think it might taste a little bit better because it's easier, LOL.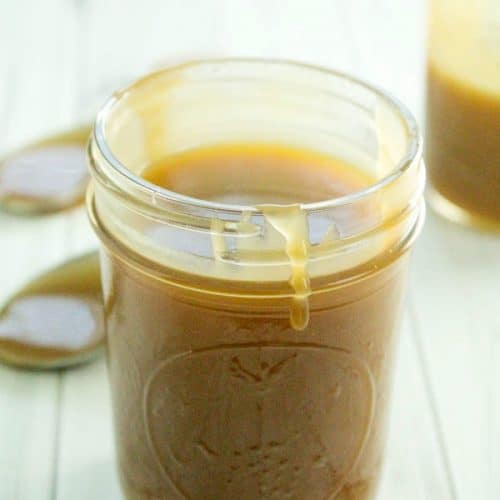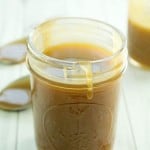 5-Minute Microwave Caramel Sauce
Ingredients
¼

cup

unsalted butter

melted

1

cup

light brown sugar

lightly packed

½

cup

heavy cream

½

teaspoon

vanilla extract

½

teaspoon

sea salt

optional
Instructions
Place the butter into a glass measuring cup that is safe for the microwave and microwave it until it is completely melted.

Once the butter is melted, whisk in the light brown sugar and heavy cream. Microwave for 2 minutes.

After 2 minutes, stir with a whisk and then microwave for an additional 2-3 minutes. Carefully remove the container and allow the caramel sauce to cool until you can handle it.

Pour the cooled caramel sauce into a jar and refrigerate.

If you need the caramel sauce to be saucy, microwave for 20-30 seconds and serve.
Recipe Notes
Stores in the refrigerator for 1 week covered.
 I Just Got Dumped Brownie Bars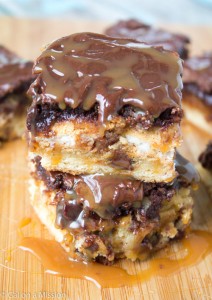 Deep-Dish Skillet Chocolate Chip Cookie