"This shop has been compensated by Collective Bias, Inc. and its advertiser. All opinions are mine alone."
Melt-in-your-mouth butterscotch scones. Oh, so tender and moist inside with a slight crunch on the edges, these buttery scones are sure to please everyone! #CollectiveBias #SilkAlmondBlends
Growing up, I always loved and still enjoy breakfast pastries including moist scones. Lately, I haven't been making them as much as I should because they always contain so much cream. Today, I wanted to show you that you can make those super-moist scones with almond milk. Did you know that there is a lot of protein in almond milk?
There sure is! Move on over heavy cream, almond milk is coming to the rescue!
I have always loved almond milk in my coffee in the morning or even with my iced coffee. With the summer heat, I love..wait, live on iced coffee. What are some types of things you add almond milk to? There are so many different possibilities!
A couple of days ago I had to run to one of your grocery stores, Safeway (one of our local grocery stores), the other day.  I noticed that I haven't had almond milk in awhile, so I picked up a couple of cartons. There were so many to choose from.
I immediately went for the Silk Almond Coconut Blend and Silk Almondmilk Protein + Fiber - yum!
We all could always use a little more protein and fiber in our diet.
When I  first got home from the grocery store, I didn't know exactly what I was going to do with our two cartoons of almond milk that I just picked up. I figured that I would just use it in our coffee, but then I realized I had a taste for a delicious, moist scone. I haven't had them in forever and I really wanted to make them. I knew the hubby would love them!
These scones aren't too hard to make at all. There is one thing that you have to make sure you use -  cold, cold butter. I like to put my butter in the freezer for about an hour or two and then shred it with my grater. It makes it very easy to cut into the dry ingredients.
I mixed all of my ingredients in a large mixing bowl and then mixed together the wet ingredients in another, smaller bowl. You can use a pastry cutter or your hands to mix the cold butter into the dry ingredients - I used my hands. You will then need to add in your wet ingredients and then your butterscotch chips.
You do not want to over mix your dough at anytime. Less hands on time with the dough the better because you do not want tough scones.
After everything is mix together, you will need to form a ball with your dough. Now your dough will be a little wet and that is okay. If it is too humid where you live, you will most likely need to add a little bit more flour.
Add the ball of dough onto a baking mat and form into an 8-inch disk and cut into equal wedges. Once your scones are done baking, you can enjoy them with a cup of coffee or just a glass of milk, like almond milk. Yum!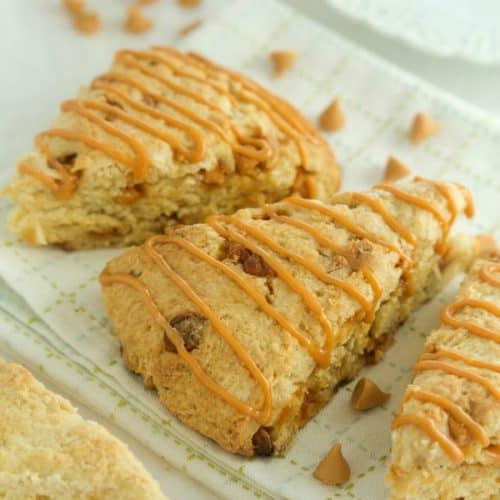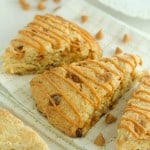 Butterscotch Scones
Ingredients
2

cups

all-purpose flour

½

cup

light brown sugar

2

and ½ teaspoons baking powder

½

teaspoon

salt

8

tablespoons

1 stick unsalted butter, frozen and shredded

¼

cup

Silk Almond Coconut Blend Milk

¼

cup

Silk Almondmilk Protein + Fiber

1

large egg

1

teaspoon

vanilla extract

1

and ¼ cup butterscotch chips
Instructions
Preheat oven to 400 degrees. Line a baking sheet with parchment paper or a silicon baking mat. Set aside.

In a large mixing bowl, mix together the flour, light brown sugar, and baking soda. Grate the frozen butter (I used a boxed grater, a food processor also works). Add the grated butter into the flour mixture and combine it with a pastry cutter or your hands. Set aside.

In a small bowl, whisk together both of the almond milks, the egg, and vanilla extract. Drizzle it over the flour mixture and then mix it all together with a plastic spatula until everything appears moistened. Slowly and gently fold in the butterscotch chips. Try not to work the dough too much. The dough will be a little wet. Try to form the dough into a ball using floured hands, transfer the dough onto the baking sheet and press into an 8-inch disk. Using a very sharp knife, cut into 8 equal wedges.

Bake for 20-25 minutes or until lightly golden. Remove form the oven and allow to cool for a couple of minutes.
Recipe Notes
Leftover scones keep well at room temperature for 2 days.
I adapted this recipe from Tyler Florence.