A cheesy lasagna recipe made into a skinny and low carb meal with zucchini slices. Definitely not lacking the traditional lasagna taste.  There are meaty and vegetarian options.
Today we are just taking a small break with sprinklelicious (not a word, but I think it's cute) Valentine's Day treats. Sorry! You will love this one, I pinky promise.
I remember when I was a child we used to pinky promise all of the time. I know you probably did as well. 🙂 It's cute.
Back to lasagna. We love, love lasagna here and I have been thinking of ways to make it grain-free and a little bit healthier than traditional lasagna. No healthy taste here.
It is just as cheesy, saucy and oh…the ricotta is just right. You will have to do a little bit more work (not too much). I love ricotta.
Instead of having to cook the noodles, you will just need to sprinkle a little bit of salt to dry out the zucchini slices some. Zucchini has so much water in it and you don't need it. Sprinkle salt and lay on paper towels. Easy, right?
For the month of February I am trying some new and different. Yep. I will tell you all about it this weekend. It is definitely going to be hard, but I am determined.
You can make this zucchini lasagna with ground beef or without. If you are adding ground beef you will need to brown 1 lb. and add in it the layering process.
After you have gotten rid of some of the zucchini water, you will have to add some olive oil or coconut oil to a grill pan and grill the slices for a couple of minutes on each side. Just enough to add little grill marks.
While you are doing that you can let the sauce flavors come together by adding minced garlic, basil, 1 onion, oregano, salt and pepper.
You will have to start layering the lasagna, my favorite.  Sauce, zucchini slices, cheese, ricotta, zucchini slices, and repeat. You have make this is a huge 9x13 casserole dish or in two 8x8 baking dishes. I made ours in an 8x8 because I wanted to freeze the other half - only two people here.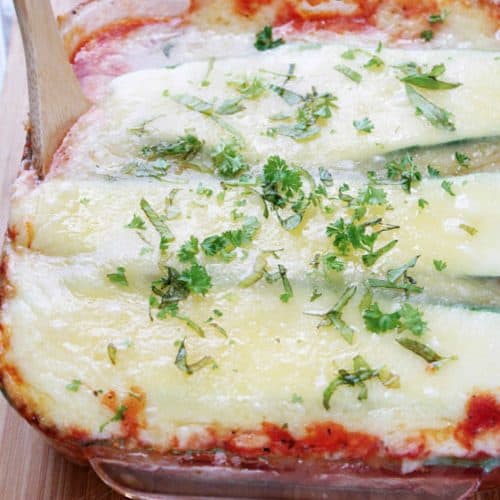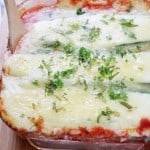 Zucchini Lasagna
Ingredients
3

medium zucchinies

sliced length-wise

1

tablespoon

olive oil or coconut oil

28

oz

can of crushed tomatoes

4

garlic cloves

minced

1

small onion

chopped

3

tablespoons

fresh basil

chopped

1

teaspoon

oregano

salt and pepper

to taste

15

oz

container of ricotta cheese

½

cup

parmesan cheese

1

large egg

16

oz

shredded mozzarella cheese
Instructions
Thinly slice the zucchini length-wise and place a little bit of salt on each and lay on top of paper towels, continue doing above with zucchini slices then another layer of paper towels. Allow the zucchini slices to set for 10 minutes.

Add olive oil or coconut oil to a grill pan and grill the zucchini slices for about 1 minute on each side. This allows extra water to be removed.

Preheat oven to 375 degrees.

In a medium sauce pan, combine the crushed tomatoes, garlic cloves, onion, basil, and oregano. Bring the sauce to a simmer and add salt and pepper to salt.

In a large bowl, combine the ricotta cheese, egg, and parmesan cheese. Mix together. Set aside.

Using a 9x13 casserole dish or two 8x8 baking dishes, spread some of the sauce on the bottom of the dish.

Place a layer of zucchini slices, then a layer of cheese, ricotta, zucchini slices, then sauce. Repeat until all of the ingredients have been used.

Bake covered for 45 minutes. Remove the foil and bake for another 10 minutes.
Recipe Notes
You can use one large 9x13 dish or use two 8x8 baking dishes.
Buffalo Chicken Spaghetti Squash 
Roasted Cauliflower "Potato" Soup with Bacon 
Skinny Oatmeal Chocolate Chip Muffins