A delicious and healthier alternative to the classic potato soup. Contains tons of flavors. Roasted Cauliflower "Potato" Soup with Bacon. 
With the beginning of the New Year I always want to try to incorporate healthier meals into our diet. I mean, don't we all? So far I have been trying so many different healthier options to the classic potato soup and this one is a true winner.
I will have to say this is the longest I have stuck to any New Year's resolutions. I saw somewhere on social media (I think Facebook) someone posted and this is where people start to break their resolutions. Nope not me. I want to try to stick with it for awhile  - need to get my health back. 🙂
This delicious faux potato soup still has tons of fat (the healthier fats), but low on carbs. Hey...it has veggies too! 🙂
I love how easy it is and if you just have two people in your home, then it will make dinner, 2 lunches for the next day, AND dinner the next day. I love those types of meals because I only have to heat it up the other times.
If you don't want to eat it that much, I am almost positive you can freeze it as well. Yum - that would be good.
If you are a family of four, then it will make dinner and lunches for adults the next day! Plenty of cauliflower "potato" soup to go around.
I didn't even mention the best part of this soup - bacon! Mmmm...bacon. Everything tastes good with bacon, right?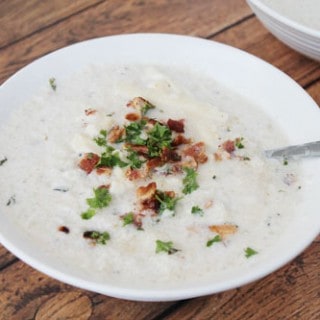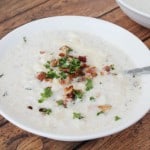 Roasted Cauliflower "Potato" Soup with Bacon
Ingredients
2

heads of cauliflower

if you use frozen two medium bags, washed and chopped

1

8oz block of cream cheese

8

cups

of chicken stock

6

cups

of water

½

cup

heavy cream

you can also use milk

1

tablespoon

dried parsley

1

teaspoon

onion powder

⅛

teaspoon

dried thyme

salt and pepper

to taste

10

pieces

of bacon

cooked crispy and chopped
Instructions
Preheat oven to 400 degrees and place chopped cauliflower on a large baking sheet and spray with cooking spray or drizzle on olive oil.

Bake for 20 minutes.

Remove from oven and let the cauliflower cool for a couple of minutes.

Place cauliflower into a food processor and process until it is finely chopped.

In a large pot, combine the finely chopped cauliflower, cream cheese, chicken stock, water, heavy cream, dried spices, and 4 pieces of bacon.

Cook on medium heat until the cream cheese is completely melted (you may have to use a whisk to mix the cream cheese).

Serve with 1 piece of chopped bacon on top of each serving.
Skinny Oatmeal Chocolate Chip Muffins