A quick and easy side dish and/or appetizer that suits all tastes buds. Asparagus wrapped in bacon and drizzled with olive oil, salt and pepper and baked until crispy. Bacon Wrapped Asparagus.
Either you will have a love or hate relationship with asparagus. You will always have a love relationship with bacon. Why not combine both together and have a love relationship? Sounds like a delicious plan, right?
I have been trying to come up with more easy and quick side dishes for all kinds of occasions...even just for everyday! With the super bowl and many more football games coming up, these delicious bacon wrapped asparagus will be a hit.
Contains veggies and bacon. What's not to love? 🙂
I love how this recipe is so easy because everyone likes their asparagus cooked a certain way; crispy, soft, or tender. I love mine tender and easy to bite into, so I will cook mine a little bit longer.
Another thing I will not have to worry about is the hubby munching on these because of the asparagus. The only thing I would have to worry about is him taking the bacon off the asparagus and eating that. Do not give him any ideas, please!
For these I did not use thick-cut bacon because I think you get more bacon for your money. It looks like more in the package than the thick-cut. I could be completely wrong, but that's how my mind works. If you do use thick-cut, please precook it in a pan some, then wrap it around the asparagus.
Another thing you will want to use is fresh asparagus. Never tried the canned ones with this.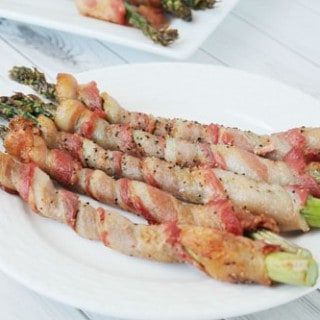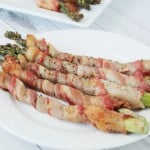 Bacon Wrapped Asparagus
Ingredients
1

pound

of fresh asparagus

rinsed and dried

1

pound

of thin-cut bacon

olive oil

drizzle on top of bacon wrapped asparagus

salt and pepper
Instructions
Preheat oven to 400 degrees.

Wrap the bacon around the asparagus and place on a [baking sheet|http://www.amazon.com/gp/product/B0026RHI3M/ref=as_li_ss_tl?ie=UTF8&camp=1789&creative=390957&creativeASIN=B0026RHI3M&linkCode=as2&tag=savcoudea-20].

Drizzle olive oil an top of the asparagus and season with salt and pepper. With the salt and pepper you can put on how much you would like. I just did a pinch or two of each.

Bake until crispy and tender. The cooking time will vary for each person depending on how they like their asparagus cooked.
Nutrition Facts
Bacon Wrapped Asparagus
Amount Per Serving (4 g)
Calories 0
* Percent Daily Values are based on a 2000 calorie diet.
Healthy Buffalo Cauliflower Bites