A moist and festive red velvet muffin stuffed with white chocolate, then garnished with cute sprinkles to celebrate Valentine's Day. 
I will have to say this, these are definitely not skinny muffins. They are absolutely delicious and packed full of colors for Valentine's Day.
I love Valentine's Day because you can make everything red and shower everything in cute little festive sprinkles. So much fun. 🙂
So far we have been very lucky with frozen pipes in our home lately. It must be the first-time homeowners luck! Each night I try - keyword try... to remember to let the faucets drip in kitchen and the bathroom. Last night..I forgot - oops. I have really been trying to remember, I swear.
Well...our kitchen faucet pipe froze this morning! It is supposed to warm up some this afternoon, so hopefully everything works out okay. Last time this happened, everything worked out. Thank goodness.
Anyways - let's get back to these pretty red velvet muffins.
I usually like to add tons of butter to my muffins in the morning, but not these. They are already so moist and tasty. I will also mention that you will not need a mixer for these bad boys. You can save the mixer for another day!
This red velvet muffin recipe is so easy too - like most of my other recipes. We like simple and easy around here.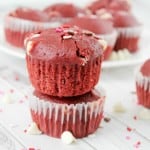 White Chocolate Red Velvet Muffins
Ingredients
1

and ½ cups all-purpose flour

¾

cup

granulated sugar

½

teaspoon

salt

2

teaspoons

baking powder

⅓

cup

oil

1

large egg

1

and ¼ cups milk

1

and ½ teaspoon vanilla extract

½

cup

cocoa powder

unsweetened

1

tablespoon

red food coloring

½

cup

white chocolate chips
Instructions
Preheat to 350 degrees and line a muffin tin with liners

In a large mixing bowl, combine the flour, sugar, salt, and baking powder. Mix everything together.

Add in the oil, egg, milk, and vanilla extract. Mix everything together very well.

Fold in the cocoa powder, red food coloring, and white chocolate chips.

Fill the liners ¾ of the way with the muffin mix and bake for 20 minutes. Insert a toothpick and if it comes out clean, these muffins are done
Recipe Notes
Stores in an air-tight container in the refrigerator for one week.
Nutrition Facts
White Chocolate Red Velvet Muffins
Amount Per Serving (1 g)
Calories 0
* Percent Daily Values are based on a 2000 calorie diet.
Red Velvet Cookies for Valentine's Day 
Skinny Oatmeal Chocolate Chip Muffins