Buffalo Chicken French Bread – Crunchy, creamy, and a little spicy! Perfect as an appetizer or as a main dish! 
We are a buffalo loving kind of family and love it on top of anything. You name it; I may have added buffalo chicken to it or on top of it. We recently tried it on top of a half loaf of french bread, and it was fantastic. Each bite contained the perfect amount of chicken, buffalo sauce, and cheese. We cannot forget about the cheese, especially blue cheese – mmm!
Do you love watching movies? We do, and I always make an appetizer or something you can devour while without taking your eyes off the screen. We recently purchased a huge tv, and we are in love with in. We hardly ever go to the movies anymore.
So when a new movie comes out that we have been dying to see, we like to create enjoyable movie night at home. Speaking of movies, have you heard of the new Burnt movie coming out soon? I cannot wait! It looks like a movie the hubby and I will both enjoy!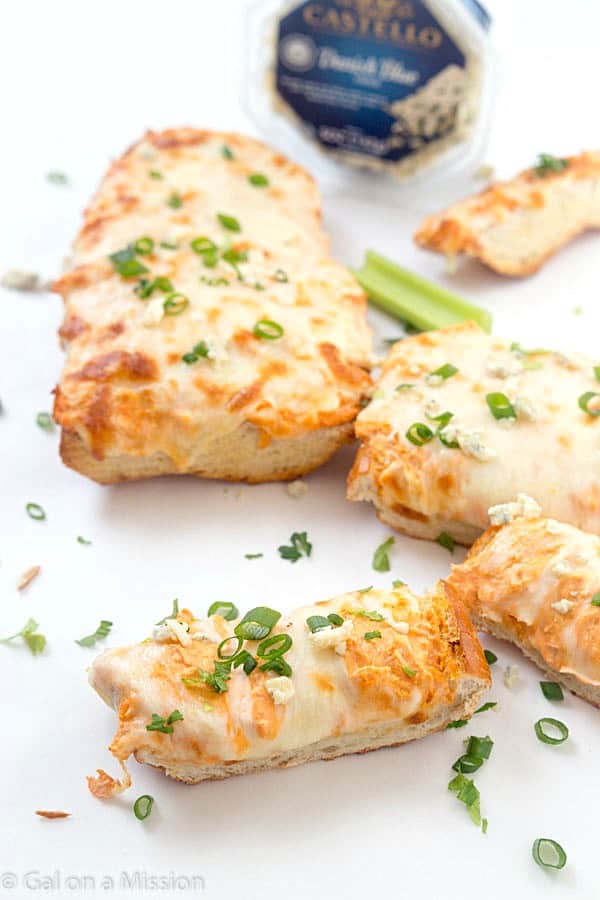 Usually, we buy any blue cheese for our buffalo chicken. This time, we thought it would up our game and purchased a container of Castello Danish Blue Cheese. If you are a fan of blue cheese, this cheese is for you! It's a little different than traditional blue cheese, a little tangier, in my opinion. But so good.
Looking for other buffalo ideas? Try our healthy buffalo cauliflower bites, they are a little healthier and low-carb! Craving pasta, then this buffalo chicken pasta is so good!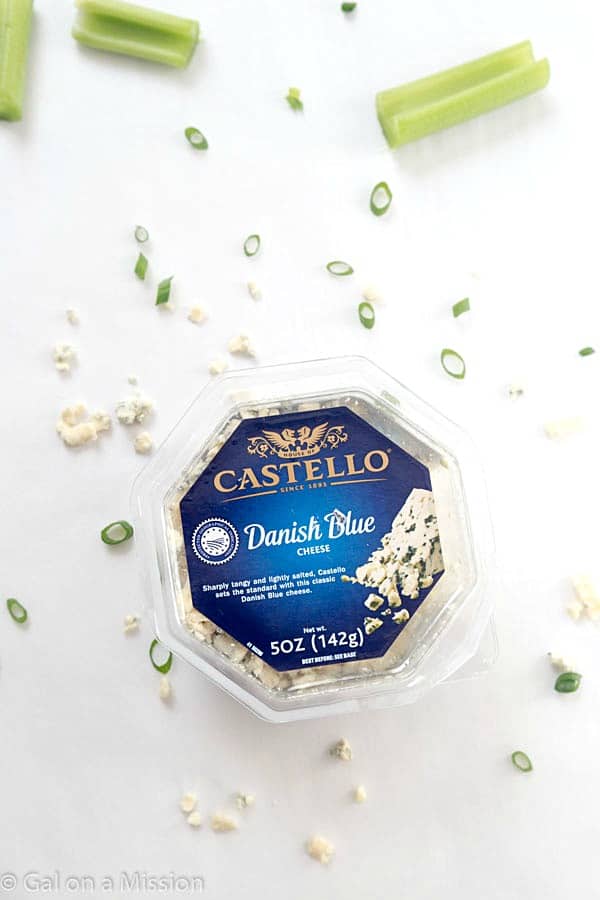 Not a fan of blue cheese? Don't worry, you may find even more Castello Blue Cheeses, available in a variety of strengths and flavors; from tangy and sharp to  sweet and floral notes or a nutty aroma.
You can also find other types of cheeses from Castello; the Havarti Creamy would be a great substitute for mozzarella!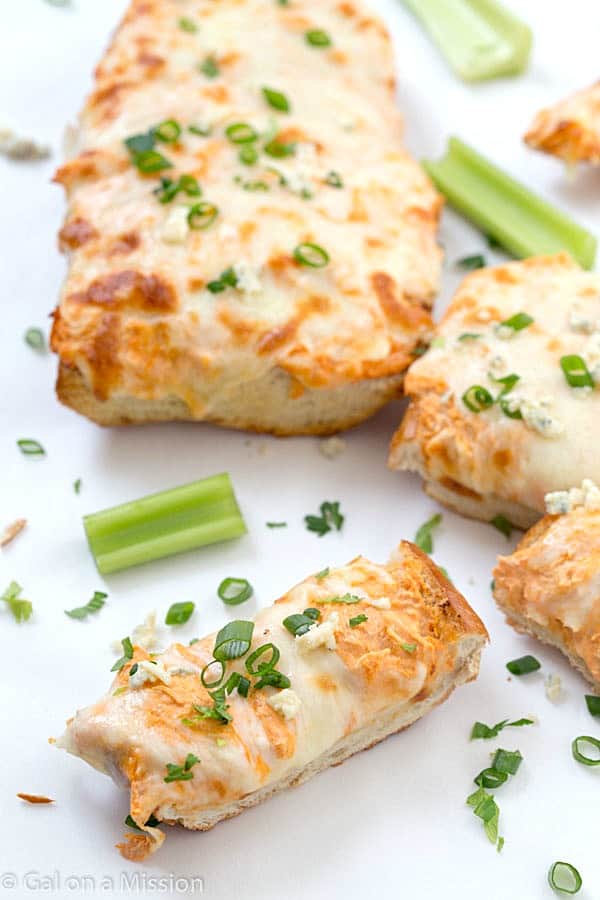 Visit the Castello & Burnt campaign page for delicious inspiration, and to enter the Unlock Your Inner Chef sweepstakes, now through November 20th, for a chance to win great prizes, including:
– A private cooking class for two
– A year's worth of Castello cheese

Buffalo Chicken French Bread
Author:
Chelsea @ Gal on a Mission
Ingredients
12.5 ounce can chicken breasts, drained or 2 cups cooked chicken breasts shredded
4-ounce cream cheese, softened at room temperature
¼ cup - ½ cup Frank's Red Hot Sauce, add more or less depending on your taste
1½ cups mozzarella cheese, shredded
½ loaf french bread
Blue Cheese, for topping
Scallions, for garnish
Instructions
Preheat oven to 400 degrees.
Place the chicken, cream cheese, and hot sauce into a medium sized mixing bowl and mix until combined. Mix in ½ cup of the mozzarella cheese. Set aside.
Using a bread knife, cut the french bread in half lengthwise. Cut one half in half. Save the other half for another use or double the recipe.
Spread the buffalo chicken mixture on top of the french bread.
Sprinkle the remainder of the mozzarella cheese on top of the buffalo chicken.
Bake for 10-12 minutes or until the cheese is blistered some.
Top with blue cheese and scallions.