Delicious ham and egg cupcakes for breakfast recipe that is ready in 20 minutes! Freezer-friendly, too! 
As I was thinking about a great name for this recipe, I instantly thought of cupcakes. In a way they are like a cupcake, just in breakfast form made with eggs and loaded with ham pieces. You can even frost the cupcakes by adding shredded cheese on top; however, I love them with and without the cheese.
If you have already noticed, I am a huge fan of these cupcakes or muffins for breakfast - I have made paleo breakfast muffins and cheesy breakfast egg muffins. They all use the same base and I have just added different ingredients to them, in order to make each one stand out. I might just be a little obsessed with these because they are easy to make, plus you can have a weeks worth of breakfast ready in 20 minutes.
If you choose to not devour them the entire week, they are also freezer-friendly. You can keep the ones you think you will consume and then add the rest to a ziplock, write down what they are and the date, then freeze for up to 3 months. No time no thaw them, no worries - you can remove one or two for your serving and microwave them for 45 seconds to 1 minute.
If you are following a paleo or a whole 30 diet at this moment, you are lucky because these fit those plans. If you decide to add a little bit of frosting, also known as cheese, they will not be on plan for those specific diet. They are still nutritious and absolutely delicious.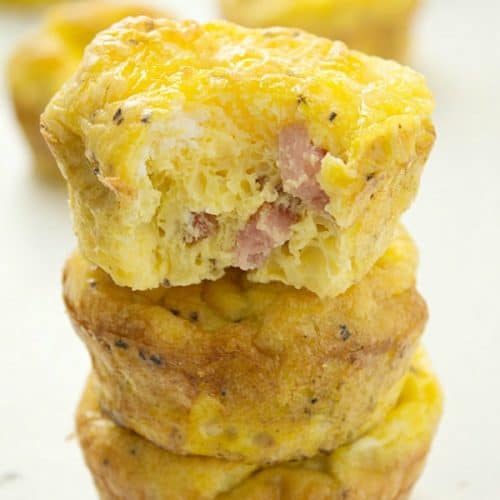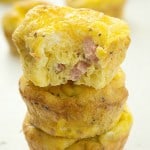 Ham and Egg Cupcakes for Breakfast
Ingredients
12

large eggs

¼

teaspoon

salt

¼

teaspoon

pepper

1

cup

diced ham

½

cup

shredded cheese

optional
Instructions
Preheat oven to 350 degrees, spray a muffin pan with non-stick cooking spray. Set aside.

In a large mixing bowl, whisk together the eggs, salt and pepper. Stir in the diced ham. Pour the mixture into the muffin pan until ¾ full. Add shredded cheese on top (optional). Bake for 25 minutes or until the tops are lightly browned and cooked fully.
Recipe Notes
Stores in an airtight container in the refrigerator for at least 1 week.
Other recipes you might enjoy: 
Paleo Breakfast Muffins (Whole 30 Approved)