An easy and delicious weight watcher's corn chowder recipe, can be made in no-time for a quick dinner option! A family favorite during the winter. 
A couple of years ago, I tried Weight Watcher's and noticed how great of a program it is. I always seem to have a hard time sticking to a weight loss program and unfortunately, I wasn't able to stick with this one. I do, however, love the recipes!
I love how the recipes are lower in fat and carbs.  If you are thinking about going on or on the program, I think you will love this corn chowder recipe - it's so good. Even if you aren't following Weight Watcher's, I think you will still love it, as well. I love how the food still tastes delicious and is lower calories, which means I can indulge in a little treat. That's one my weaknesses.
My weaknesses can either be a salty snack option or a yummy chocolate dessert. What are your weaknesses when it comes to trying to eat healthier? I would love to hear!
I absolutely love this recipe because it is really easy and can be made a couple of different ways - stove top or in the slow cooker. The first time I made it is was on the stove top and then the second time was in the slow cooker. If I am looking for a quick option for dinner, I choose the first; otherwise, I love my slow cooker.
I forgot to mention earlier in the post, this would be 9 PointPlus Points for 1 serving and can easily serve 6 people.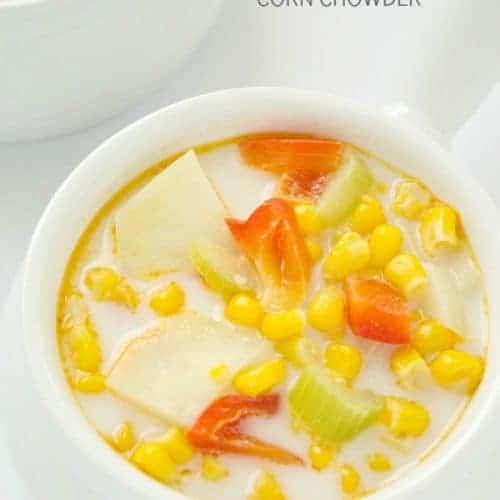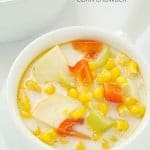 Weight Watcher's Corn Chowder
Ingredients
2

tablespoons

butter

can be salted or unsalted

1

red pepper

diced into small pieces

3

large russet potatoes

peeled and finely diced

4

cups

corn

can be canned or frozen

4

cups

chicken stock

2

cups

fat-free milk

salt and pepper

to taste
Instructions
Add the butter and diced red pepper into a dutch oven and saute over medium-heat for 5 minutes. Add in the diced potatoes, corn, chicken stock, and milk. Cook on medium-heat until for at least 30 minutes or until the potatoes are tender. Add salt and pepper, to taste.

If you are using a slow cooker, add all of the ingredients into your slow cooker and cook on high for 4 hours or on low for 8 hours.
Recipe Notes
9 PointPlus Points per serving.
Other recipes you might enjoy:
Cauliflower Roasted Red Pepper Soup