Cheesy Bacon Chicken Breasts - The only comforting chicken breasts you will ever need. Loaded with cheese and bacon! A family-favorite and incredibly easy! 
Oh, you guys, I have the best recipe in the whole entire world. Seriously. It's so incredibly easy where it doesn't even need a recipe! I just had to share it with you all because this chicken really is out-of-this-world. You gotta try it, if you already haven't.
It's definitely cheesy and loaded with bacon pieces, but it isn't JUST that. Sorta. Kinda. Maybe it is. Yikes!
We hardly ever have whole chicken breasts for dinner or even for lunch, especially with bacon. Man, this is a two-meat kind of dish. Sounds like something my meat loving husband would say.
I will say, having a well-seasoned cast iron skillet really helps with the flavor when cooking the chicken. If you do not already have one, please do yourself a favor and purchase one. And use it all of the time, the seasoning is wonderful once it is built up.
No need for a cast iron, that's okay, you can use any ole pan, but you are missing out on a little extra flavor. Those skillets have been the best thing I have ever invested in. Looking for one, here's the one I used for these chicken breasts.
I also used the same pan to cook the bacon in. Why dirty up another, especially when it adds MORE flavor to the skillet? Heck yeah, baby.
Any who, please make this cheesy bacon chicken breasts. They are great with fresh vegetables or even on top of a salad. Lately, I have started to crave salads. Hello spring!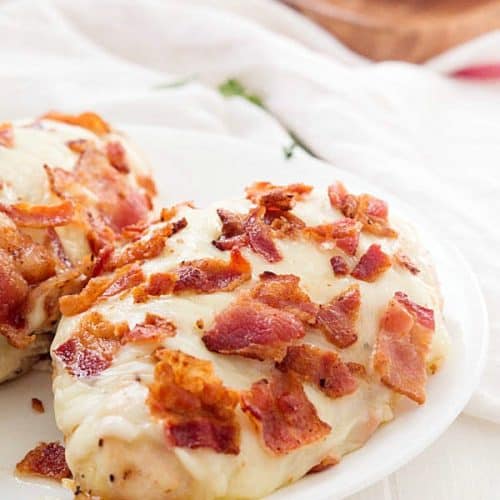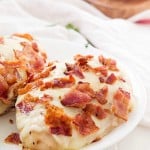 Cheesy Bacon Chicken Breasts
Ingredients
6

pieces

of bacon

3

large or 6 small boneless chicken breasts

salt and pepper

1

cup

of shredded mozzarella cheese
Instructions
Cook the bacon in a large skillet until done. Place the cooked bacon on a paper towel lined plate. Set aside. Discard the grease. Cut the bacon into pieces once cooled.

Preheat oven to 350 degrees.

Salt and pepper each side of the chicken and bake for 45 minutes. Add the shredded cheese to each chicken breast, then top with bacon pieces. Bake for another 5 minutes.

Serve with your favorite side dish or salad.
 Other recipes you might enjoy:

Slow Cooker Loaded Mashed Potatoes