Lemon cream cheese bars: Decadent lemon whipped cream cheese baked between layers of a special ingredient with a delicious streusel lemon topping. A simple and quick dessert bar recipe!
As I am sitting here starring off into space looking at these bars, I am thinking to myself.."Oh, how I wish spring was here already". Anyone else thinking the same thought when you are looking at these bars?
If not, you might have to wipe the drool that's coming from your mouth, these bars are mouthwatering - I will admit. Since I am a nice person, here's a napkin for you! I might have indulged in way too many yesterday - oops. It's okay every now-and-then, right?
If you have ever made any kind of dessert bars before, you will know the ease at which these come together. Every once in awhile you will happen to come upon a dessert bar that requires a little more work, like these I Just Got Dumped Brownie Bars. There are so many layers within one bar, which takes time. Not these bright and beautiful bars.
With these lemon cream cheese bars, the work is almost done for you. Most of the "work" comes from mixing a couple of ingredients together and beating the cream cheese. The last little part of the "work" is patting down the crust in the pan. I would hardly call any of those steps actual work, though.
The one ingredient, or should I say many within one package, is lemon-flavored cake mix. That's right…cake mix! Depending on how much you love lemon, you can make with two ways - traditional yellow cake mix or lemon.
If you are using the yellow cake mix, you will notice a few hints of lemon from adding fresh lemon juice to the whipped cream cheese. I'll take them either way, how about you? For these bars, you will also need to have this sized baking pan. You do not want the baking pan to be smaller because these bars are so rich.
If you are wondering if you can make these with cake mix, I haven't tried to be honest.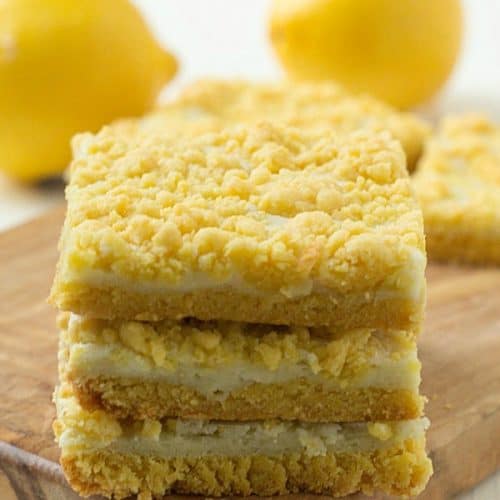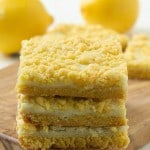 Easy Lemon Cream Cheese Bars
Ingredients
1

18.25 ounce package of yellow or lemon cake mix

2

large eggs

⅓

cup

vegetable oil

1

8 ounce package of cream cheese, softened at room temperature

⅓

cup

granulated sugar

4

teaspoons

fresh lemon juice

zest of ½ lemon
Instructions
Preheat oven to 350 degrees. Set aside a 9x13 baking dish.

In a large mixing bowl, mix together the cake mix, 1 egg, and the vegetable oil with a plastic spatula. Reserve 1 and ¼ cups of mixture, set aside. Add the rest of the mixture into the 9x13 baking dish and pat down, making sure it's even all-the-way around. Bake for 15 minutes.

While the crust is baking, beat together the cream cheese, 1 egg, and granulated sugar using a mixer with the paddle attachment. It should be whipped and creamy. With the mixer on medium-to-low speed mix in the fresh lemon juice and lemon zest.

Pour the batter onto the baked crust. Crumble the reserved mixture you previously set aside on top of the cream cheese batter. Bake for 15 minutes.

Remove from oven and allow the bars to completely cool before slicing.
 Other recipes you might enjoy: