The juiciest and most flavorful baked bbq chicken thighs recipe! 
I am so over this winter already! How about you? We haven't had much snow at all, but everyone seems to be making a big deal out of the snow storms this year! Sometimes they call for 4-5 inches and we get just a dusting, sometimes hardly that.
Did I mention the schools close, too. What a joke this winter has been - let's bring on the warmer weather and the bbq flavors. How has winter been where you are at? I would love to hear.
The grilling season cannot get here fast enough. Lately I have been thinking about bringing our grill out of the shed and just grill delicious food. I may get a few glances from the neighbors, but it would be so worth it. What do you think?
If you are like me and cannot wait, these baked bbq chicken thighs are delicious. Even though they aren't grilled, you wouldn't notice a huge difference in flavor, especially if you own a cast iron grill pan. Those types of pans always adds so much flavor so the food you are cooking.
Before I make any meat in the oven, I always sear both sides in order to keep the juices inside. Juicy bbq chicken = amazing. You can either sear the chicken thighs in a skillet or in a grill pan. You will just need to salt and pepper each side and add olive oil to the pan. With searing, you will want to make sure your pan and oil is hot.
After each side has been seared, you can bake in the oven for 30 minutes and add a nice layer, or two or three, of the doctored up bbq sauce.
You read that right - doctored up! I do not think I could post a recipe for bbq sauce and chicken thighs. 😉 The doctored up bbq sauce finger-licking good. It has much more flavor than the ordinary bbq sauce. This is my all-time favorite bbq sauce ever!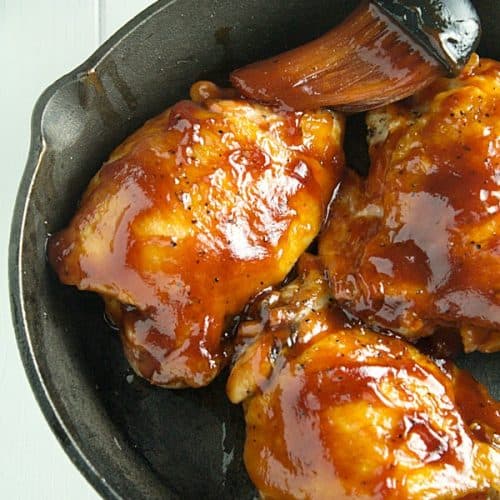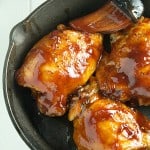 Baked BBQ Chicken Thighs
Ingredients
6

chicken thighs

salt and pepper

2

tablespoons

oil

I used olive oil

BBQ Sauce

¾

cup

of your favorite bbq sauce

I used Sweet Baby Rays

1

tablespoon

sweet chili sauce

1

tablespoon

dark brown sugar

1

teaspoon

worcestershire sauce

1

teaspoon

apple cider vinegar

1

teaspoon

sriracha hot sauce
Instructions
Using a large skillet or a grill pan, add the olive oil and allow the pan to get hot over medium-heat. Add salt and pepper to each side of the chicken thighs, once the pan has gotten hot, place the chicken thighs and sear on each side for 2 minutes. Preheat oven to 350 degrees.

Prepare your bbq sauce by whisk all of the ingredients into a medium-sized bowl, refrigerator until the chicken thighs have finished cooking.

Once the oven has finished preheating, place the skillet or the grill pan (only place oven-approved pans in the oven) and bake for 25 minutes.

Using a basting brush, add a nice layer of the bbq sauce on top of the chicken thighs. Bake for an additional 5 minutes.
Recipe Notes
Store the leftovers in an airtight container for up to 5 days.
 Other recipes you might enjoy: 
Mouthwatering Maple-Mustard Chicken Thighs