A delicious bread pudding recipe with an out-of-this-world bourbon butter glaze! Perfect anytime of the year or for your favorite holiday!
Lately we haven't been eating many desserts and the other day I had a taste for bread pudding. Out of all of the desserts a bread pudding and this recipe certainly cured that craving. It was just the right consistency and the glaze is absolutely delicious. We will be serving this on Thanksgiving if the snow holds off.
We have been keeping up with the snow forecast for near us and my parent's - will be the first snowfall of the season and it looks like a bad one, they are saying. Who really knows. It could be 1-2 inches or 5-6 inches.
Either way, it will be a great Thanksgiving. Are you a fan of the snow? I love watching the snow fall to the ground with a warm cup of homemade hot chocolate; however, I do not like to be in it or shovel it. No thank you.
That's enough snow talk, right? 😉 You can enjoy a slice of this bread pudding with just the sauce or top it with a scoop of vanilla ice cream. All depends on how your day went. I am going to go nuke a piece of this with a scoop of ice cream right on top - it's Monday.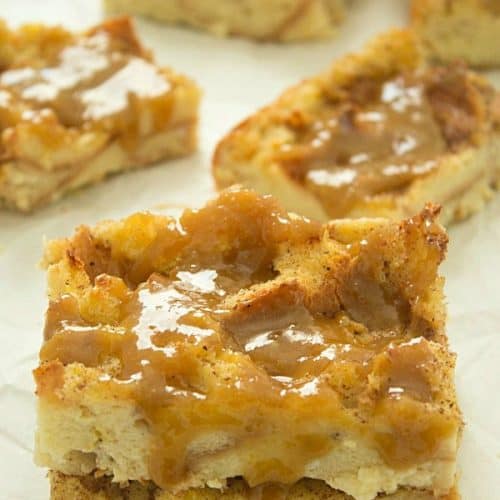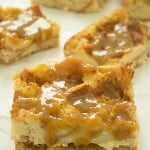 Bread Pudding with Bourbon Butter Glaze
Ingredients
Bread Pudding

10

cups

french bread

torn into bite-sized pieces

5

large eggs

4

cups

milk

1

cup

heavy cream

3

tablespoons

bourbon

½

cup

granulated sugar

½

teaspoon

salt

½

teaspoon

cinnamon

½

teaspoon

nutmeg

Bourbon Butter Glaze

1

cup

dark brown sugar

½

cup

butter

¼

cup

bourbon

2

egg yolks
Instructions
Preheat oven to 350 degrees. Butter or spray non-stick cooking spray on a 9x13 baking dish. Place the torn up bite-sized pieces of bread into the baking dish, spreading them all over. In a medium-sized mixing bowl, whisk together the eggs, milk, heavy cream, bourbon, sugar, salt, cinnamon, and nutmeg. Pour the mixture on top of the bread. Bake for 1 hour.

While the bread pudding is baking, prepare the glaze by adding the butter, bourbon, and egg yolks into a glass bowl in a medium-size pot of water boiling. Whisk everything together until the sauce has thickened. Pour on top of the bread pudding when it's finished baking.
Here are some other recipe you might enjoy:
Candied Sweet Potato Casserole
Slow Cooker Loaded Mashed Potatoes