A mouthwatering candied almond recipe that is perfect to snack on or to gift to friends and family during the holidays! 
During the holidays we love to make little treats: fudge, candied nuts, and cookies! While I do love Thanksgiving, I think Christmas is my favorite holiday of all-time. What's not to love - family, great food, delicious treats, Christmas music and movies! Oh, I forgot to mention all of the pretty decorations, I really love those!
Last year and this year we didn't decorated for the holidays because our home is still under construction. Kind of happens when you do all of the work by yourself - starting to rethink that idea.
What are some of your favorite Christmas movies? I love Elf and The Christmas Story! I could have either of those movies in the background on repeat all-day long. Might just be a little obsessed, just a little, but they are fabulous movies.
As you can see, I love Christmas and everything it has to offer. Let's get back to chatting about these amazing candied almonds. I think you will love them! We have just a few left sitting on the counter-top in a cute jar. They disappeared very quickly, we both love them so much.
Not only do we love making delicious treats, but we love to gift those items to friends and family as well. Nothing says I love you more than a delicious homemade gift. Last year we made a big batch of apple pie moonshine to gift, I think we are going to make fudge and these candied almonds this year.
Now just to create a printable to attach to the jar. That's my downfall, I am not a crafty person at all. I will say I love trying, though. That's why I love Pinterest. 😉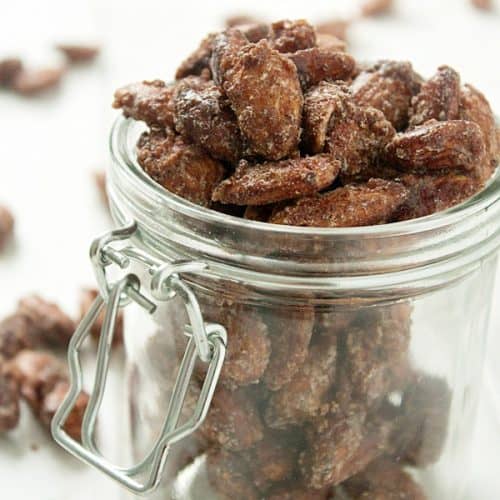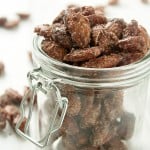 Candied Almonds
Ingredients
3

cups

almonds

1

cup

granulated sugar

1

tablespoon

ground cinnamon

½

cup

water
Instructions
Preheat oven to 350 degrees. Line a baking sheet with a silicon baking mat or parchment paper, add the almonds to the baking sheet. Roast for 12 minutes.

In a large pan, add in the granulated sugar, cinnamon and water; whisk everything together. Allow the mixture to come to a boil; add the almonds to the mixture. Cook and stir on medium-heat until the liquid evaporates and leaves a syrup-like coating on the almonds. Pour the almonds back onto the baking sheet lined with parchment paper or a silicon baking mat; separate the almonds and allow them to cool.
Other recipes you might enjoy: