An out-of-this-world delicious and comforting barbecue beef stew recipe! A winter staple in our family. 
I have MIA for a little bit because we really wanted to focus on friends and family during the holidays. I have loved every moment of it, but I have missed each and every once of you. I am glad to be back and back in the kitchen once again. It's the one place I can really be myself. I hope you all enjoyed the holidays! Do you usually set a resolution for the New Year?
I sometimes do, but I mostly fail at them. This year I am just setting small goals of the usual - losing a little bit of weight and focusing on the little things in life. Be on the lookout for some healthier recipes because we sure do need them after the holiday pig out!
Now this recipe isn't healthy at all, well it could be and I will share those tips at the end of this post.
During the winter, we always love having warm and comforting meals - especially this delicious barbecue beef stew recipe. If you are a fan of barbecue and beef, then this is for you! It really does warm you up from head to toe.
One of the main reasons why I love this recipe so much is because you can either cook it on the stove top or in the slow cooker. If I am making it in the slow cooker, I like to sear the beef before adding it in. It allows the delicious juices to seal themselves inside of the beef, which equals juicy and tender beef chunks. Yummy is right.
Here are a couple of ways to make the this beef stew a little bit lighter - subbing the potatoes for cauliflower and cutting back on the barbecue sauce just a little bit. Other than that, this recipe isn't all that unhealthy!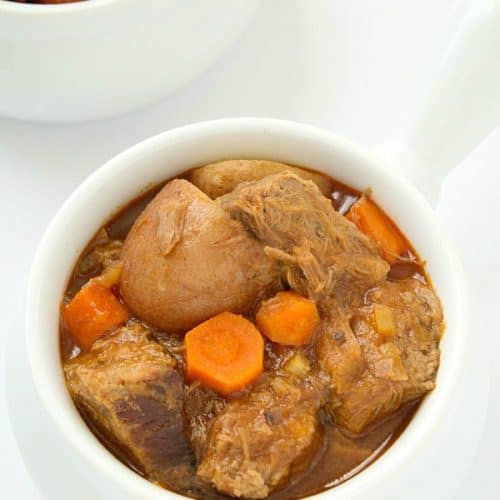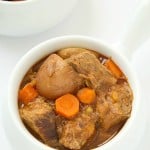 Barbecue Beef Stew
Ingredients
1

tablespoon

of oil

2

pounds

beef stew meat

cubed

1

onion

diced

5

large carrots

diced

6

small red potatoes

quartered

¾

cup

barbecue sauce

2

cups

beef broth

salt and pepper

to taste
Instructions
Add the oil to a large dutch oven. Add salt and pepper to the cubed beef stew meat, then add to the dutch oven and allow the meat to sear on all sides, add in the diced onions and allow the onions to caramelize over low-heat. Add in the rest of the vegetables - carrots and red potatoes.

Pour in the barbecue sauce and beef broth and allow the mixture to simmer or medium-low-heat for 1 hour or until the vegetables are tender.
Other recipes you might enjoy: