An out-of-this-world delicious cauliflower roasted red pepper soup recipe! This will be your new favorite soup - it's ours! 
Our family absolutely loves soup and I am really talking about myself. The significant other will tolerate them as long as they have meat, which this one does not. Keep reading to see if he loves this soup or not.
During the colder season, late fall and the entire season of winter, I love having soups with my meal. Not only are they delicious, but they warm you up inside. I love them if they have meat or not. If it is a hearty soup we have it just by itself, it is isn't hardy there is always meat served with it.
The other night we had this soup with hamburgers. It's definitely a weird combination; however, it was truly delicious. It is a soup where you would want to serve with it something else, as well. That was the case for us, but we are very hardy eaters.
I just want to let you know, I think you all will love this soup! Have you ever tried the roasted red pepper soup from Trader Joe's? If so, this is so much better and easier on your wallet - which I love.
Not only will I think you will love it, but it's really simple to make. The longest part of making this soup is allowing the red peppers and cauliflower to roast in the oven.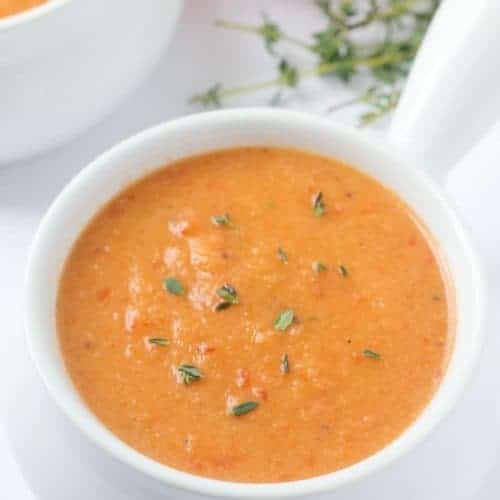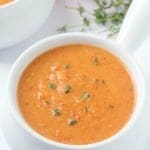 Cauliflower Roasted Red Pepper Soup
Ingredients
4

medium-sized red bell peppers

1

head of cauliflower

diced into florets

2

tablespoons

oil

1

medium-sized onion

diced

3

garlic cloves

minced

4

cups

chicken stock

1

teaspoon

fresh thyme

1

teaspoon

smoked paprika

salt and pepper

to taste
Instructions
Cut the red bell peppers in half, scoop out the seeds and lay face-down on a baking sheet lined with parchment paper. Broil in the oven on high until the skin has become black. Remove from the oven and place into a sealed container and allow the peppers to cool down and steam. This step makes it easier to remove the skin from the pepper.

Broil the cauliflower florets in the oven on high until they are tender and crisp, making sure to turn them over halfway. Takes about 20-25 minutes.

While the cauliflower is roasting, place the oil in a large pot, add in the diced onion and garlic cloves. Saute over medium-to-low-heat until the onions are tender and caramelized.

Add the chicken stock, thyme, and smoked paprika into the pot and mix everything together. Allow the mixture to simmer on medium-heat.

Remove the skins from the peppers, dice the peppers and add them into the pot; mix together. Do the same with the cauliflower. Allow the soup to simmer on medium-heat for 20 minutes.

Add the soup into a blender 2 cups at a time and blend until the mixture is creamy and pureed. Do the same with the rest of the soup. Add the pureed soup into the same pot, add salt and pepper to taste; allow it to simmer on low-heat until ready to serve;