Warm Apple Spice Sheet Cake with Sweet Caramel Glaze – Each bite contains the perfect amount of shredded apples with a hint of nutmeg and cloves! Best when served warm.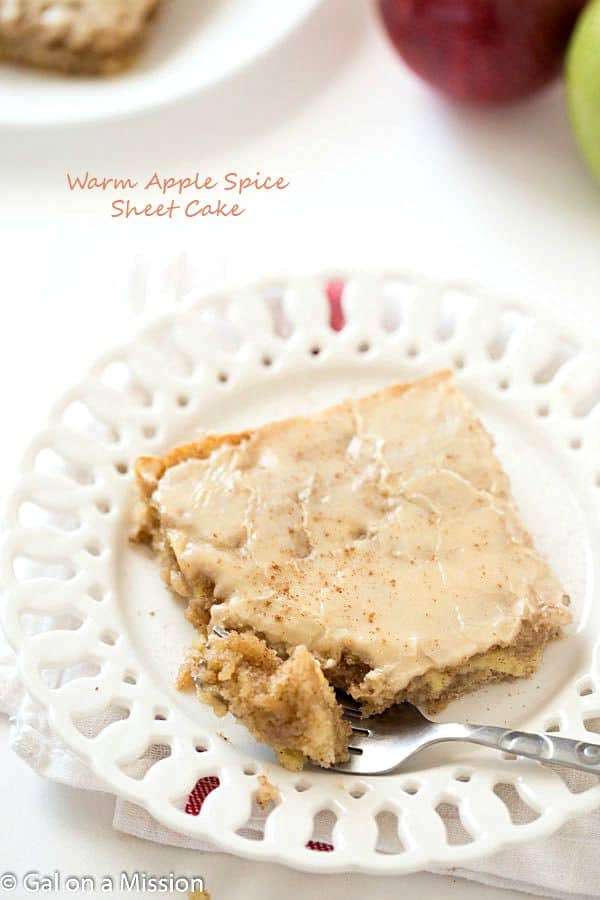 Who can believe apple and pumpkin season is already upon us? I cannot. It seems just the other day we were picking fresh tomatoes straight off the vine and making a Caprese salad.
Now we are getting dressed in our fall attire – leggings, long sleeves, and boots, to go apple picking on the weekends. Now I am not complaining because we can make this warm apple spice sheet cake with sweet caramel glaze.
I am all for easy peasy desserts, and this one fits the bill to a tee. No mixer is required, and you get to pour the cake batter into a sheet pan – I'm all over this!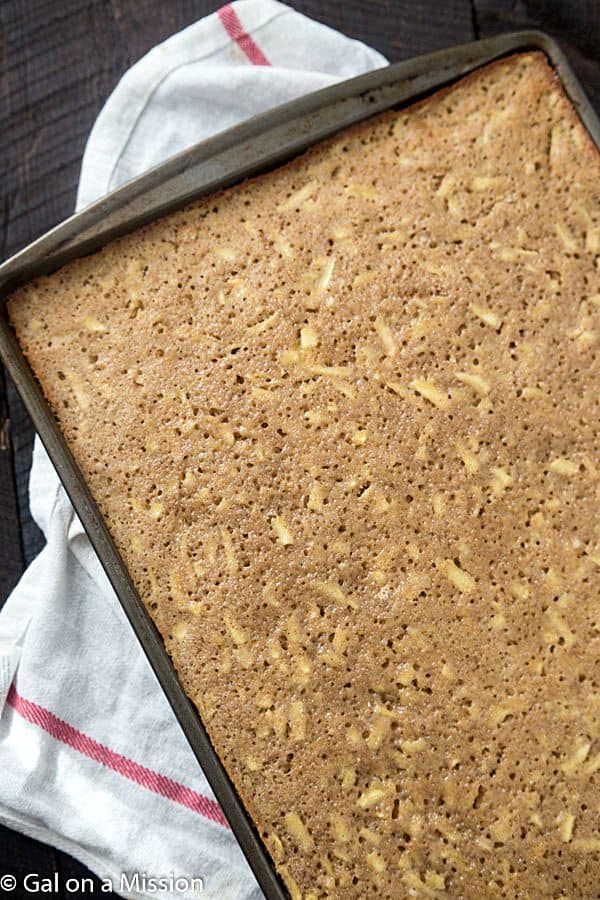 The only thing we are missing here is a warm latte to go with a piece of this cake. Oh, we cannot forget the ice cream, either! This sheet cake just screams, "It's Fall!". Each bite contains the perfect amount of apples; we shredded them, with a hint of nutmeg and cloves from the apple spice mix.
We haven't even talked about this glaze. You guys, this glaze.. the glaze! It's sweet, and it's full of caramel flav
ors and pure gold on this cake. I started off making a caramel sauce, then mixed in confectioners sugar to make an o
ut-of-this-world glaze. It's sweet, really sweet and rich.
Other apple desserts I think you may even like are my slow cooker bloomin' baked apples! We have them at least
once a week during the fall – so good!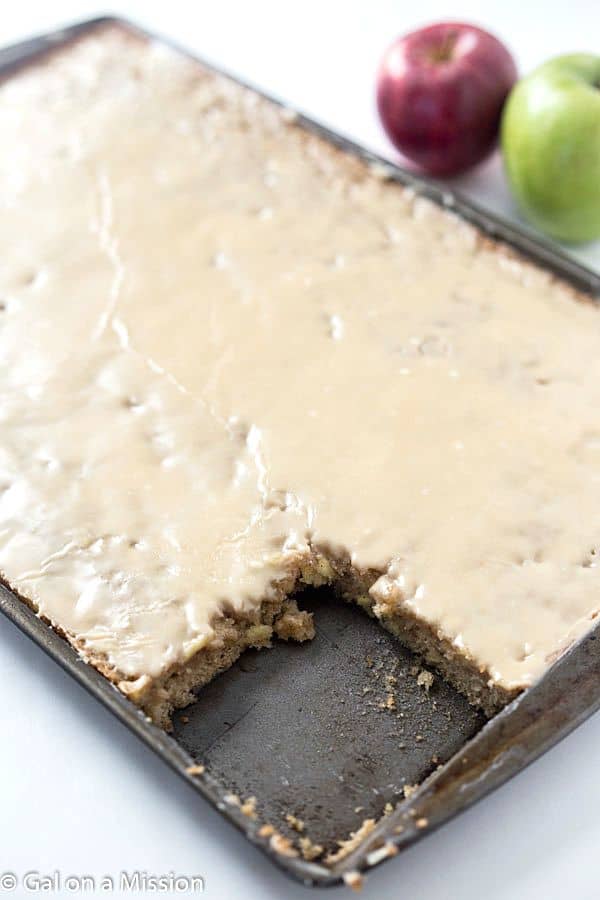 We recommend serving the cake warm and with a scoop of ice, which is optional.

Warm Apple Spice Sheet Cake with Sweet Caramel Glaze
Author:
Chelsea @ Gal on a Mission
Ingredients
Cake:
2 cups all-purpose flour
1 teaspoon baking powder
½ teaspoon baking soda
½ teaspoon salt
1 teaspoon cinnamon
1 teaspoon apple pie spice
1 cup (2 sticks) unsalted butter, softened at room temperature
2 cups granulated sugar
4 large eggs, room temperature
1 teaspoon vanilla extract
⅓ cup whole milk
1½ cups (3 medium) gala apples, cored and shredded
Sweet Caramel Glaze:
¼ cup evaporated milk
1 cup light brown sugar
½ cup (1 stick) butter
1 teaspoon vanilla extract
1½ cups confectioners sugar, swifted
Instructions
Preheat oven to 350 degrees. Grease an 11x17 sheet pan. Set aside.
Cake: Whisk together all-purpose flour, baking powder, baking soda, salt, cinnamon, and apple pie spice together in a medium-sized mixing bowl. Set aside.
Cream together the butter, sugar, eggs, vanilla extract, milk, and apples in a large mixing bowl.
Gently whisk together the dry ingredients into the wet ingredients. Pour the cake batter into the sheet pan, making sure it's even. Bake for 15 minutes or until an inserted toothpick comes out clean. Allow the cake to cool for 10 minutes.
Sweet Caramel Glaze: Place evaporated milk, light brown sugar, butter, and vanilla extract into a small pot and whisk together over medium-heat. Bring the mixture to a boil for 2 minutes, then remove from the stove.
Slowly mix in the confectioners sugar and pour over the cake.
Create your own Warm Apple Spice Sheet Cake with Sweet Caramel Glaze using the recommended equipment: