St. Patrick's Day Puppy Chow Recipe - The perfect green and minty snack! Beware, it's highly addictive and you will not be able to stop! 
I will have to admit, St. Patrick's Day is one of my favorite holidays. Who doesn't love everything being green and great, comfort food, plus great beer? One of my favorite dishes to have on the green is shepherd's pie with a side of Guinness. Of course a yummy and minty treat for dessert! My other half loves corned beef and cabbage; which is great, too.
That's where these amazing St. Patrick's Day puppy chow comes into play. There are two ways to make the flavor minty and I will tell you those ways in just a little bit.
Do you have a tradition for the green day? If so, is your entire meal green for the day? And no I am not talking about artificial green dyes, you can easily make green eggs and ham with spinach or kale as the "green".
If you have never made puppy chow, or another name is muddy buddies, before you will be shocked at home easy it is, even adding the minty flavor.
Usually in my puppy chow, I use a chocolate bar, but for these for the green color, I used a bag of candy melts. You can usually find those at any craft store - be on the lookout for coupons they might have, sometimes I can grab a 40% off coupon for Michael's and it makes them very inexpensive. You can also find them at Walmart, I found them in the wedding aisle.
For the actual melting of the candy melts, you can use a double broiler or use the microwave. For the sake of simplicity, I melted them in the microwave at 30 second intervals, and stirred at the end of each interval.
For the minty flavor in this puppy chow is young living spearmint essential oil. You can also use mint extract.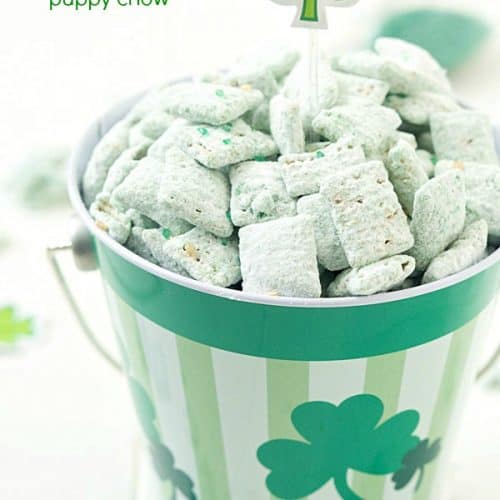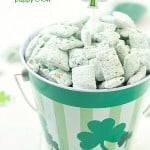 St. Patrick's Day Puppy Chow
Ingredients
5

cups

rice chex cereal

1

bag of green candy melts

1

drop of young living spearmint essential oil*

2

cups

powdered sugar
Instructions
Add the rice chex cereal to a large mixing bowl. Set aside.

Pour the candy melts into a microwave-safe bowl and microwave at 30 second intervals, stirring after each interval until they are melted. Once the candy melts are melted stir in one drop of young living spearmint essential oil*.

Add the powdered sugar to a ziplock bag. Set aside.

Pour the melted candy melts into the large mixing bowl, mix the rice chex cereal with the melted chocolate. After the mixture is fully mixed together, pour the mixture into the ziplock bag and seal. Shake the ziplock bag until all of the cereal pieces are covered.

Pour the puppy chow onto a large sheet and allow it to cool. Store in an airtight bag for up to 5 days.
Recipe Notes
*Read the post associated with the mint flavor*
Everything You Need to Get Started with Essential Oils
We have fallen head over heels with essential oils, and are really excited to offer you an amazing essential oil kit that includes everything to get you started!
Yep. It includes all of those goodies! When you get the Young Living Premium Essential Oil Starter Kit that includes a diffuser, we send you a BIG package of educational goodies that includes a 400+ page book that is packed full of everything essential oils!
Find out more about essential oils - which we use and love!
Other recipes you might enjoy: