An addicting pumpkin spice puppy chow recipe that is really easy! You will not be able to stop! 
There is something about puppy chow or muddy buddies that makes them super addicting. It's almost like popcorn, you haven't ever just have a handful or two. Before you know it the bag is empty or close to it.
That's exactly how this is! This is one of my favorite puppy chow and my hubby's recipes ever. It contains just enough pumpkin taste and spice flavors to really taste like pumpkin spice without eating pumpkin right out of the can.
You have to try it! You're going to love it and if you have any little ones in the house, they'll enjoy it as well. When I was growing up, I always loved to help my mother in the kitchen and this is the kind of recipe that is perfect for them.
The only part you really wouldn't like to help with, unless they are older, is melting the white chocolate and mixing it together. It can be a little hot. Other than that, it's a really fun recipe.
Can't wait to create more flavors!
If you are on a pumpkin kick, here are some really great recipes using pumpkin: Pumpkin Pie Spice Mix, White Chocolate Chip Pumpkin Cookies, Pumpkin Chili, Pumpkin Muffins, My Favorite Creamy Pumpkin Alfredo, and Pumpkin Coffee Cake!  There are all really delicious and I need to make another batch of the pumpkin chili and the coffee cake for the hubby!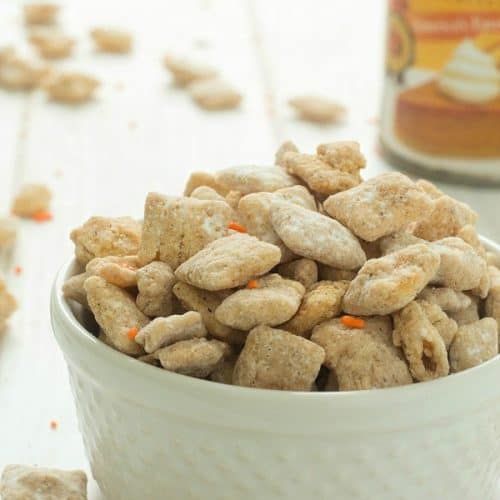 Pumpkin Spice Puppy Chow
Ingredients
5

cups

Rice Chex Cereal

10

ounces

Vanilla Almond Bark

¼

cup

pumpkin puree

not pumpkin pie filling

1

tablespoon

pumpkin pie spice

1

and ¼ cup confectioners sugar
Instructions
Pour your rice chex cereal in a large mixing bowl. Set aside.

Melt the vanilla almond according to the directions on the back of the package.Once it is melted, mix in the pumpkin puree. Add in the melted chocolate with the rice chex cereal and mix together.

Using a large gallon-sized ziplock bag, add in the pumpkin pie spice and confections sugar, mix together, pour in the cereal mixture and close the ziplock bag. Shake to mix everything together.

Once everything is coated evenly, pour the puppy chow onto a large baking sheet to cool and harden.