A delicious pumpkin coffee cake recipe that is so moist, has the perfect pumpkin flavor, and is packed with crumbs. A new favorite! 
As I am sitting here sharing this amazing recipe with you, I am sitting here thinking to myself, I really am starting to get just a little bit tired of pumpkin.
We have been eating anything and everything pumpkin related from, white chocolate chip pumpkin cookies, pumpkin chili, pumpkin muffins, my favorite creamy pumpkin alfredo, and now this pumpkin coffee cake. That's a lot of pumpkin and it's only the middle of September! If you aren't tired of pumpkin just yet, we have a few more in store for you coming soon!
Let's bring on the apple season soon! Another one of my favorites. Speaking of apples, how is the weather in your neck of the woods? It's been a little chilly here, low 70's. Might not seem too cold in other places, but I am freezing my butt off!
I can say that I am very grateful that it isn't snowing here. That would be really scary because I do not know if we have ever had snow in early/mid September before. Might have to go check that one up.
Back to this tasty pumpkin coffee cake. I have to say coffee cake really pairs well with coffee, what I am having right now. It's really delicious. I still kind of wonder where coffee cake came about its name. Another thing I am going to have to check up on. I always know coffee cake as being a super moist cake like with tons and tons of crumbs on top.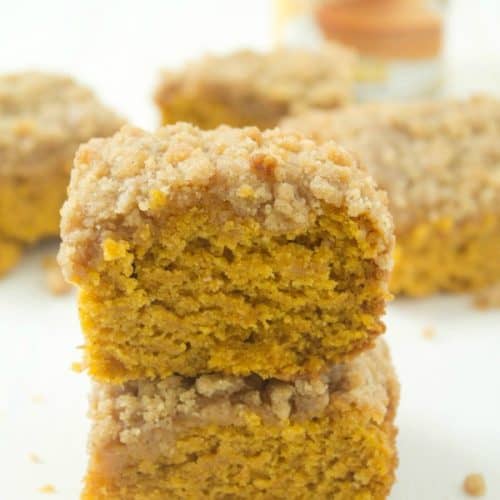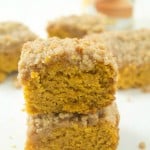 Pumpkin Coffee Cake
Servings
:
9
large servings
Ingredients
Cake

½

cup

oil

¼

cup

milk

1

cup

pumpkin puree

not pumpkin pie filling

½

cup

granulated sugar

½

cup

brown sugar

light or dark

2

cups

all-purpose flour

1

teaspoon

baking soda

½

teaspoon

baking powder

¼

teaspoon

salt

2

teaspoons

pumpkin pie spice
Crumb Topping

½

cup

all-purpose flour

¼

cup

butter

cold

½

cup

brown sugar

light or dark

2

teaspoons

cinnamon
Instructions
Preheat oven to 350 degrees, spray a 9x9 baking dish with non-stick cooking spray or with butter. Prepare your cake mixture by whisking together the oil, milk, pumpkin puree, granulated sugar, and brown sugar. Slowly mix in the flour, baking soda, baking powder, salt, and pumpkin pie spice. Pour the batter into the baking dish, make sure the batter is spread out and is even.

Prepare the crumb topping by adding the flour, butter, brown sugar and cinnamon to a medium-sized bowl. Either using a pastry cutter or a fork, cut the butter into the dry ingredients. Sprinkle the crumbs on top of the batter. Bake for 30 minutes or until a tooth pick is inserted and comes out clean. Mine needed about 35 minutes in my oven.