Melt-in-your-mouth pumpkin spice dinner rolls that can be made anytime of the year! 
I have been trying to perfect dinner rolls for almost a year now. Every single time I made them, they weren't quite right. These pumpkin dinner rolls are so right, tasty, and absolutely delicious.
I can't wait to make a huge batch for Thanksgiving to bring up to PA where my family resides. Might just have to make 10 batches because I know they will get eaten so quickly. They did in our house!
I really love fresh, out of the oven warm rolls with butter slathered on. Mmm... my mouth is really starting to water now thinking about these rolls. Is yours? If you make them, the smell the house will make your mouth water.
When they were baking, my house smelled heavenly. No need for pumpkin spice candles, these are you are able to consume - yum.
How do you like to eat your rolls? With butter, with jelly, warm with butter, or plain? I prefer warm with butter spread all over. Next time I make this pumpkin chili, I will make a big batch of these pumpkin spice rolls. I think they would go so well together. What do you think?
These pumpkin spice rolls are really easy to make, if you have never used yeast before, don't worry. It will be easy for you too! With all yeast recipes, you will need to make sure your liquids are warm to touch, about 115-120F degrees. If it's too hot, the yeast will not activate and will die. Which means...no rise - yikes.
That's really the most important thing you will have to worry about when making these delicious rolls. Other than that, it's a waiting game, allowing them to rise to perfection.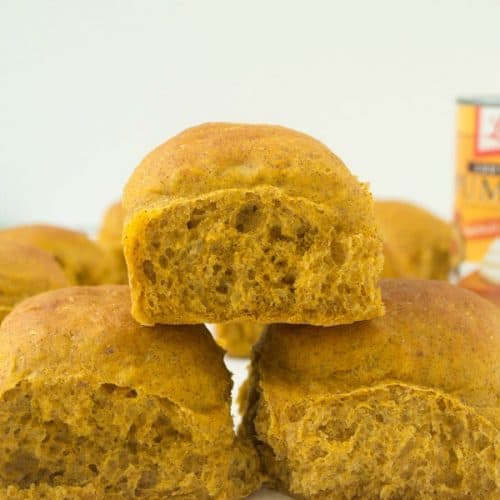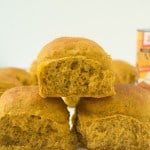 Pumpkin Spice Dinner Rolls
Ingredients
⅓

cup

milk

3

tablespoons

butter

1

tablespoon

granulated sugar

2

and ¼ teaspoons yeast

equivalent to 1 yeast packet

1

large egg

½

cup

pumpkin puree

not pumpkin pie filling

2

and ¼ cups all-purpose flour

1

tablespoon

pumpkin pie spice
Instructions
Prepare your yeast mixture by mixing together the milk, butter, and granulated in a small bowl. Microwave until the liquid reaches at least 115-120F degrees. You do not want it to be warmer than 120F degrees because the yeast will not activate. Mix in the yeast and pour into a large mixing bowl. Allow the mixture to set for 10 minutes to allow the yeast to activate and foam.

Using a paddle attachment on a stand or a handheld mixer, mix in the egg and pumpkin puree.

Using the dough hook, slowly add in the flour, ½ cup at a time, then add in the pumpkin pie spice. Knead the dough for 10 minutes on low. Place a kitchen towel on top of the mixing bowl and allow the dough to rise for 60-90 minutes, or until the dough has doubled in size. Once the dough has doubled, punch the dough, and allow it to rise for another 30 minutes.

Flour your counter top and place the dough on top, cut into 9-10 pieces. I cut mine into 8 pieces and the rolls are pretty huge. Roll each piece of dough into a roll form, making sure to tuck the edges underneath the roll.

Place the rolls into a 9x9 baking dish, cover them with the kitchen towel again and allow them to rise for another 60-90 minutes, or until they have doubled in size.

Preheat oven to 375 degrees and allow the rolls to bake for 15-17 minutes, or until the tops have browned.