Peanut Butter Cup Cookies - Incredibly moist cookies, then topped with a mini Reese's cup! Does not need to be chilled!
I really have a treat to share with you today. It's even on a Friday, too! What a coincidence. If you are a fan of chocolate, peanut butter, and cookies - you are going to love this!
I normally do not share many desserts because frankly my body does not need them. Sure every now and then I have a sweet tooth and I just have to indulge. That's what life is all about, right? Balance, my friend, balance.
As as child, all I ever wanted were sweets and desserts. Not anymore. I love my savory dishes, especially dips and yummy appetizers. Give me a plate of brushcetta or a spinach and artichoke dip, I will be in heaven and will forever love you.
I will tell you now, a girl does crave chocolate and peanut butter ever once in awhile. Wouldn't you agree? It makes me so happy, too. I'm weird, I know - you can admit it. LOL.
These peanut butter cookies are incredibly easy to make. The best part, wait for it.... you do not have to chill the cookie dough! Are you doing the jumping up and down dance right now? I knew I was when I first tried it. It's so hard to wait for cookie dough to chill for 3 hours when you really want a cookie NOW.
For the cookies or cookie "cups", you will need a regular sized muffin tin. You will need to make sure it's well greased so the cookies will not stick. Sticking means the cookies will stick, obviously, but they may not come up like they are supposed to.
You can use a cookie scoop, or just a spoon and spoon the cookie dough in. Once the cookies, cookie "cups", have finished baking, you will have to let them cool down before placing the Reese's cup on top. No patience to wait for them to cool, well you might just have melted chocolate all over the place. That's cool, too.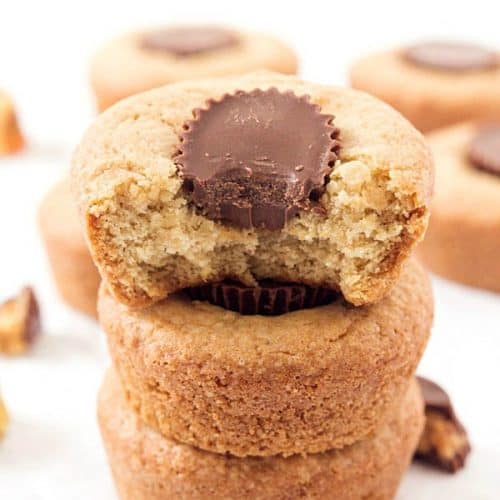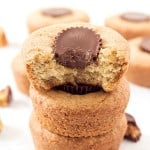 Peanut Butter Cup Cookies
Ingredients
1

stick unsalted butter

softened to room temperature

½

cup

light brown sugar

½

cup

granulated sugar

1

large egg

1

and ½ teaspoon vanilla extract

1

and ½ cups all-purpose flour

¼

teaspoon

salt

½

teaspoon

baking soda

12

mini Reese's cups

unwrapped
Instructions
Preheat oven to 350 degrees. Grease a regular-sized muffin tin. Set aside.

Cream together the butter, brown sugar, and granulated sugar in mixer on medium-speed. Add in the egg and vanilla extract.

Fold in the flour, salt, and baking soda.

Scoop the cookie dough into the muffin tin, should be enough for 12. Bake for 15 minutes. Allow the cookie cups to cool.

Place one unwrapped Reese's cup into the middle of the cookie cup and lightly push down. Remove from muffin tin.

Store in an airtight container for up to one week.
Other Recipes You May Enjoy:
Check out all of my cookie recipes!
Soft-Baked Reese's Pieces Cookies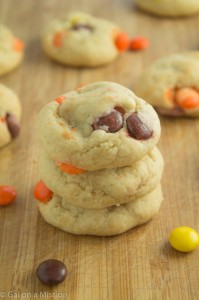 Peanut Butter and Chocolate Milkshake