Sesame Chicken Kebabs - An out-of-this world delicious marinade and grilled with bell peppers and onions. Perfect for summer gatherings!
I am so happy grilling season upon us. Looking forward to grilled corn, vegetables, steaks, burgers, sausages - you name it, my friend. I think I could sit here all day telling you how much I love grilling during the spring and summer months. Everything seems to taste like candy, but it's good food that is good for you.
What more can you ask for?
Not much more. Besides good company. I have a treat for you today. You are going to love these sesame chicken kebabs. They are so flavorful.
Speaking of gorgeous weather. I am sitting here writing to you today with my office in the backyard and my feet in the grass. One of my favorite things to do.
I tell you now so that you know. There are two different times on how long to marinate your chicken. The short version or the long version. The long version wins every time for me because it allows the flavors to absorb in the meat. It only requires a little planning ahead.
But you know my motto. Do which ever method works best for you and your family. Not only can you control how long you marinade the chicken for, you can grill or oven-bake these guys. Either method is absolutely delicious. If you are grilling or baking the kebabs skewers , you will need to soak them for at least 30 minutes in water.
That allows the kebabs skewers to not catch on fire or burn. If you have the metal skewers, then those are perfect, too!
I spaced out my kebabs a little more than usual because we were have a lot of sides with them. Feel free to add the vegetable and chicken pieces closer together.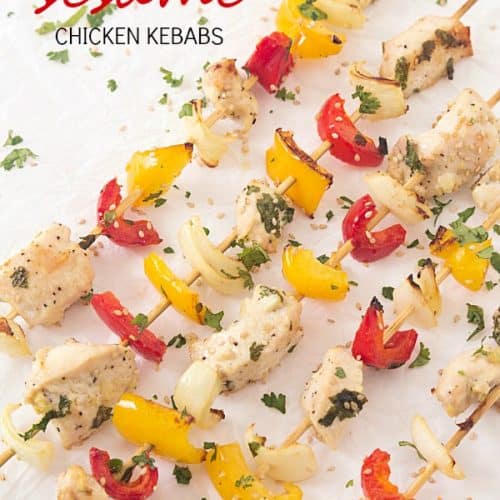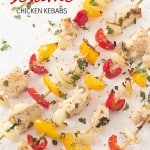 Sesame Chicken Kebabs
Ingredients
1

pound

chicken breasts

diced into 1 inch thick pieces

½

cup

olive oil

2

teaspoons

sesame oil*

2

teaspoons

fresh ginger

minced

4

garlic cloves

minced

¼

cup

fresh cilantro

diced

pinch

of salt and pepper

2

bell peppers

diced into 1 inch thick pieces

1

medium onion

diced into 1 inch thick pieces
Instructions
Add the chicken, olive oil, sesame oil, fresh ginger, garlic, cilantro, salt and pepper to a large gallon sized ziplock bag. Allow the mixture to marinate in the refrigerator for at least 3-4 hours, however 24 hours is best.

Before skewing the meat and vegetables onto the skewers, place the skewers in water for 30 minutes.

Place a diced bell pepper, diced onion, then chicken onto the skewers. Repeat the process until the skewers are full. Repeat with the rest of the skewers until you run out of the meat.

Brush the marinate onto the skewers.

Baking Directions:

Preheat oven to 350 degrees. Place the skewers onto a large baking sheet and bake for 20-30 minutes or until the chicken is tender and fully cooked. Remove from oven and enjoy. Top with sesame seeds and fresh cilantro.

Grilling Directions

Follow the directions for your specific grill, either gas or charcoal. Place the skewers onto the grill and grill on each side for 2-3 minutes or until the chicken is tender and fully cooked. Top with sesame seeds and fresh cilantro.
Recipe Notes
*You can find sesame oil in your local grocery store in the Asian aisle.
Equipment Used: Wooden Skewers, Ziplock Bags, Baking Sheet