One-Pot Tomato and Basil Tortellini Soup – Hearty, comforting, flavorful and a quick weeknight meal! So much easier than soup in the crock-pot!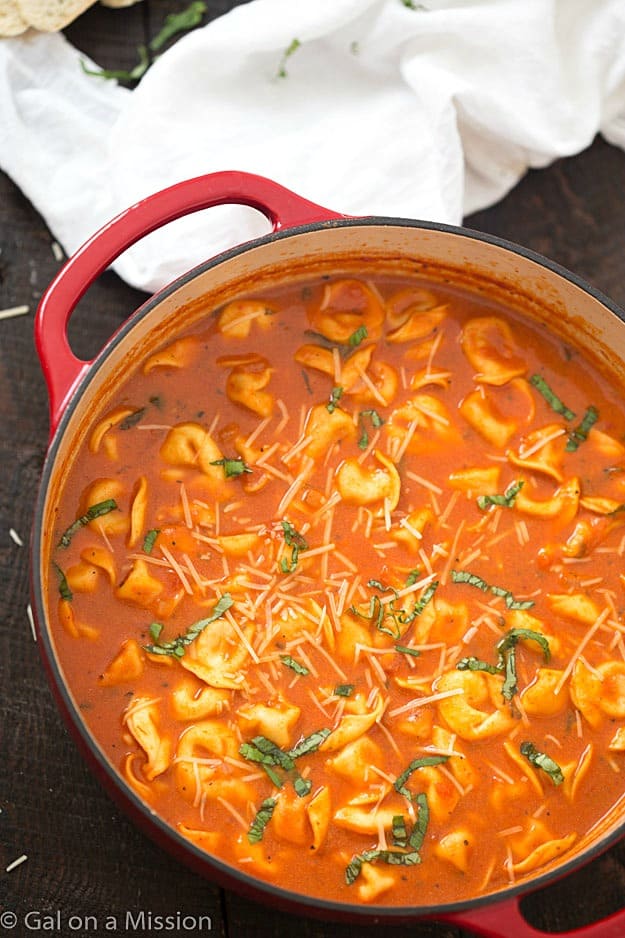 Oh, hey there gorgeous tortellini! I am a tortellini loving kind of gal. If it were up to me, I would indulge in it every single day, if I could. No one's stopping me. So I may just take myself up on the offer. Sounds delicious and comforting. Wouldn't you say so?
If you have never added three-cheese tortellini to your soup, or even Ragu, you are truly missing out. I'm not kidding at all. The tortellini soaks up the flavor, and each bite of tortellini contains so much flavor, you would be surprised. The following day, they will soak up so much of the liquid, it almost looks like a decadent scoop of sauce scattered on top.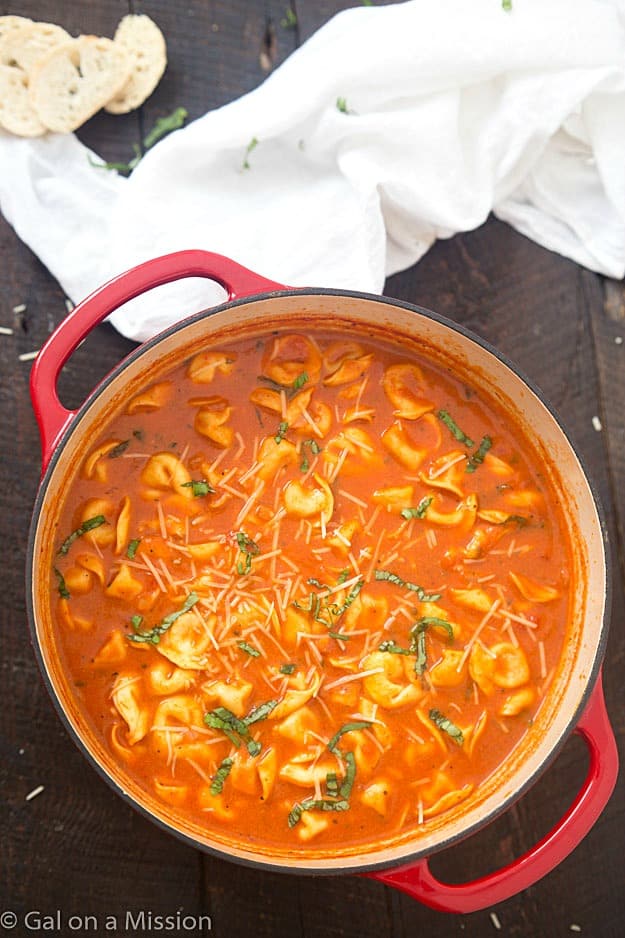 The addition of Ragu adds the perfect touch for a quick and easy meal. As you know, I love quick and easy one-pot meals! Who doesn't?
Growing up, my dad would always pick up clever things while watching a walk to the local grocery store for dinner, and I always loved those trips. They always contained saucy, carb, cheesy meal! While I was making this soup, my mind started to drift into those great memories. Got to love family traditions.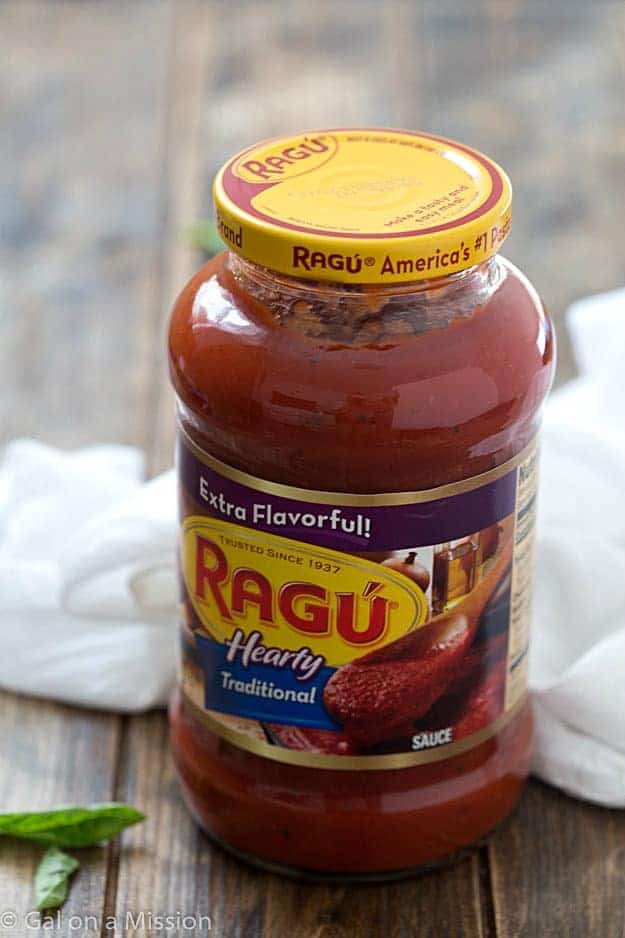 Do you know how about the Ragu family store? If not, grab a cup of tea or coffee and read on to find out. Assunta Cantisano, the mastermind/creator of Ragu, came to America from Naples in 1914, started her very own garden to which the beloved Ragu came from. This was all during the great depression, so many families were struggling, including her own. She decided to start selling her homemade pasta sauces to neighbors. By the 50's and 60's Ragu had become a staple in American kitchens. Neat, right?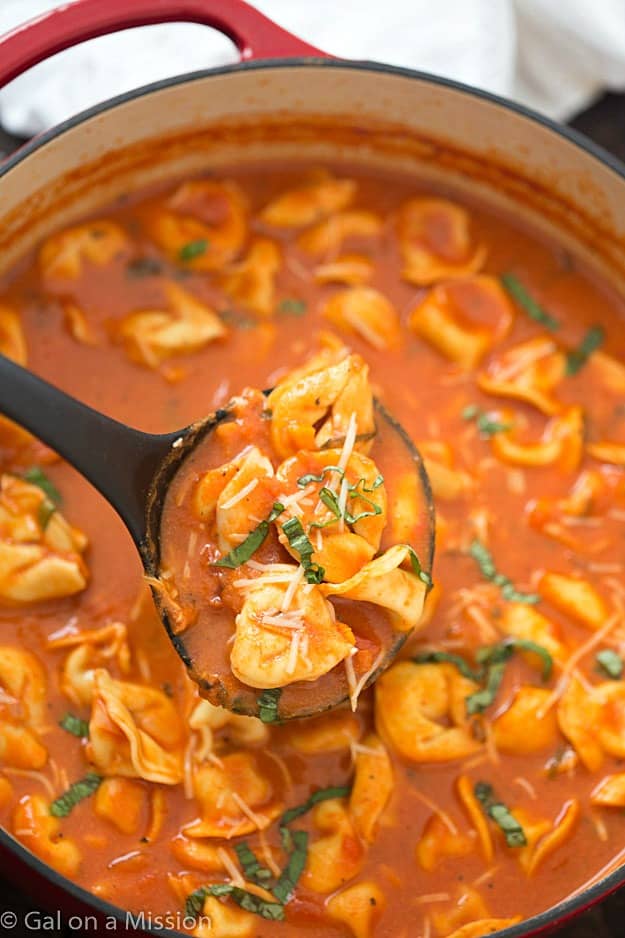 Right now there is a recipe contest going until November 30th! Enter!!

One-Pot Tomato and Basil Tortellini Soup
Author:
Chelsea @ Gal on a Mission
Ingredients
½ white onion, diced
1 medium carrot, peeled and finely diced
1 tablespoon olive oil
¼ cup fresh basil, chopped
5 cups fat-free chicken stock
½ cup skim milk
¾ cup fat-free half & half
1 jar Ragu Traditional Pasta Sauce
14.5 ounce can diced tomatoes
1 teaspoon salt
½ teaspoon pepper
1 teaspoon garlic powder
16 ounces refrigerated three-cheese tortellini
parmesan cheese, for garnish
basil, for garnish
Instructions
Place the onion, carrot, and olive oil in a 6-quart dutch oven or soup pot. Simmer over medium heat until the onions are translucent.
Add the fresh basil, chicken stock, milk, half & half, pasta sauce, and diced tomatoes to the mixture. Stir until combined.
Add the salt, pepper, and garlic powder to the mixture and stir. Simmer for 20 minutes.
Place the tortellini into the mixture and allow the soup to simmer for another 15-20 minutes.
Serve with parmesan cheese and fresh basil.