20-Minute Tuscan Chicken with Penne Pasta - The easiest and most flavorful weeknight meal! Comforting, warming, and delicious. Did I mention how quickly ever gobbles it up? Oh yeah.
This time of year, saucy kinds of pasta are my best friends. We mingle together almost every night, sometimes every other night just to make sure the hubs doesn't see us getting a little too close. Ha. Seriously. Saucy carbs this time of year is heaven. It's a stick to your ribs, almost, kind of meal. It's warming and hearty.
Lately, I have been devouring one-pot chicken and mushroom fettuccine alfredo, 15-minute one pot taco pasta (one of our favorites), and our beloved spinach lasagna roll-ups! See how saucy or even cheesy carbs are delicious this time of year?
The sauce is the mastermind behind this entire recipe. It's this sauce. It has diced tomatoes, frozen spinach, rotisserie chicken, garlic, Italian spices, homemade chicken stock, and, of course, the cream. It's so delicious, and you will not believe how quickly it comes together. Can be made in just 20 minutes!
All you need out of your busy schedules is just 20 minutes to have a saucy dinner on the table ready for your family to scarf it down.
It's even easier when you purchase a rotisserie chicken on your way home from running errands or coming from work. Not time to make homemade stock? No worries, pick up a carton while you are picking up the other ingredients.
There is one time I do know! We all need this incredibly easy 20-minute Tuscan chicken and penne pasta in our lives. No need to go out to a fancy restaurant when we can make it at home, even better!
I have been eyeing this pasta cookbook forever and my taste buds are telling me I need it now. Then again my brain kicks in and says, "Chelsea. Do you need it? I mean your body?" Ha. The story of my life people. I always crave and make the things I do not need, but who can resist saucy pasta? Not me.
So instead of using heavy cream, I thought I would do myself a little favor and use fat-free half & half. It just made me feel a little better. So that's just go with that. Mmmkay?
I thought you needed to get a little up close and personal to see just how delicious this pasta is. Another thing I want to mention, see the red dutch oven? Yep. I am still in love with this thing and use it every single day. You can see it used in many of my most recent pasta and soup recipes!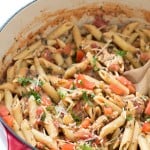 20-Minute Tuscan Chicken with Penne Pasta
20-Minute Tuscan Chicken with Penne Pasta – The easiest and most flavorful weeknight meal! Comforting, warming, and delicious. 
Keyword:
chicken, italian pasta, penne, tuscan
Ingredients
1

tbsp

olive oil

4

garlic cloves,

minced

2

cups

frozen spinach

½

large onion,

finely diced

1

tsp

dried oregano

¼

tsp

dried thyme

¼

tsp

pepper

½

tsp

salt

½

tsp

dried basil

28

oz

can diced tomatoes,

drained

2

cups

chicken stock

2

cups

rotisserie chicken

½

cup

half & half

3

tbsp

all-purpose flour

16

oz

box penne pasta

diced tomatoes,

to garnish

fresh basil,

to garnish

parmesan cheese

to garnish
Instructions
Place the oil, garlic, spinach, and onion or onion powder in a 6-quart dutch oven. Simmer over medium heat for 5 minutes.

Meanwhile, fill a large pot with salted water. Allow the water to boil, then add the pasta.

Add the oregano, thyme, pepper, salt, basil, diced tomatoes, and chicken stock to the dutch oven. Allow the mixture to come to a boil, then stir. Add the chicken and stir.

In a small bowl, whisk together the half & half and flour together, making sure there are no clumps. Stir the flour mixture into the sauce, stirring continuously well mixture is combined.

Allow the sauce to simmer until the pasta is al dente, about 12 minutes.

Drain the pasta, add the pasta to the sauce and stir.

Garnish with diced tomatoes, fresh basil, and parmesan cheese.
Recipe Notes
Nutrition estimated is based upon the brands I used. Yours may vary depending on brands.
Nutrition Facts
20-Minute Tuscan Chicken with Penne Pasta
Amount Per Serving
Calories 266
Calories from Fat 105
% Daily Value*
Fat 11.7g18%
Cholesterol 64.8mg22%
Sodium 775.6mg34%
Carbohydrates 22.7g8%
Protein 18.3g37%
* Percent Daily Values are based on a 2000 calorie diet.