One-Pot Creamy Sausage and Potato Soup Recipe – So easy with hardly any prep, besides removing the casing from the sausage, with big flavor! Make it in the dutch oven or even in a crockpot. So creamy and not made with Velveeta!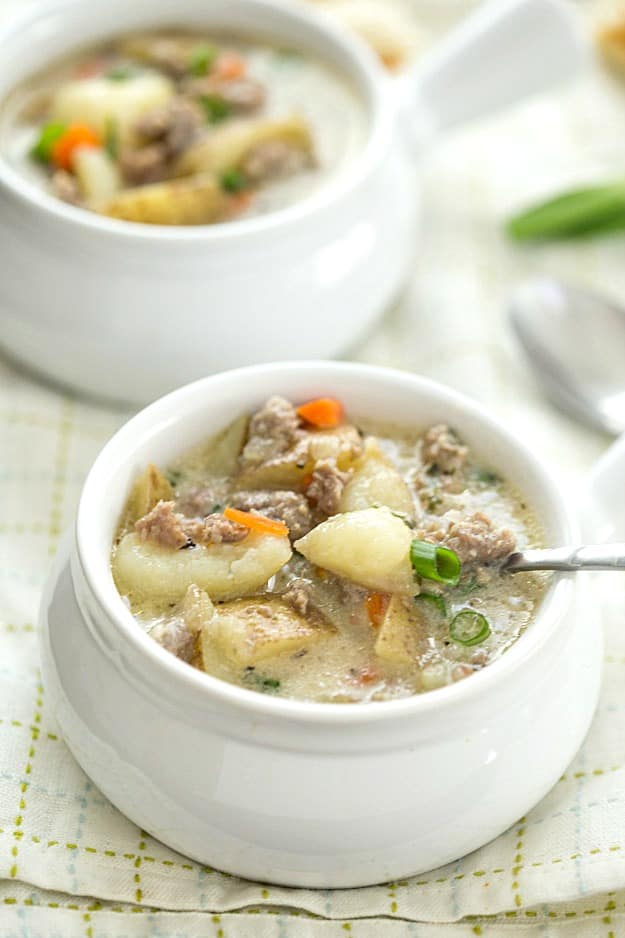 Just the other day I was browsing through my Facebook feed and noticed someone saying, "Happy National Soup Month!" I had no idea January was national soup month.
I almost feel like a foodie failure because I love a big bowl of soup with a huge piece of warm bread on the side. It's the simple things in life, right?
With that being said, if you are a fan of creamy, potato-loaded soup, you've got to make this creamy sausage and potato soup. It's so easy and done in only one-pot, my handy dandy and favorite dutch oven. No dutch oven? No worries, make it in the slow cooker or a soup pot, just remember it needs to be at least 4-quarts.
Looking for other soup recipes? Try our Copycat Panera Chicken and Wild Rice Soup, One-Pot Tomato and Basil Tortellini Soup, or the Best Potato Soup Ever!
For the sausage, you can use any kind your heart dreams. If it's too fatty, you will need to drain the fat. I should have drained a little more because the liquid had just a little too much fat for my liking. I used hot Italian sausage because we love the flavor.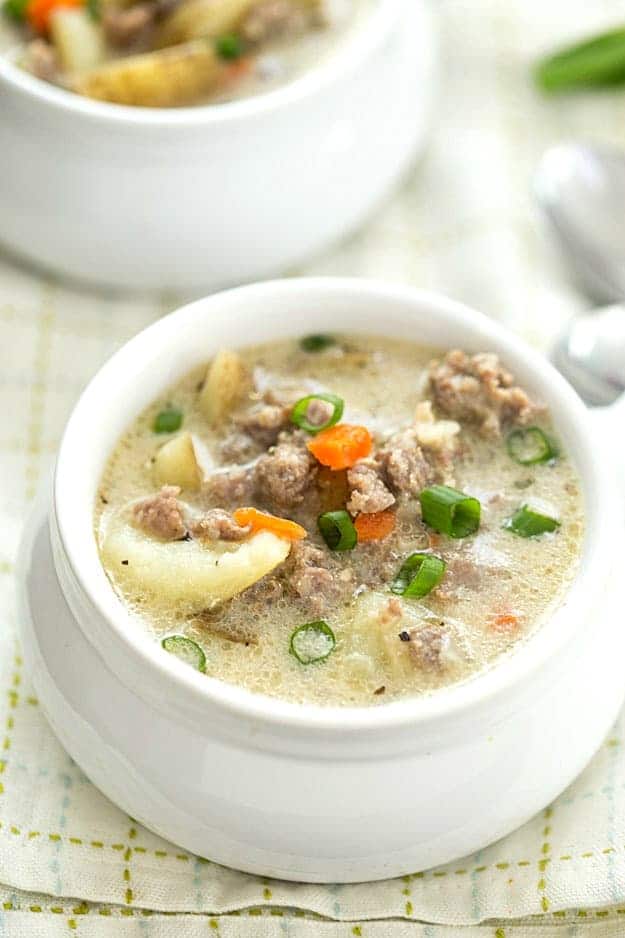 I will have to tell you, removing the casing from the sausage does take a little hands-on time, but not too much. Only 5 minutes or say, depending on how quick you are or if you do not have any disruptions from little ones or loved ones.

One-Pot Creamy Sausage and Potato Soup
Author:
Chelsea @ Gal on a Mission
Ingredients
1 medium onion finely diced
1 pound sausage, casing removed and crumbled*
3 garlic cloves, minced
1 pound russet potatoes diced
½ cup finely diced carrots
5 cups chicken stock
¼ cup heavy cream
¼ teaspoon red pepper flakes
½ teaspoon dried oregano
½ tablespoon dried parsley
salt and pepper, to taste
scallions, to garnish
Instructions
Place the onion, sausage, and garlic into a dutch oven or soup pot and allow the mixture to simmer over medium heat until the sausage is crumbled and cooked through.
Place the potatoes, carrots, chicken stock, heavy cream, red pepper flakes, oregano and parsley to the mixture.
Allow the soup come to a boil, then turn the heat down, and then cover with a lid for 15-20 minutes or until the potatoes are tender.
Add salt and pepper to taste.
Serve and garnish with fresh scallions.
Notes
*You can use any sausage if it's fatty sausage then drain the fat. I used hot Italian sausage.
**Slow Cooker Directions - Add all of the ingredients into the slow cooker. Cook on low for 4 hours or on high for 2.