A delicious and mouthwatering maple-mustard chicken thighs recipe! A new family favorite here. 
Chicken and chicken thighs are always my go-to staples to use in recipes because they are so affordable and you can pretty much do anything with them!
From buffalo chicken spaghetti squash, chicken and broccoli pasta skillet casserole, to these amazing chicken thighs. Such a versatile meat! What are some of your favorite dishes that use chicken or chicken thighs?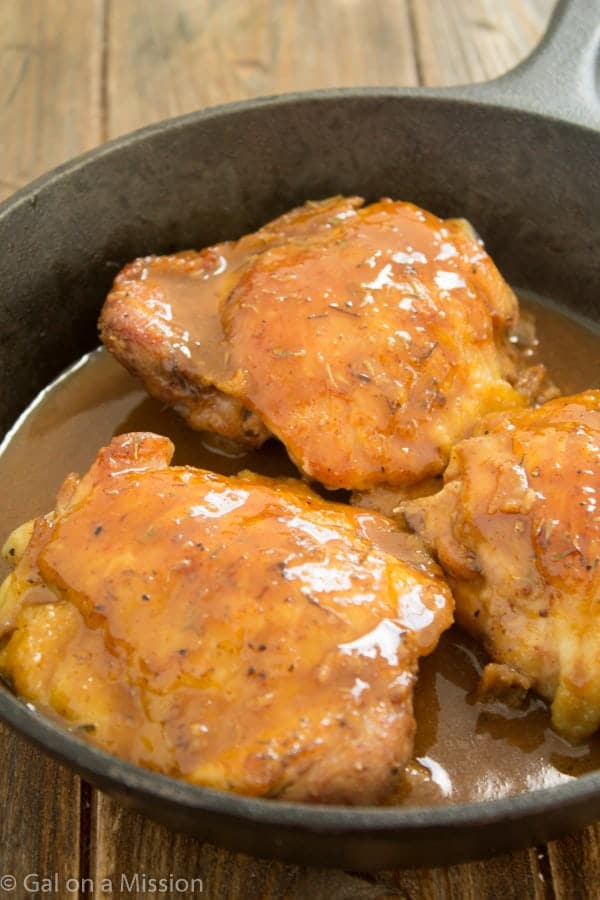 Hopefully, these maple-mustard chicken thighs will be your new favorite because they are ours. I cannot wait to put these back on the menu.
Speaking of chicken, I really wanted to tell you something. I do not usually purchase my chicken at my local grocery store, but at Zaycon Foods. Their chicken is to die for and so good. I didn't purchase these chicken thighs through them because I only order chicken breasts. Hopefully they will start to carry them soon. Check to see if they are in your area! **Not sponsored, I just love their chicken**
I know your family will just gobble these up because they only last two days here, only 2 people. They are incredibly easy and do not require anything unusual. The only spice you might not have readily available in your pantry is dried rosemary. That's it.
I will have to tell you that if you do not like mustard, I do not think you will like these because these is quite a bite of mustard in the sauce compared to the other ingredients. Now if you are a fan of mustard, you must make them soon! Here is one of my favorite skillets!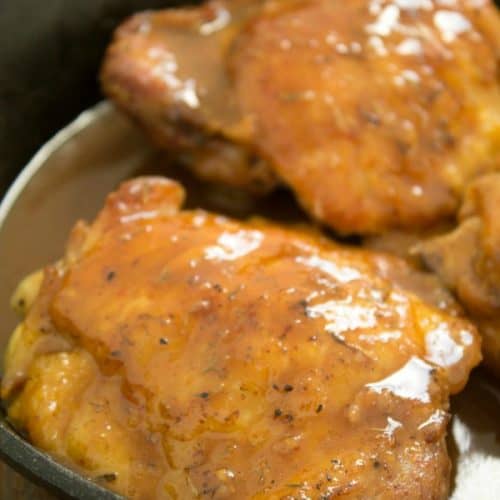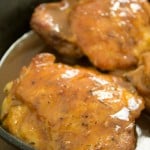 Mouthwatering Maple-Mustard Chicken Thighs
Ingredients
4

chicken thighs

approximately 2 pounds

1

tablespoon

oil

3

tablespoons

pure maple syrup

3

tablespoons

dijon mustard

¼

teaspoon

dried rosemary

salt and pepper

to taste

⅓

cup

ale or chicken stock

½

tablespoon

flour
Instructions
Preheat the oven to 350 degrees. While the oven is preheating, Place your chicken thighs and oil in a large skillet (something you can also use in the oven) and sear for about 3-6 minutes on each side. Just enough to make the skin browned and a little crispy.

Mix together the sauce, by whisking together the pure maple syrup, dijon mustard, and dried mustard. Add salt and pepper, to taste.

Pour the sauce on top of the chicken thighs and bake for another 35-40 minutes. Mine needed 37 minutes. When finished, remove the chicken thighs from the pan and deglaze the pan with ale or chicken stock, whisk in the flour and cook for an additional 5 minutes.

When serving, pour the sauce onto the chicken thighs and serve with your favorite side.
 For additional chicken recipes, take a look at my chicken board on Pinterest! 
Follow Chelsea Haga's board Chicken for Dinner on Pinterest.