These Ground Beef Tacos are our go-to taco recipe for the juiciest and most flavorful ground beef taco meat. It always gets great reviews!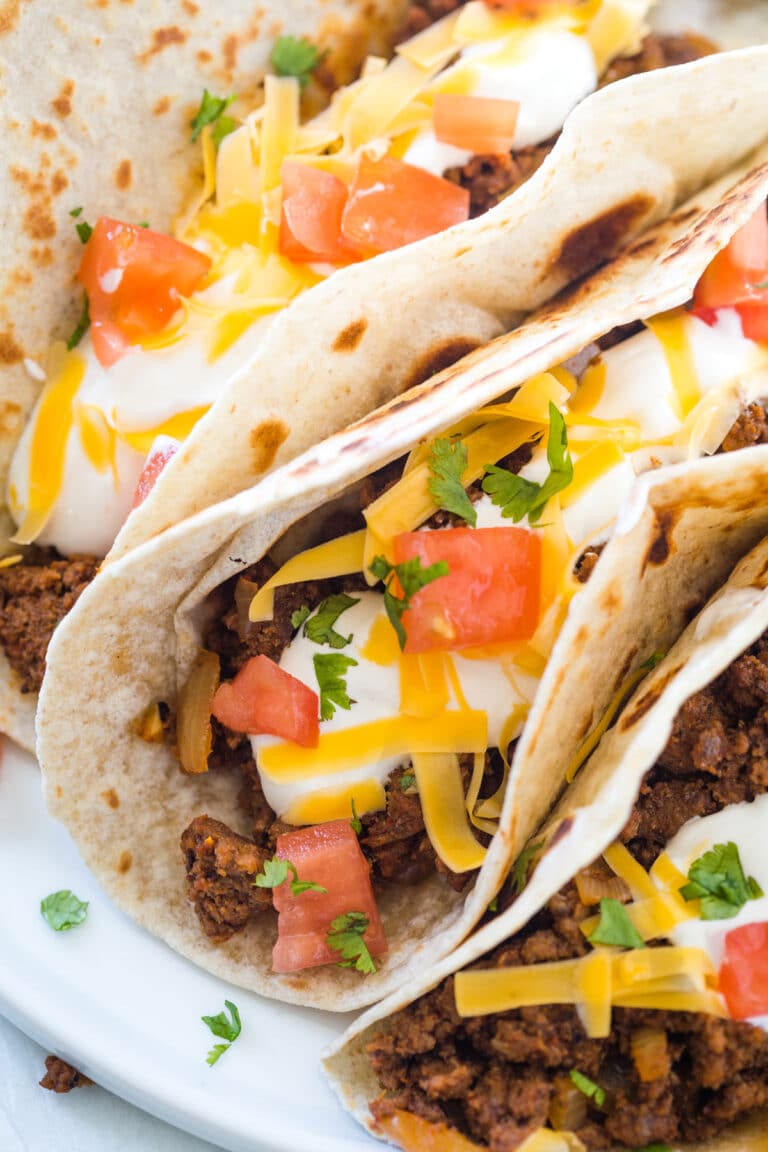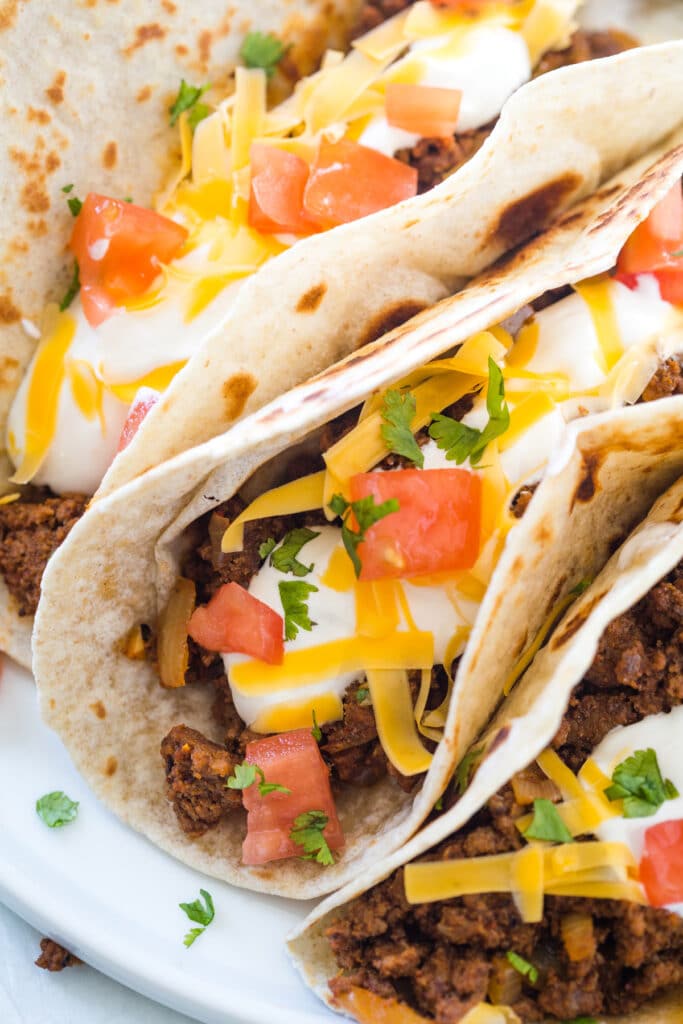 Tacos are always a winner, especially on those busy weeknights when you need dinner finished as soon as possible! And these do tacos do not disappoint. The taco meat alone is perfect right off of the spoon.
Let's skip the bland store-bought taco seasoning and make these instead!
What I love about this recipe:

✔ So much flavor with minimal pantry ingredients
✔ Perfect for flour tortillas, hard shells, or even corn
✔ It makes weeknight dinners a breeze
what to serve with ground beef tacos
Are we talking about toppings or sides? Because the toppings on tacos are limitless, and all types of sides are delicious! You can get as creative as you want with your taco toppings!
TOPPINGS:
✔ Beans, black or pinto
✔ Shredded Cheese
✔ Lettuce
✔ Diced Onion
✔ Pico de Gallo, or Copycat Chipotle Fresh Tomato Salsa
✔ Diced Tomatoes
✔ Salsa
✔ Queso
✔ Sour Cream
✔ Copycat Chipotle Corn Salsa
✔ Guacamole
SIDE DISHES:
All of my side dish recipes are here, but here are a few I think that would be delicious:
✔ Cilantro Lime Rice
✔ Mexican/Spanish Rice
✔ Mexican Street Corn Salad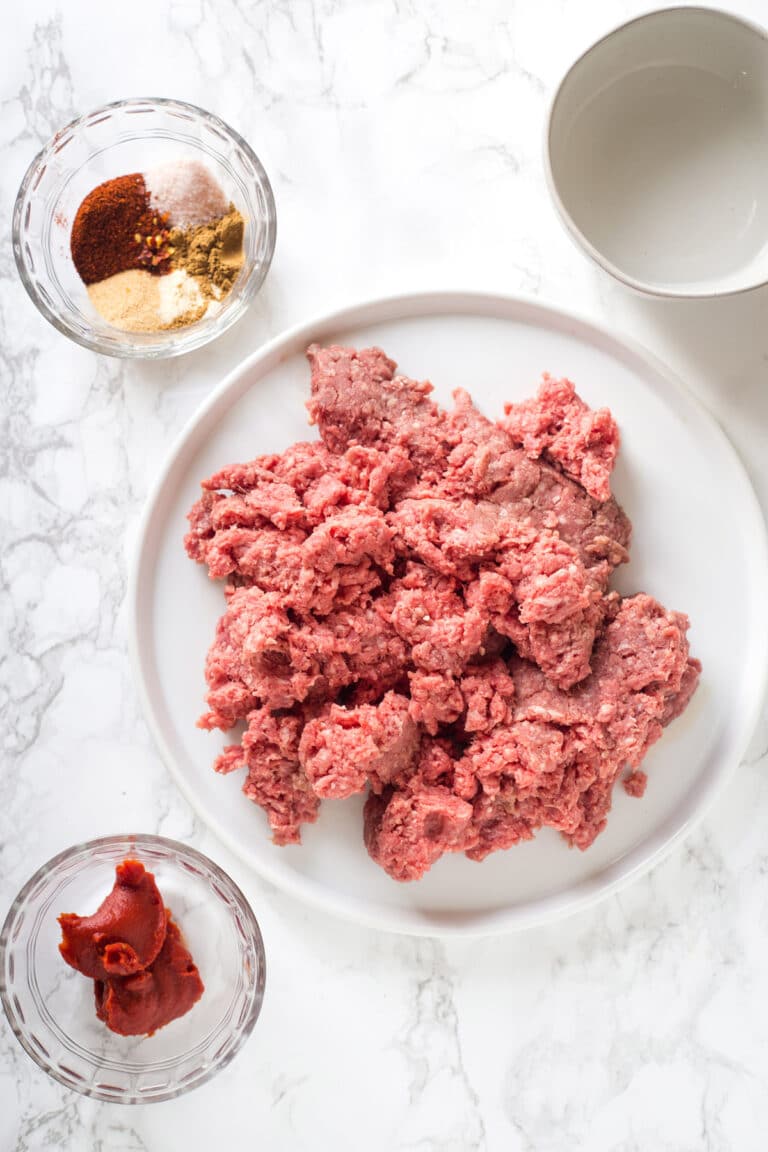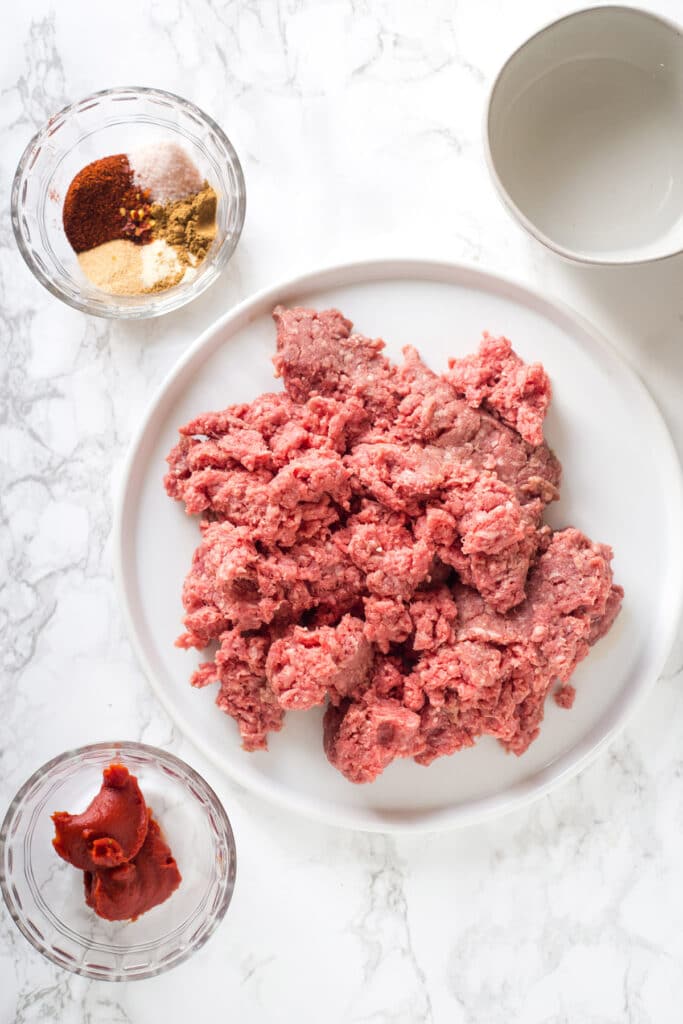 ingredients needed for ground beef taco recipe:
The Best Taco Meat
Tortillas (corn, flour, or hard shell)
Sour Cream
Salsa
Shredded Cheese
Onions
Lettuce
frequently asked questions:
Do you drain ground beef before adding taco seasoning?
It depends on the fat content in your ground meat. If you are using fattier ground beef, then you will have to drain the excess oil. If using leaner meats, there is no need to drain the meat.
What ground beef is best for tacos?
For optimal flavor, I highly recommend 88/12 or 80/20 ground beef because fat is flavor. However, you will have to drain your meat before adding seasoning.
What do you put inside a taco?
The possibilities are endless! You can add sour cream, shredded lettuce, shredded cheese, salsa, queso, hot sauce, guacamole, you name it.
How do you make your tacos better?
By making this ground beef taco recipe! Seriously, it's the most amazing taco meat I have ever made, and it will be your go-to, I promise.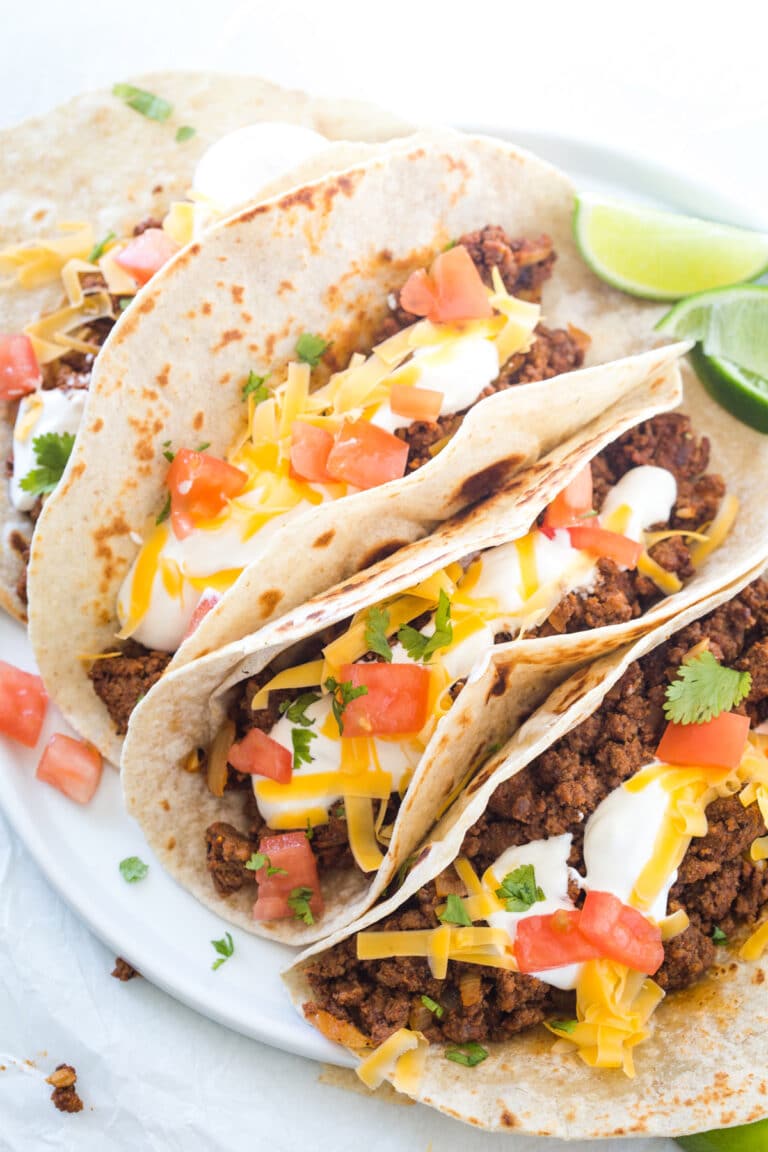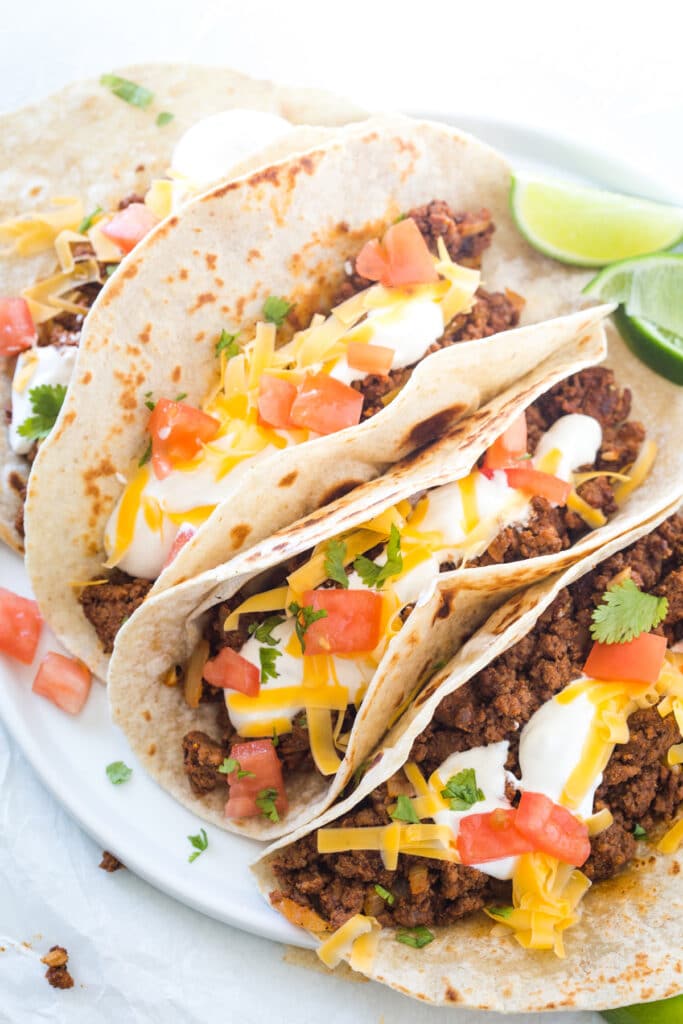 What's in homemade taco seasoning?
Onions
Tomato Paste
Garlic Cloves
Chili Powder
Cumin
Garlic Powder
Onion Powder
Water
Salt and Pepper
recipe shortcuts
Sometimes we are short on time and need to prep things ahead of time. Here are a few ideas that can help make this recipe even faster for you!
✔ Prep ahead – All of the ingredients can be prepped up to 24-48 hours ahead of time and keep in a bag or a container in the refrigerator.
✔ Cook ahead – Taco meat is perfect for cooking ahead and reheated without losing flavor or form. Make as directed, cool to room temperature, package, and refrigerate. When ready to eat, heat on the stovetop or in the microwave. I would recommend not assembling the tacos beforehand.
✔ Freezer meal – Read directions below.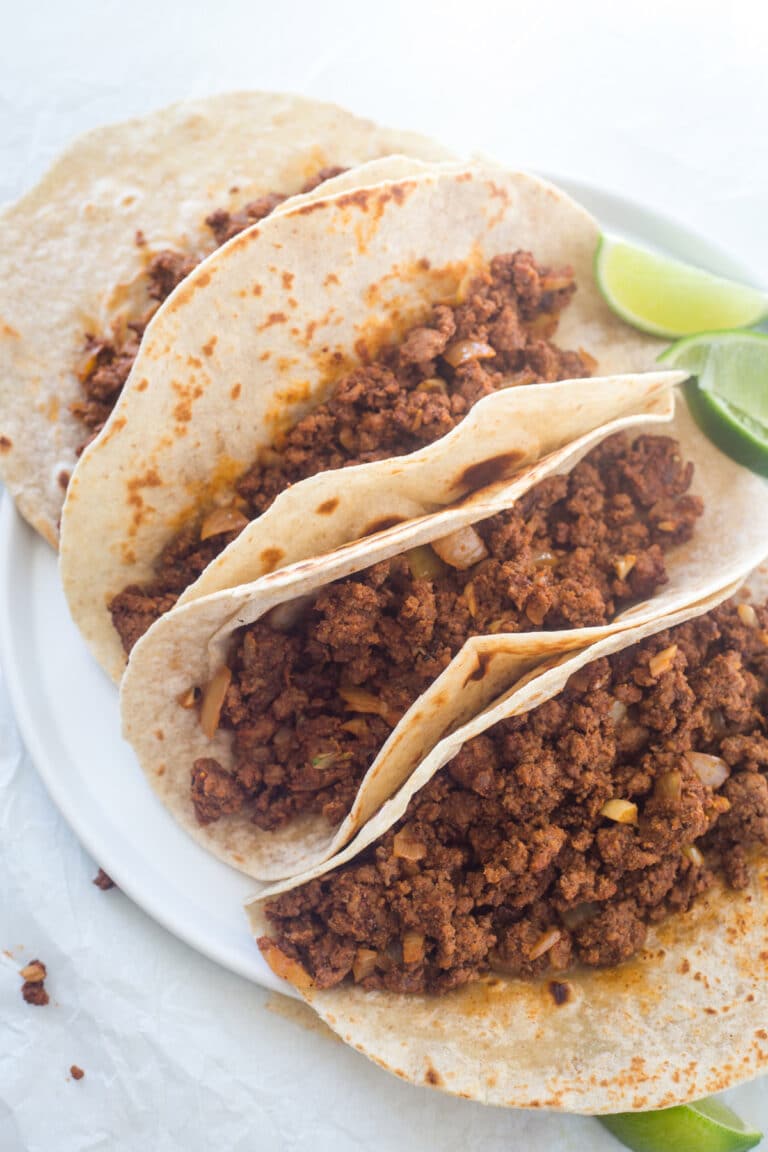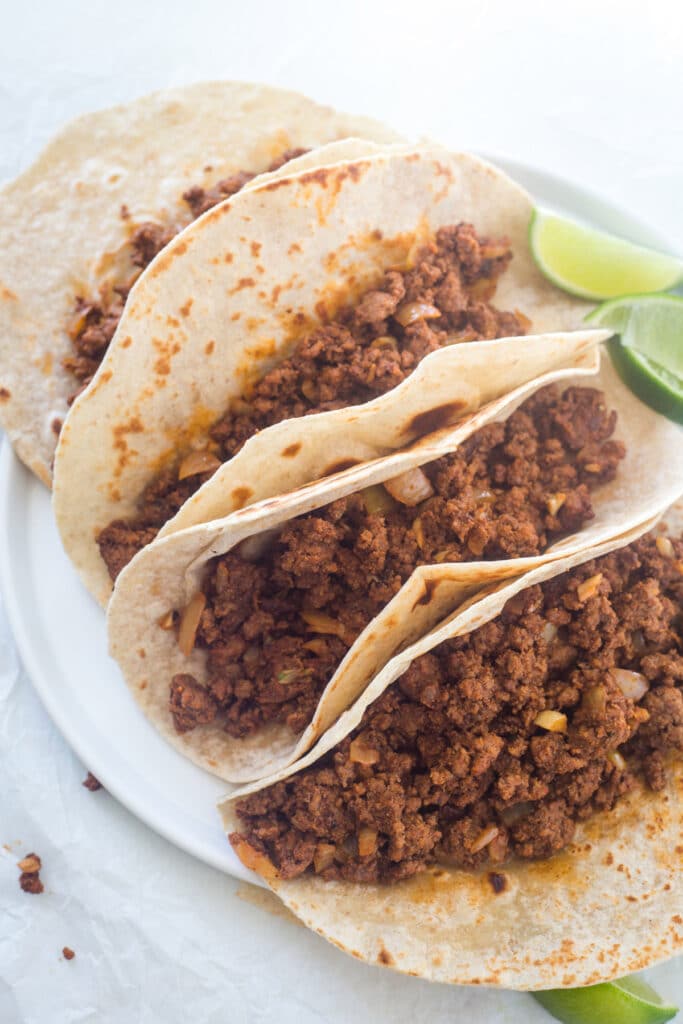 freezer meal instructions
This taco meat is the perfect freezer meal! You can either prep this before cooking or after cooking. For best results, use within 4-6 months. I would not recommend freezing assembled tacos.
TO FREEZE BEFORE COOKING:
Prepare all ingredients and place the soup into a freezer bag or freezer-friendly container. I would recommend using lean ground beef since all of the ingredients will be mixed, and it will be difficult to drain any excess oil.
Freeze.
When ready to cook, add to the slow cooker. If you are cooking from frozen, the meat will need additional cooking time. Frozen meat can be thawed before cooking by placing it in the refrigerator 24-48 hours beforehand.
Cook as directed.
TO FREEZE AFTER COOKING:
Prepare recipe as directed.
Allow the meat to cool to room temperature.
Package in freezer bags or a freezer-friendly container.
Freeze.
Meat can be reheat in the microwave or on the stovetop.
recommended tools
leftovers
Leftovers are my favorite! They save and reheat well. To save them, place them into a container once cooled to room temperature. The taco meat is good in the refrigerator for 3-4 days and up to a month in the freezer. I do not recommend storing assembled tacos because the tortilla will get soggy.
more easy beef recipes
If you loved this recipe, here are a few more easy beef recipes you will love!
You can check out all of my easy dinner recipes here or see a few of our readers' favorites below:

✔ Slow Cooker Barbacoa Taco Lettuce Wraps
✔ Beefaroni
✔ Copycat Chipotle Chicken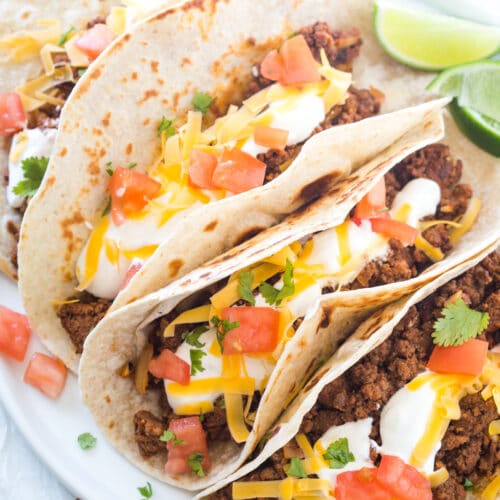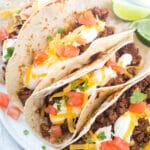 Ground Beef Tacos
These Ground Beef Tacos are our go-to taco recipe for the juiciest and most flavorful ground beef taco meat. It always gets great reviews!
Cuisine:
American, Mexican
Keyword:
creamy taco meat, ground beef tacos
Ingredients
Tacos
8

Tortillas,

flour, corn, or hard shell

Sour Cream

Tomato Salsa

Shredded Lettuce

Shredded Cheese
Instructions
Once meat is cooked, prepare your tacos by adding the ground meat and then any toppings you would like.
Recipe Notes
Nutrition information is only calculated for taco meat. Each taco is calculated with 2 oz of meat, with the total serving 4 oz per person. 
The toppings are limitless. I recommend:
Beans, black or pinto
Shredded Cheese
Lettuce
Diced Onion
Pico de Gallo, or Copycat Chipotle Fresh Tomato Salsa
Diced Tomatoes
Salsa
Queso
Sour Cream
Copycat Chipotle Corn Salsa
Guacamole
Nutrition Facts
Ground Beef Tacos
Amount Per Serving (4 oz)
Calories 270
Calories from Fat 137
% Daily Value*
Fat 15.2g23%
Cholesterol 70.9mg24%
Sodium 225.2mg10%
Carbohydrates 9.8g3%
Protein 26.4g53%
* Percent Daily Values are based on a 2000 calorie diet.