Candy Cane Fudge  – The perfect fudge for the holidays. Melts right in your mouth! Perfect for homemade gifts. Move on over candy cane cookies and brownies, there's a new one in town this year!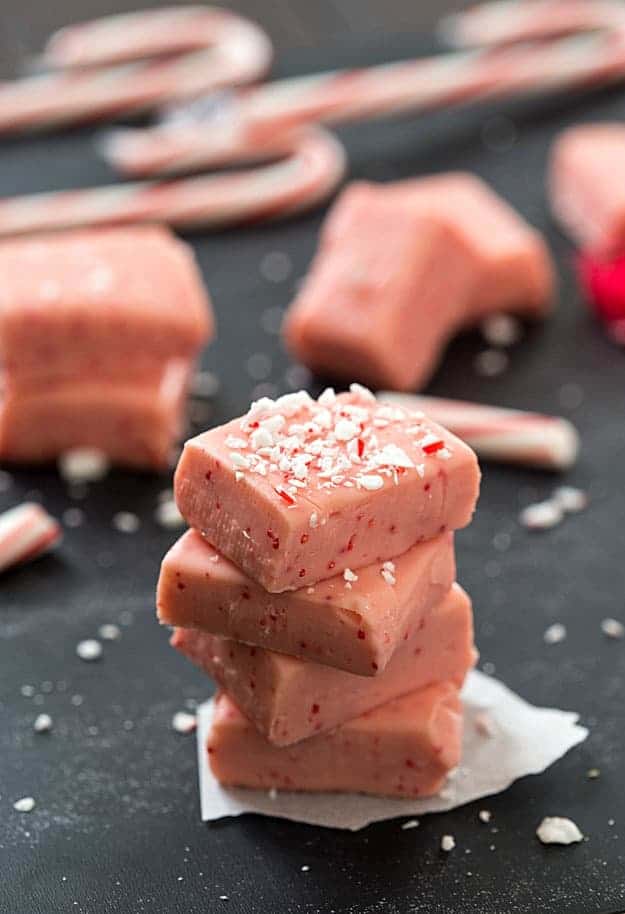 I cannot believe it's already December. Where has the year gone? December is one of my favorite months because of Christmas, Christmas music, cookies, and fudge. Oh, wait. I forgot to add and spending time with friends and family. Of course, it's not in the exact order, or maybe it is. Ha.
So I started dieting before Thanksgiving, which is a bad idea to begin with and now with Christmas coming. I'm doomed. Like really doomed. Just today, I have tested four different kinds of cookies for you.
Having fudge and cookies for breakfast and lunch is starting to become pretty normal to me. So maybe my body is looking forward to January. Speaking of January, I am thinking about purchasing the skinnytaste cookbook and giving some of the recipes a try. They all look delicious.
If you love fudge, you may also want to try my buttered rum fudge with cranberries and butterfinger fudge, even though you probably cannot find candy corn this time of year.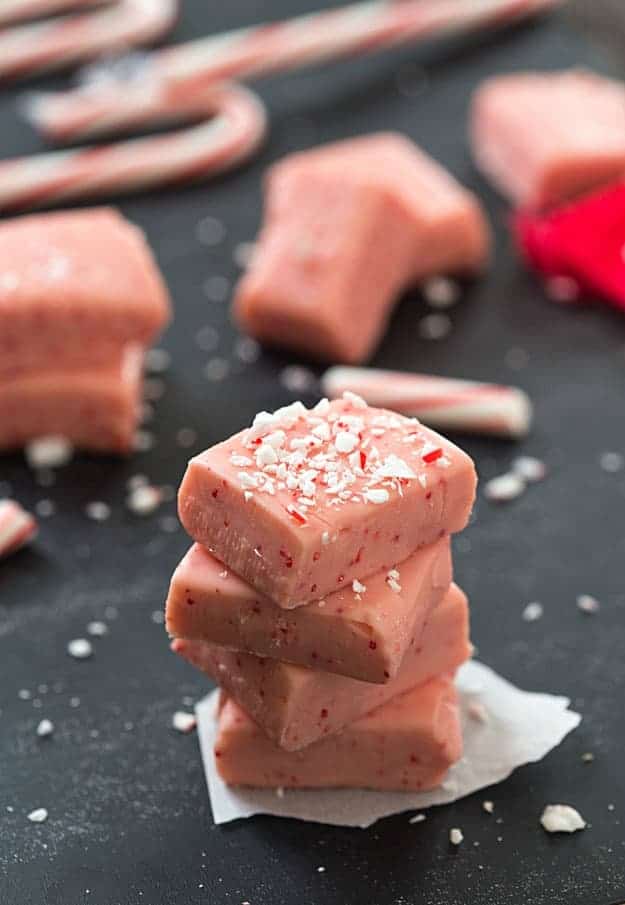 You will be shocked at how easy my candy cane fudge is. You will only need a few ingredients including Hershey's candy cane kisses. Have you tried those yet? They are the best and highly addicting. I'm not mentioning to you, but someone may have stashed a bag away. Shhhh!

Candy Cane Fudge
Author:
Chelsea @ Gal on a Mission
Ingredients
4 tablespoons unsalted butter
(2) 10-ounce bags candy cane kisses, unwrapped
1 teaspoon vanilla extract
1¾ cup white chocolate chips
14-ounce can sweetend condensed milk
candy canes, chopped (optional)
Instructions
Line an 8x8 baking dish with aluminum foil and spray with non-stick cooking spray. Set aside
Place butter and unwrapped candy cane kisses into a medium sized pot over low-to-medium heat. You can also use a double boiler, although not necessary when the temperature is low. Stir in the candy cane kisses starts to melt.
Stir in the vanilla extract, white chocolate chips, and sweetend condensed milk. Continue stirring until everything is smooth and melted.
Pour the fudge into the baking dish and allow the fudge to come to room temperature. Place in the refrigerator for at least 2 hours.
Slice and store the leftovers in the refrigerator.