Healthy Sesame Chicken – Incredibly easy sesame chicken! Doesn't require you to coat it, bake it, or even cook it in the Crock Pot! Who knew healthy take out…fake out could be so easy?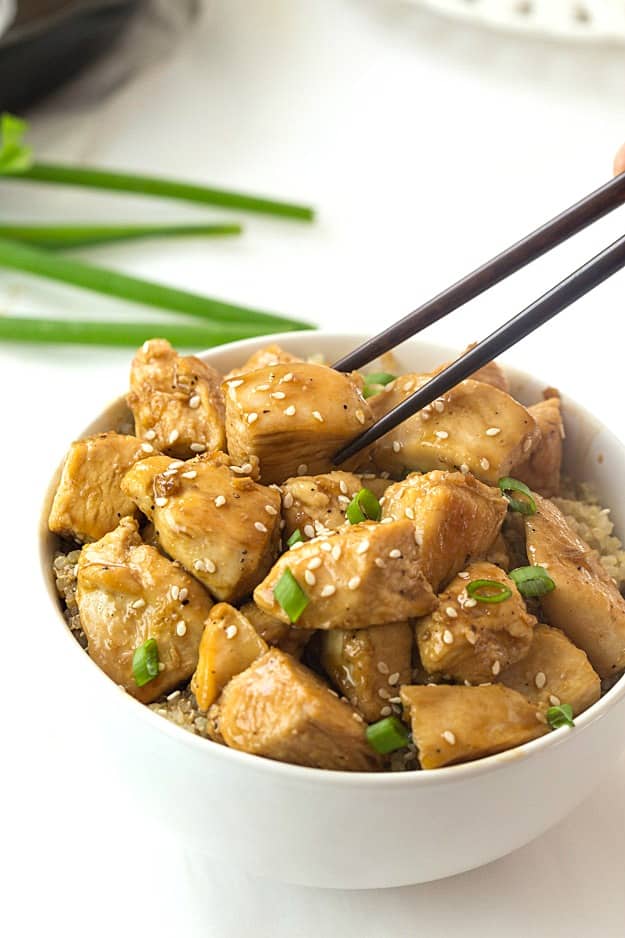 Who knew Sesame chicken could be healthy? Not only can you make it healthier, but the healthier versions tastes just like the classic, or fattening and carb loaded sesame chicken. I'm not saying there isn't anything wrong with the non-healthy version, I like that one too. Healthy sesame chicken is the best recipe I have made in 2016!
What I'm trying to say is, you should check to see if you have chicken breasts, honey, reduced-sodium soy sauce, cornstarch, sesame oil, etc. in stock in your refrigerator your pantry. Once you try this, I am telling you, you are going to be hooked. It's so easy and can ready in 15 minutes.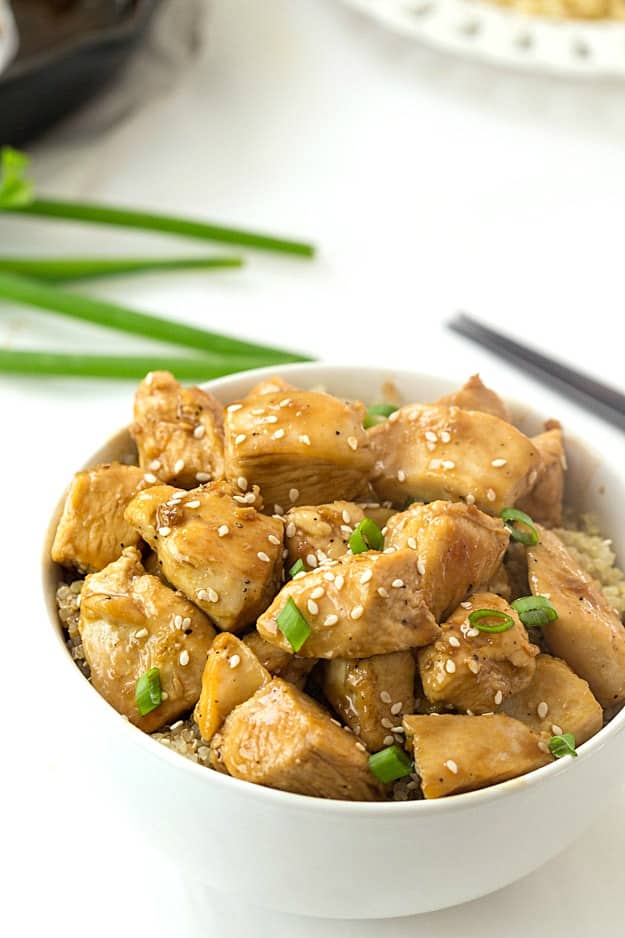 Another sesame chicken we love is sesame chicken kebabs! Our favorite skillet for browning the chicken and giving it the best flavor is our beloved cast iron skillet.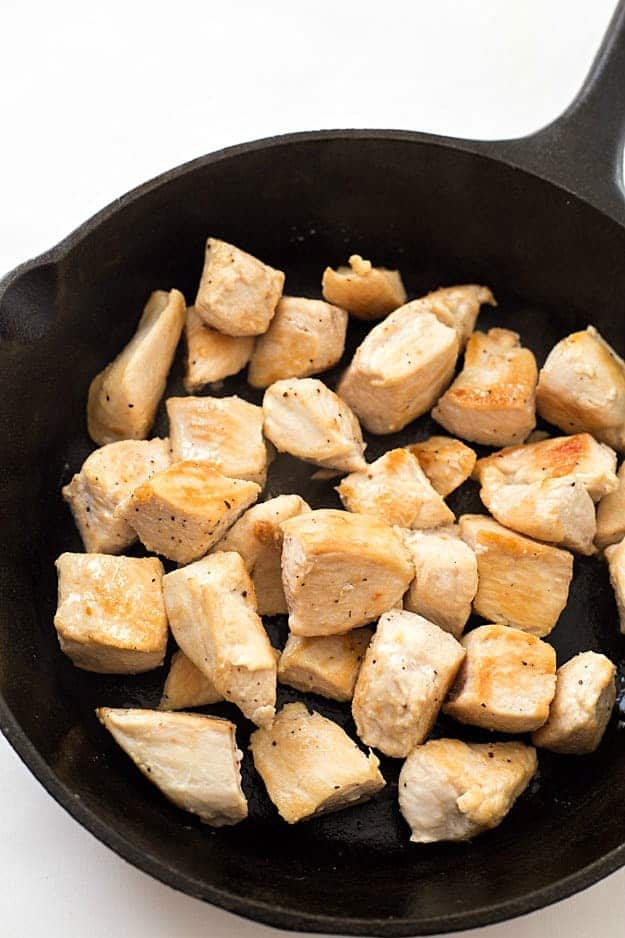 You heard that right; it can be prepared in only 15 minutes! Who knew Sesame chicken is so easy to make healthy. Some say the baked version is good and healthier, but no need to coat or bake this one. Want to make it the crock pot? Oh yeah, you can do that, too. Now it won't be ready in 15 minutes!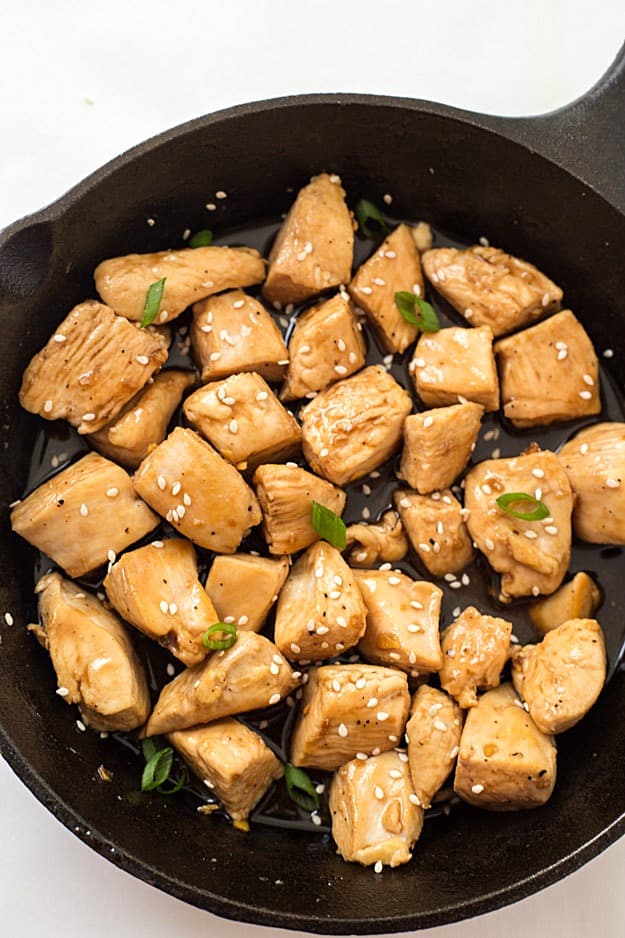 No fancy ingredients are needed, only if you think rice wine vinegar is fancy. Other than that, most are pantry staples. If you do not have coconut oil, use any oil you like. I love using coconut oil.  If you have or can find refined coconut oil is tasteless, and it's so healthy for you and so tasty. Come on and jump on the coconut oil bandwagon with me. It's not too scary. 😉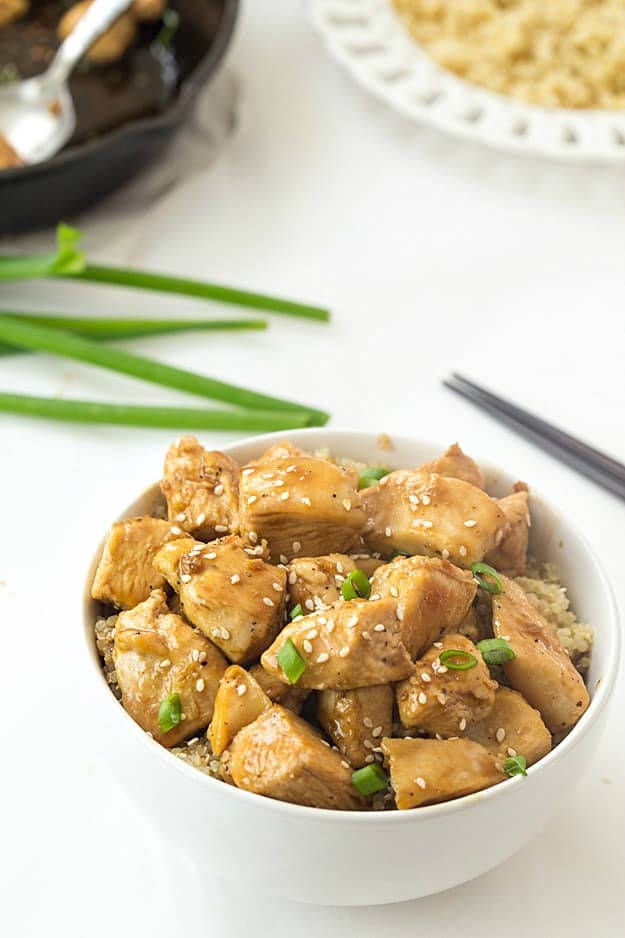 Healthy Sesame Chicken
Author:
Chelsea @ Gal on a Mission
Ingredients
1 teaspoon coconut oil
2 large chicken breasts diced into 1" chunks
salt and pepper
3 tablespoon reduced-sodium soy sauce
1 tablespoon rice wine vinegar
1 tablespoon finely minced fresh ginger or 1 teaspoon ground ginger
1 teaspoon cornstarch
2-3 tablespoons honey, or to taste
2-3 tablespoons water, or to desired sauce consistency
green onions, to garnish
sesame seeds, to garnish
Instructions
Preheat your skillet or pan over medium heat until hot. Add coconut oil to the skillet and then place the diced chicken into the pan. Season lightly with salt and pepper. Cook for 5 minutes or tender the chicken is cooked through. Remove from pan and place onto a plate.
Wipe the skillet with a paper towel.
Whisk together the soy sauce, rice wine vinegar, fresh ginger, cornstarch, honey, and water together and place it into the same skillet. Simmer over low heat until sauce is bubbling and thickening. Add more water to desired sauce consistency. Taste and add more honey if needed, to taste.
Place the cooked chicken into the sauce, making sure the chicken is warm and coated with the sauce.
Serve on top of quinoa or rice. Garnish with green onions and sesame seeds.