Mint Chocolate Chip Cookies – Bursting with flavor from the mint chocolate chips. Soft and chewy! VERY easy to make and the BEST cookies! Add these to your cookie baking list for Christmas or any time of the year!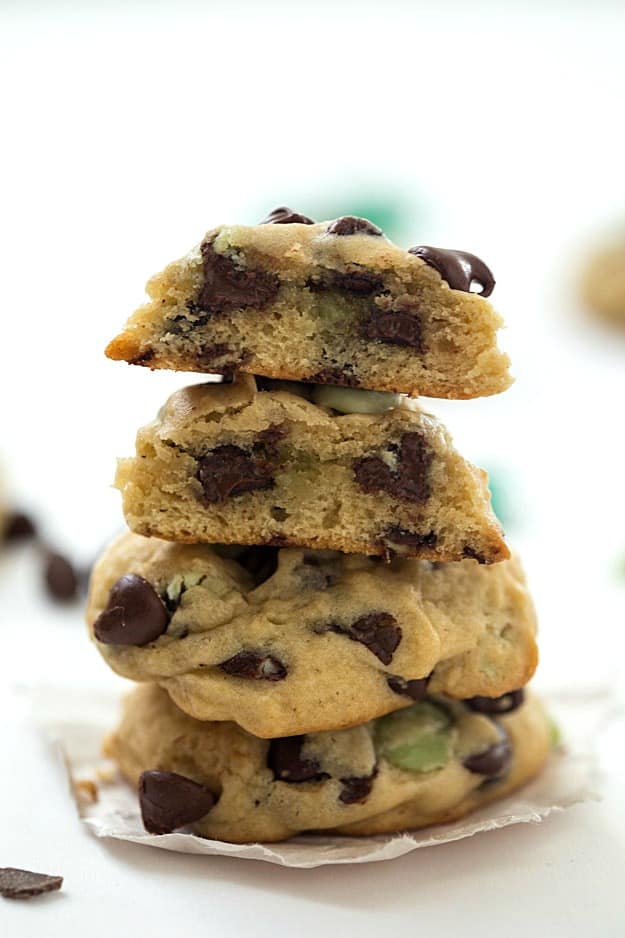 If you are a fan of mint chocolate chip ice cream, you are going to love these mint chocolate chip cookies. They are everything you would like in a minty chocolate cookie. They are chewy and super-soft, just the way I like them!
As I am sitting here typing this out, I didn't know today was national chocolate chip cookie day! Did you? I always have a hard time keeping up with the food holidays, even though there is a calendar on my desk. Oops. It's okay because it worked out perfect today.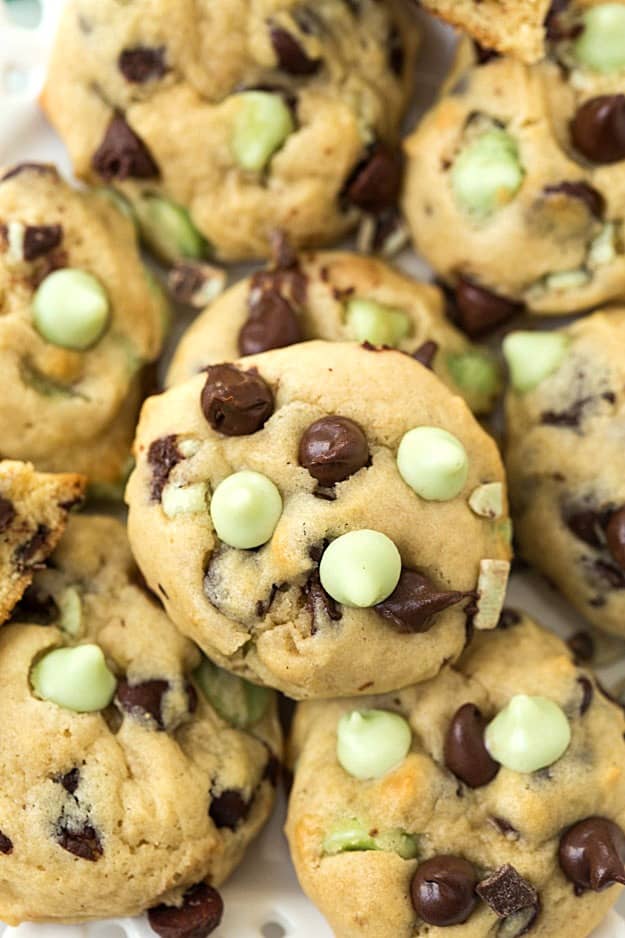 Mmmm…I thought you would like a close-up shot of the cookies. Don't they look delicious? Oh yeah. They are perfect when you are in the baking mood, but they also make excellent gifts for the holidays. You and I would be the best of friends if you dropped a box of cookies off. Even though I may be swimming in cookies at this exact moment.
Have you ever noticed when you are baking chocolate chip cookies, the chocolate chips always get hidden in the cookies? It drives me little nuts, so I always add a few extra after they come out of the oven. You can see in the photos below.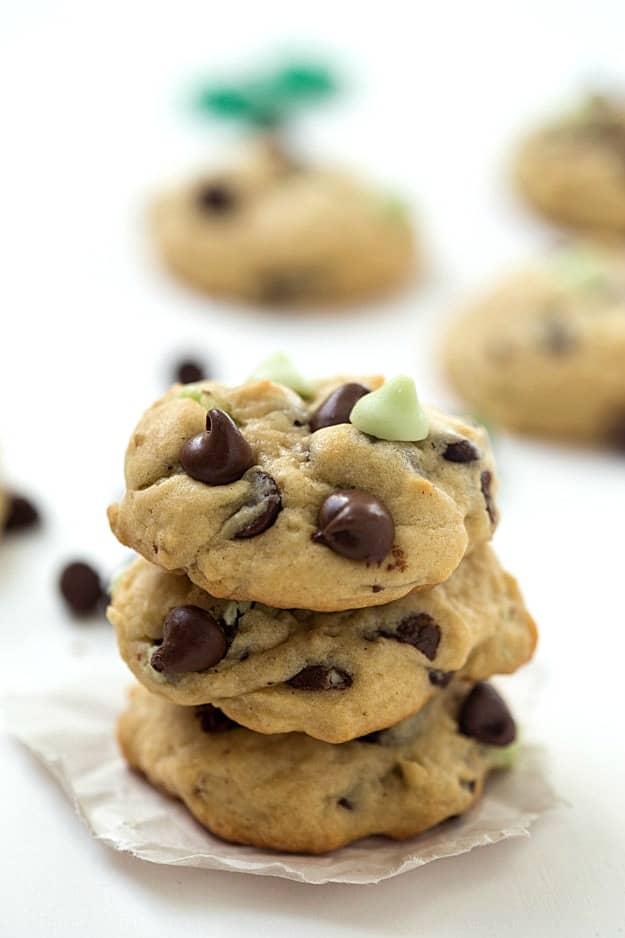 Have you ever wondered how to create the perfect cookies to your liking? Me too! I would thick, chewy, and soft cookies while others may like thin and crunchy. Tessa from Handle the Heat has created an excellent eCookbook handbook all about cookies and the science behind them. Pretty impressive.

You can customize any recipe to make the cookies of your dreams! It's my cookie bible, and if you do a lot of baking, I highly recommend this eCookbook. You will not be disappointed!
During the holidays, you can also get a great deal on her Christmas cookies eCookbook as well! Can we say yum?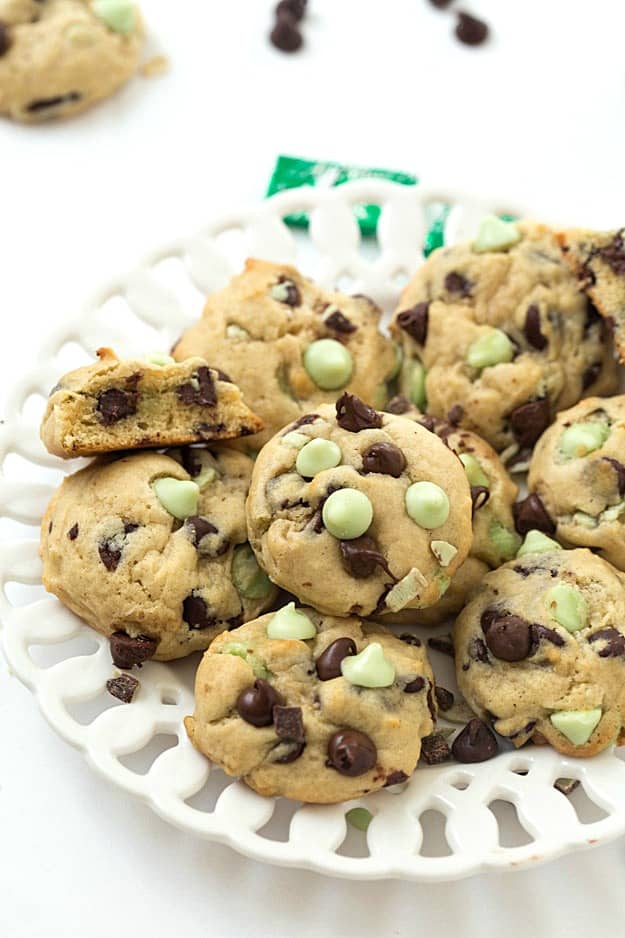 Mint Chocolate Chip Cookies
Author:
Chelsea @ Gal on a Mission
Ingredients
1½ sticks unsalted butter, softened at room temperature
¾ cup light brown sugar, not packed
¼ cup granulated sugar
1 large egg
2 cups all-purpose flour
2 teaspoons cornstarch
1 teaspoon baking soda
½ teaspoon salt
1 cup mint chocolate chips
Instructions
Cream together the butter, light brown sugar, and granulated sugar until creamy using a handheld or a stand mixer. Add the egg and mix.
Slowly add the flour, cornstarch, baking soda, and salt and mix everything together gently.
Fold in the mint chocolate chips.
Wrap the cookie dough in plastic wrap and store in the refrigerator for at least 3 hours and up to 72 hours.
Preheat oven to 350 degrees. Line a cookie sheet with parchment paper or a silicone baking mat.
Scoop 1½ - 2 tablespoons of cookie dough onto the cookie sheet. Bake for 9-11 minutes or slightly brown.
Allow the cookie to cool on the sheet for 2 minutes, and then transfer to a cooling rack.
Notes
*Store in an airtight container for up to 7 days at room temperature.