Buttered Rum Fudge with Cranberries – Melts right in your mouth! Dried cranberries scattered throughout each piece, then finished with even more dried cranberries and pecans. Not your momma's kind of fudge! This kind of fudge blows the pants off fudge brownies!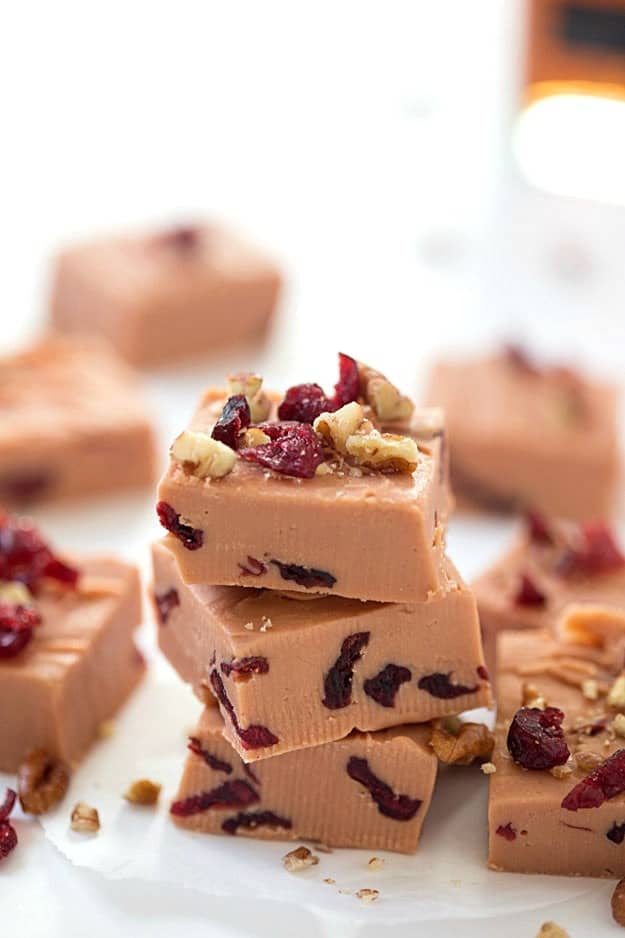 If you are looking for a fudge recipe this holiday season that isn't your momma's fudge, I highly suggest trying this buttered rum fudge. Now there's nothing wrong with momma's fudge; it's normally a typical kind of fudge. Nothing like Butterfinger fudge or even Reese's fudge. This one will stand out and scream, "Eat me!" at any dessert table.
It's the kind of fudge where you wish you could have every single day of your life. It's soft and delicate and melts right on your tongue.
It took a little time to perfect, and I was lucky enough to go through many batches of this buttered rum fudge. The last time I tested it, I thought hey, let's jazz it up a little and add dried cranberries. I am so glad I did because it makes the fudge gorgeous!
See? I love the red dried cranberries scattered throughout each piece of fudge. Go a little further and add even more dried cranberries and pecans to the top of each section. Not only is it gorgeous, but it adds a little extra texture with each bite.
If you have ever made modern day fudge, with sweetened condensed milk, then you already know it's going to be pretty darn easy. No fancy equipment is needed; no fancy ingredients are needed to make this fudge. Hopefully, you do not consider dried cranberries and pecans fancy this time of year. My pantry is always packed with extra bags. You never know when you want to do a little holiday baking and cooking.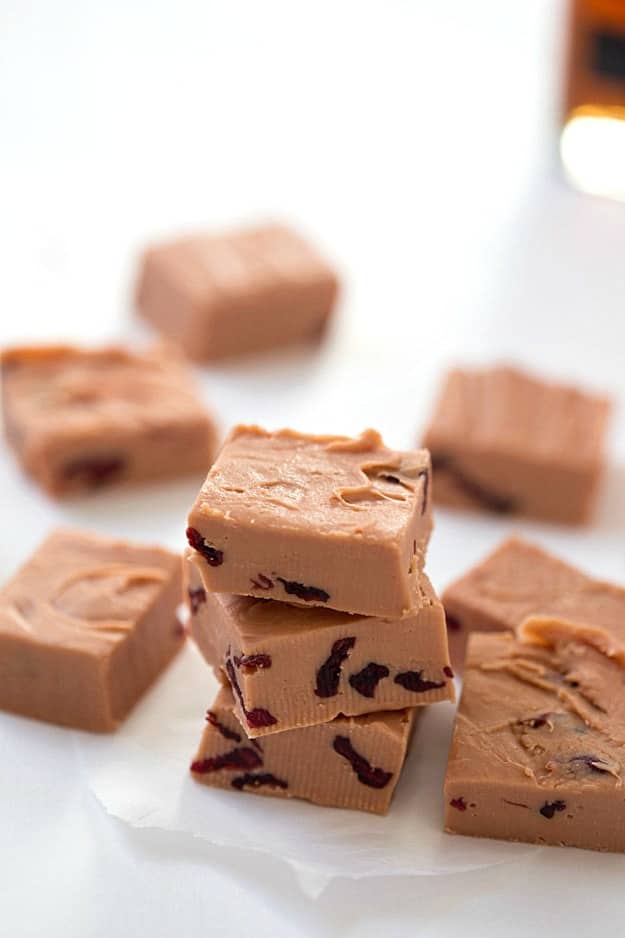 I am going to let you know on a little secret. I tried making this fudge in the microwave. Who doesn't love a recipe where it's so easy, everything can be nuked for a couple of minutes? It just didn't work out. I'm no fudge expert, only make it occasionally during he holidays. The one I made in the microwave did not harden at all. It was the consistency of salt water taffy, still delicious, but not fudge.

Buttered Rum Fudge with Cranberries
Author:
Chelsea @ Gal on a Mission
Ingredients
4 tablespoons butter, unsalted
3 cups butterscotch chips
3 cups white chocolate chips
14 ounce can sweetened condensed milk
1 teaspoon vanilla extra
4 tablespoons dark rum
½ cup dried cranberries + extra to garnish
chopped pecans, to garnish
Instructions
Line an 8x8 baking dish with aluminum foil and spray with non-stick cooking spray. Set aside.
Place butter, butterscotch chips, and white chocolate chips in a medium-sized pot. I used a smaller dutch oven, or you could even use a double boiler. Allow the butter and the chips to start to melt over low heat. Do not use medium or high heat.
Stir in the sweetened condensed milk and continue stirring until all of the chips have melted. Should be a thick consistency.
Stir in the vanilla extract, dark rum, and dried cranberries.
Pour the fudge into the baking dish and allow the fudge to come to room temperature.
Add extra dried cranberries and pecans to the top.
Refrigerate for 3 hours or until the fudge has hardened.