Lightened-Up Broccoli and Bacon Chowder - Lighter on calories, but not on flavor! Perfect when served with a piece of warm, buttered bread!
The weather in the suburbs of Washington D.C. has been a little crazy. Crazy as meaning, it cannot decide what to do. One day it's so cold you have to crank up the heat, walk around the house in cozy, thick slippers, and sip on peppermint hot chocolate. Then the next day, it's in the 70s, where you have your windows open with a nice breeze coming through, wearing shorts and a tank top.
It's driving me a little crazy. The day I made this lightened-up broccoli and bacon chowder, it was in the 70s! Still delicious, but a little too warm for a bowl of warm chowder. Who knew the weather was going to be the complete opposite the following day? I should look at the weather forecasts a little closer, my husband would say.
Sorry, I just had to get that off my mind! Completely out of my mind now. Now let's chat about chowder. We love chowder in the cooler months. What's not to love? It's hearty with veggies, thick, and usually has bacon.
You will use in the recipe directions; I did not start this chowder with a roux. Why? Usually, a roux is made with butter, and that's the only way I like it. I knew I was trying to lighten-up, a.k.a skinny, this broccoli and bacon chowder, so I didn't want to add butter.
I gently whisked the flour into the milk before I added it to the hot liquids. You want to make sure there are no visible lumps before adding, or you will have lumpy chowder. Which isn't that delicious or great looking.
As you can tell, we love all kinds of soups, including this amazing cauliflower and roasted red pepper soup? It's the best, and yes you do have to work a little for it, but it's so worth it! Trust me.
Another thing I should mention to you. Do you notice the round red dutch oven pictured above in the photos? Of course, you do! I recently purchased it from Amazon, and I have used it every-single-day I have owned it. From roasting whole chickens to chicken stock, and then to soup. You name it. The best investment I have ever made. The price isn't bad either for the red!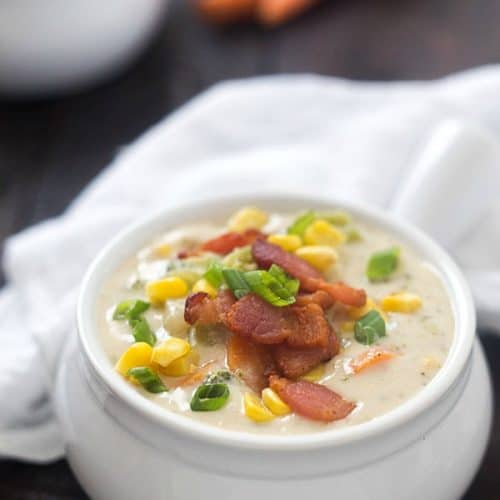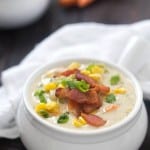 Lightened-Up Broccoli and Bacon Chowder
Lightened-Up Broccoli and Bacon Chowder – Lighter on calories, but not on flavor! Perfect when served with a piece of warm, buttered bread! 
Course:
Main Course, Soup
Keyword:
bacon, broccoli casserole, creamy soup, lightened-up, soup
Ingredients
6

cups

fat-free chicken stock

4

oz

fat-free cream cheese,

softened

2

large carrots,

peeled and diced

3

cups

broccoli

1

large white potato,

peeled and diced

2

cups

frozen corn

1

tsp

salt

½

tsp

pepper

1

cup

fat-free half and half

1

cup

skim milk

⅓

cup

all-purpose flour

4

pieces thick-cut bacon,

cooked and diced into bits

scallions,

to garnish
Instructions
Place the chicken stock and cream cheese in a 6-quart Dutch oven and simmer over medium heat while whisking to combine the cream cheese into the stock.

Add the carrots, broccoli, potato, corn, salt, pepper, and half and half into the dutch oven. Simmer for 10 minutes.

Whisk together the milk and flour in a medium bowl until no lumps of flour are visible. Whisk the mixture into the soup in the Dutch oven until combined.

Allow the chowder to simmer for 20-25 minutes or until thickened.

Serve with bacon and scallions on top.
Recipe Notes
Nutrition estimated is based upon the brands I used. Yours may vary depending on brands.
Nutrition Facts
Lightened-Up Broccoli and Bacon Chowder
Amount Per Serving
Calories 248
Calories from Fat 33
% Daily Value*
Fat 3.7g6%
Cholesterol 3.7mg1%
Sodium 1264.6mg55%
Carbohydrates 35.7g12%
Protein 16.3g33%
* Percent Daily Values are based on a 2000 calorie diet.