Garlic Parmesan Knots – Move on over garlic knots from scratch, these only take 20 minutes from start to finish! Grab your marinara sauce and let's dig in!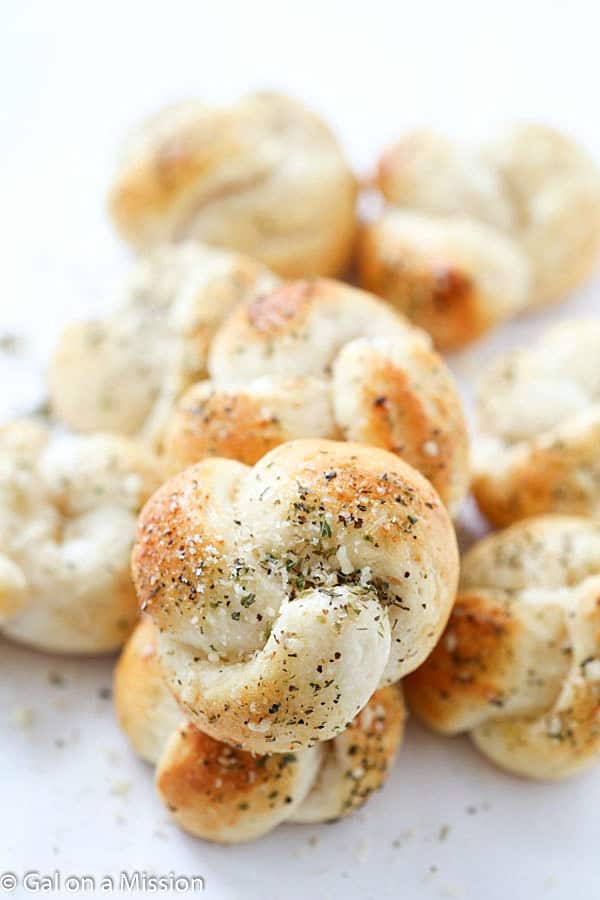 Carbs and salty snacks are one of my weaknesses. Who is able to say no to salt and vinegar chips or even garlic knots. Not this girl! Whenever someone asks that, I always respond with okay or grabbing the marinara sauce as we speak. As I was saying the other day in the crock-pot fajita post, food triggers all of your senses.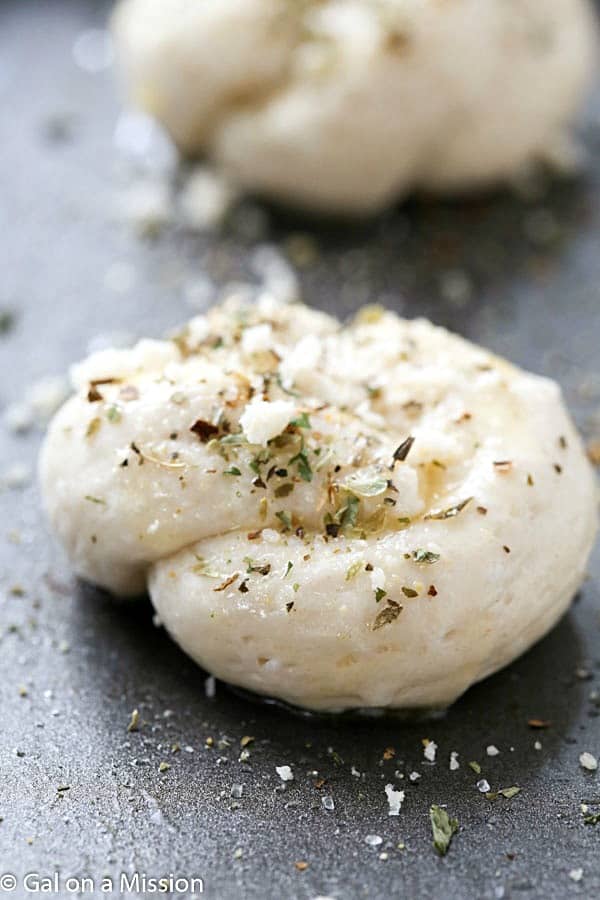 I need the taste, smell, and texture of the food to be just right. I LOVE crunchy snacks, hence why I am in love with chips. I have tried the baked variety, but I didn't like them at all. They were missing the crunch factor.
Now these garlic parmesan knots aren't crunchy, but they are oh so soft and tender. They almost melt-in-your-mouth as you are taking a bite. My taste buds on my tongue go crazy every time I pull-apart the garlic knot, dunk it in warm, savory marinara sauce and then enjoy it.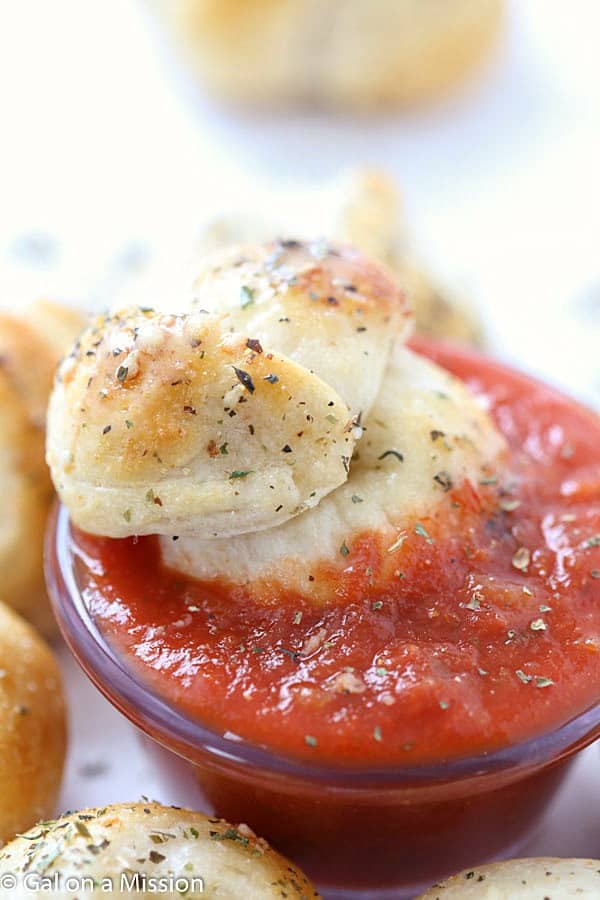 Trust me, these garlic parmesan knots are so flavorful and tasty. I may or may not have almost devoured the entire batch. Oops! Well, that was my dinner yesterday, my friend.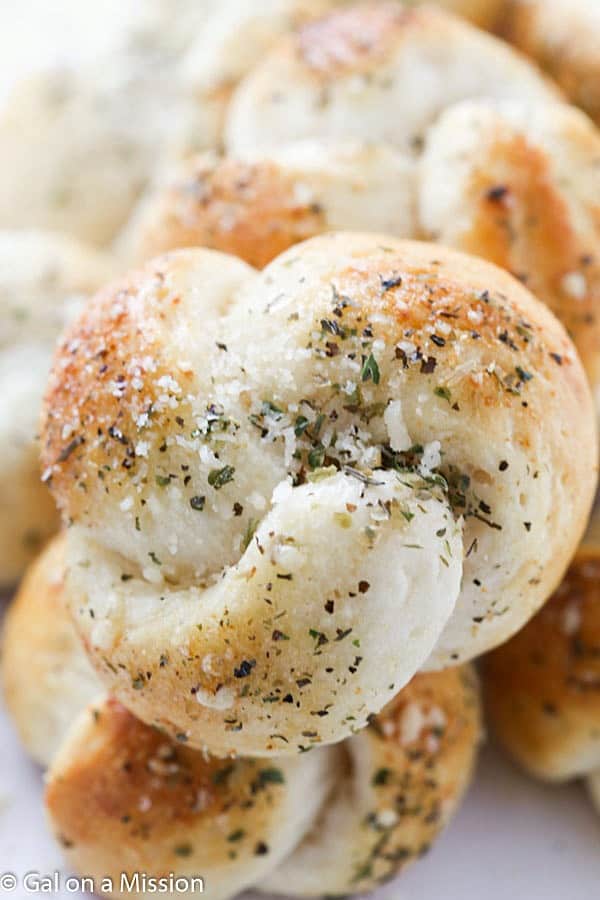 These would be an incredibly easy appetizer to make for your dad on Father's Day. They come together so well and really quickly. You would be surprised, thanks to canned biscuits. For the biscuits, I really recommend using the large buttermilk ones.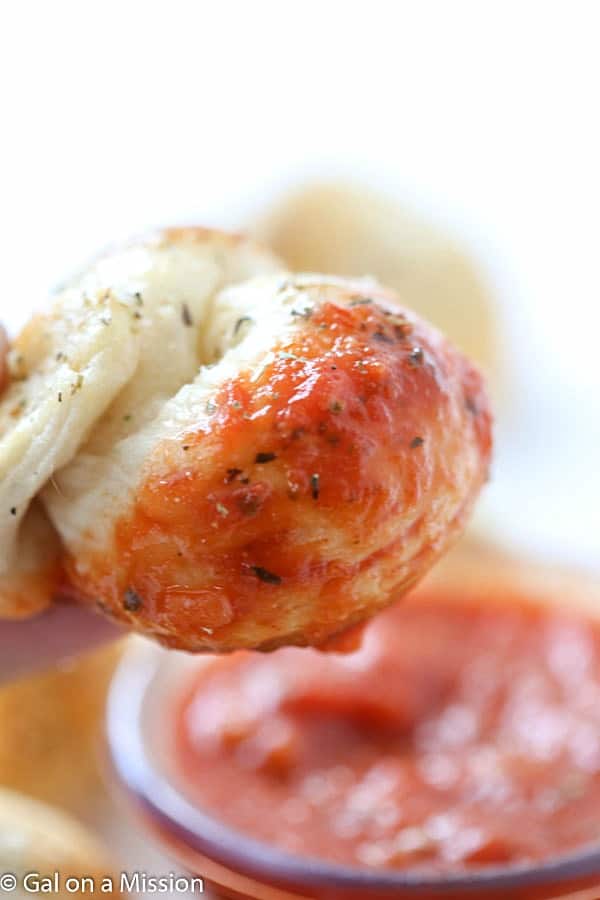 Garlic Parmesan Knots
Author:
Chelsea @ Gal on a Mission
Ingredients
16 ounce can buttermilk biscuits
3 tablespoons butter, melted
¼ teaspoon salt
½ teaspoon garlic powder
½ teaspoon dried oregano
½ teaspoon dried basil
½ teaspoon dried parsley
¼ teaspoon dried thyme
¼ teaspoon dried rosemary
¼ cup parmesan cheese, shredded
Instructions
Preheat oven to 400 degrees. Grease a large baking sheet. Set aside.
Cut each biscuit in half and roll into a log. Cross each end like you are tying your shoe laces and then tuck each end in. When you are tucking in your ends, one end will be tucked under and one will be tucked over. Place onto the baking sheet.
Brush the melted butter onto the garlic knots.
Mix together your spices in a small dish, and sprinkle over the knots. Sprinkle parmesan cheese on top.
Bake for 8-10 minutes or until lightly browned.
Serve warm with marinara sauce.
Create Your Own Garlic Parmesan Knots using the recommend equipment: