Mini Meatloaves: A delicious and kid-friendly spin on the traditional meatloaf recipe! Flavored with green bell peppers, onions, and spices.
I cannot believe the big love day is almost here! Before you know it, it will be 4th of July in a blink of an eye. Do you have any plans for Valentine's Day? Are you staying in for a romantic dinner or going out?
We always have the big love day at home because it gives us an opportunity to cook together, which never happens throughout the year. I will have to admit I love it. Well...besides the stepping on each other's toes and running into each other, we have the smallest kitchen ever. But for the big romantic day, we love it.
Normally people love to have steaks on this day because it's a treat. How about making a delicious dinner that does not consist of steak, but does consist of beef. My guy is a huge beef fan. I really think you should try these min meatloaves. Not only are they incredible easy to whip together, but they are kid-friendly, if you have any of those in the home.
Even though we do not have any kids, we still love these little guys! They are the perfect serving (2 mini loaves), plus you tend to have a little room for the dessert.
Even though these are meant to be for two, I made an extra serving in case you have any little ones around that might enjoy them. Or you can just sent the extras over here! 😉
A couple of my blogging friends and I are putting together a Valentine's Day dinner hop for two - lucky you! Hop around to see all kinds of different options for the big love day - desserts, cocktails, entree options! You name it, my friend.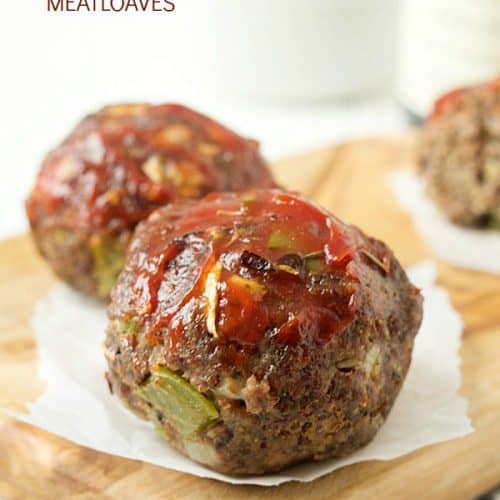 Mini Meatloaves
Servings
:
6
mini meatloaves
Ingredients
1

and ½ pounds ground beef

¼

cup

onion

finely diced

¼

cup

green bell pepper

finely diced

2

garlic cloves

minced

½

teaspoon

salt

¼

teaspoon

pepper

1

teaspoon

dried oregano

½

cup

breadcrumbs

1

large egg

beaten

2

tablespoons

ketchup.
Instructions
Preheat oven to 350 degrees and spray a muffin pan with non-stick cooking spray. Set aside.

Mix together the ground beef, onion, green bell pepper, minced garlic, salt, pepper, oregano, breadcrumbs, and egg together in a medium mixing bowl.

Add ½ cup of the mixture to each muffin slot, trying to round the tops some to resemble muffins. Bake for 25 minutes. Add the ketchup on top using a baster and bake for another 1 minute.

Allow the mini meatloaves to cool for 5 minutes before removing.

Serve with your favorite vegetables or salad.
Now let's mingle for delicious Valentine's Day options!