Today's post is sponsored by Mezzetta, by my love for their peppers is all my own!
Roasted Red Pepper Hummus – Prepared with roasted red peppers and pureed with chick peas and other spices! Perfect for picnics or other summer gatherings! Bring the heat on!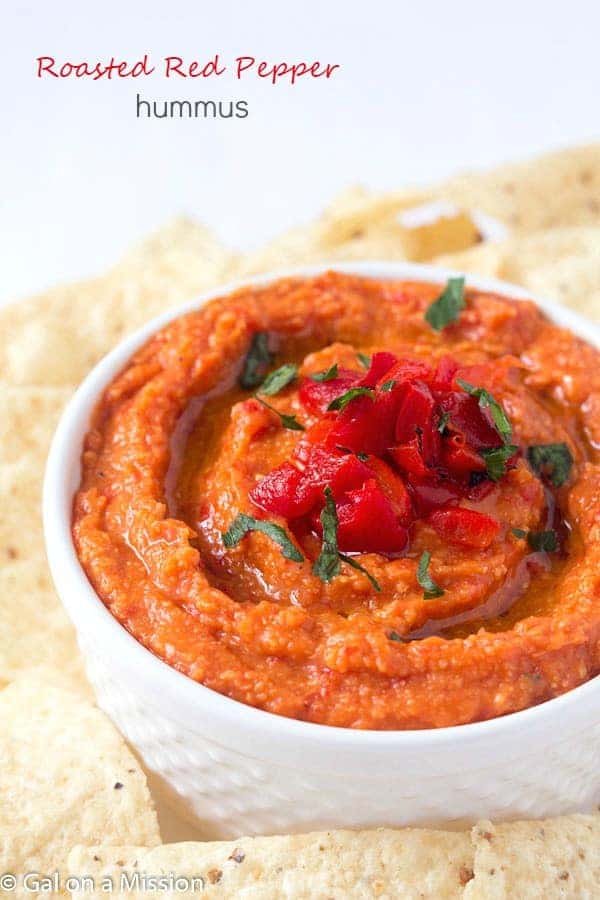 It is so hot outside. I may have to say goodbye to walking on the sidewalk or driveway barefoot. I'm afraid my feet are going to sizzle like eggs in a scorching hot pan. Yikes.
When the temperatures start get a little too high, I start to crave everything that does not have to be hot. I can live on salads, appetizers, and pasta salads. Of course I cannot forget about hot dogs and hamburgers. You can always allow those to cool down, so they aren't too hot.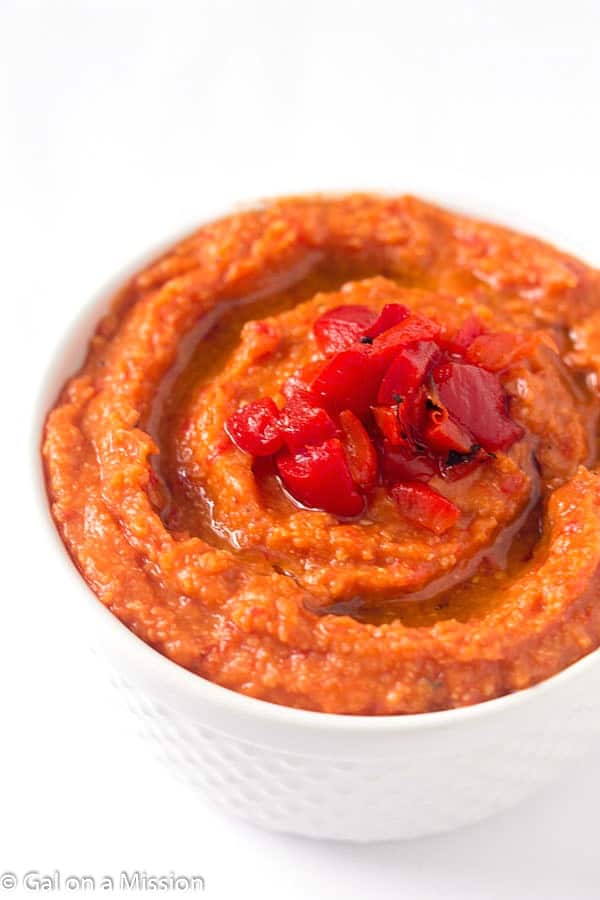 Do you like to go on picnics? Or even to the beach? I'm a beach girl at heart. If I lived closer to one, I would be there every day, all day.
Today I am sharing with you scrumptious roasted red pepper hummus recipe. It's perfect to take with you on picnics or even on a beach outgoing.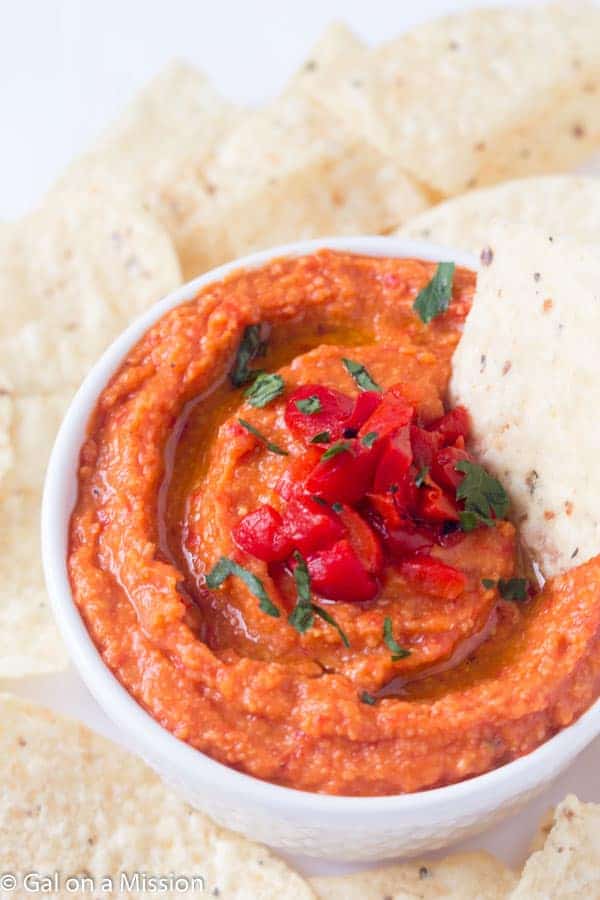 Below you will find a recipe with tahini or without. Both are absolutely delicious and one of my favorite appetizers when it's hot outside.
For the red peppers, we love Mezzetta roasted red peppers because the taste is phenomenal. The brine is what really sets it apart from homemade roasted red peppers. I am not saying you cannot use homemade roasted red peppers, but these are good, my friend. Can we say easy, too? All you have to do is twist the cap, hear the popping sound from the lid coming off, then dig in.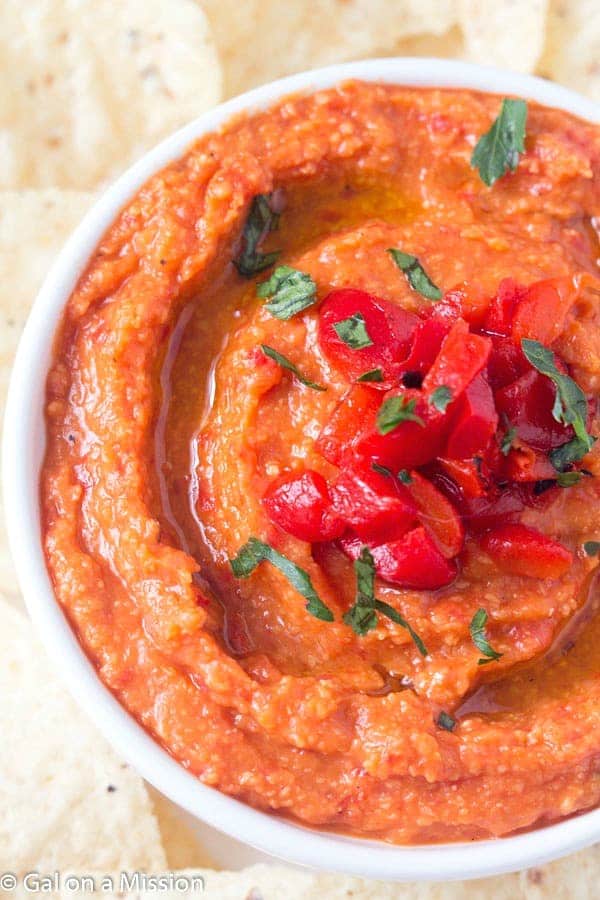 If you decide to use canned roasted red peppers, you are in luck because you are going to have extra. It's okay to eat them right off the fork. I may have – oops!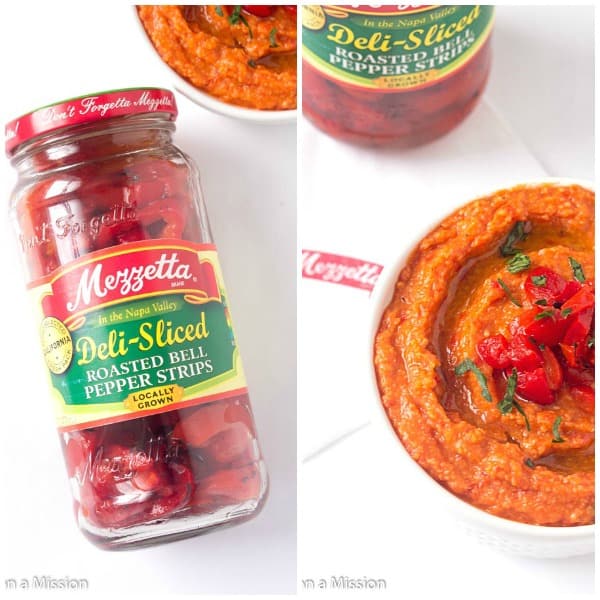 Roasted Red Pepper Hummus
Author:
Chelsea @ Gal on a Mission
Ingredients
16 ounces canned chick peas, drained
2 garlic cloves
½ cup Mezetta roasted red peppers + extra for garnish
¼ cup tahini*
¼ teaspoon salt
½ teaspoon cumin
¼ cup lemon juice
1-2 tablespoons water
2 tablespoons olive oil, for servings
Instructions
Combine the chick peas and garlic in the bowl of a food processor. Process until the chick peas are creamy.
Add roasted red peppers, tahini, salt, cumin, and lemon juice into the bowl of the food processor. Process until well-blended and creamy. Add water to thin the hummus out, if needed.
Serve in a small-to-medium bowl; make a swirl in the hummus, add olive oil to the swirl and place roasted red peppers on top to garnish.
Serve with pita chips, tortilla chips, or fresh vegetables.
Notes
*You may omit the tahini, for the taste I recommend including it.
If you are looking for other picnic products, you can download a coupon for $5.00 off when you buy $25.00 worth on any Dixie® Plates, Dixie Ultra® Plates and Bowls, Vanity Fair® Everyday Design Collection, Mezzetta® Peppers and Olives, Banana Boat® sun care product 3 oz. or larger (excludes lip balm & trial sizes) and Wet Ones® Wipes.
Every month, you also have the chance to win your VERY own summer survival kit.