Refreshing blueberry lemonade that is perfect for the warmer days when you need something delicious to quench your thirst! Made with only a few ingredients! 
This summer I have been craving lemonade all-of-the-time. It isn't just plain lemonade either, it's been blueberry and strawberry. I cannot get enough of them!
I also want to try a couple of others that I have in mind! I'm sure you won't might a bit, especially if it has been a warm summer for you. It has been here! Well, off-and-on.
Luckily, these past few days I was able to keep the A/C off. Some of you probably think I'm nuts, LOL. Oh well! 🙂
If you follow me on Instagram, you would have seen a neat picture of a huge pile of hail - for this area! I thought it was neat. I love summer storms, as long as they do not cause any damage or harm anyone.
With the temperatures starting to creep up again, I knew you guys would love this blueberry lemonade. It isn't terribly sweet, but has just enough sweetness to please your taste buds. Feel free to add more if you like if you have super-sweet taste buds.
Another thing I tried with this is making it an adult beverage. You can easily make it an adult beverage by adding vodka or something similar. It still tastes amazing, if you just want to sip on a refreshing and relaxing cocktail. Either way, it's delicious and I just keep making it, well not the alcoholic version all-the-time!
I started off by making a simple syrup with sugar and water and then adding in the blueberries and simmering them until they are mushy. You will need to strain the blueberries from the syrup with a cheesecloth or something similar.
I then allowed the syrup to completely cool to room temperature and mix it with 4 cups of cold, filtered water. You will then need to add in your freshly squeezed lemon juice - yum.
I like my lemonade to be a little bit stronger, so I don't add in a lot of extra water. You are more than welcome to add in an extra cup of cold, filtered water, making it 5 cups instead of 4.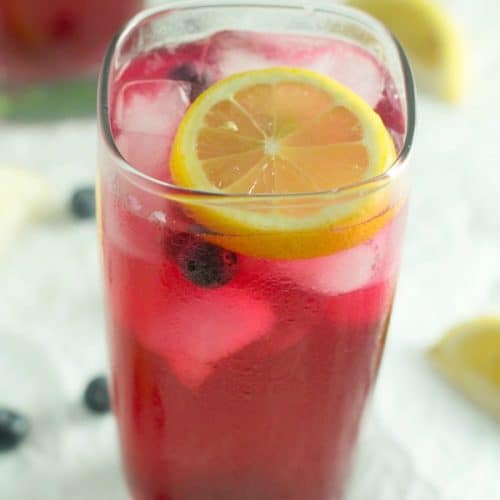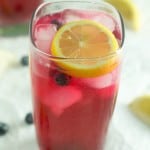 Refreshing Blueberry Lemonade
Ingredients
5

cups

of cold

filtered water

½

cup

granulated sugar

1

cup

of blueberries

either fresh or frozen

1

cup

fresh squeezed lemon juice
Instructions
Add 1 cup of water and the sugar to a small pot and simmer on medium-heat until the sugar has dissolved. Add in the blueberries and simmer for 3-4 minutes on high-heat until the blueberries are somewhat mushy.

Strain the blueberries using a cheesecloth. Set aside the blueberry syrup until it has cooled. Once the blueberry syrup has cooled, add 4 cups of water. Mix in the freshly squeezed lemon juice.

Store in the refrigerator to allow it to chill.