A mouthwatering apple stuffed chicken breast recipe that contains so much flavor and has a perfect sweet apple glaze! A fall staple! 
I always love a juicy and tender stuffed chicken breast any time of the year. There are so many different ways you can stuff a chicken and they are all delicious, usually. Now this apple stuffed chicken breast recipe is absolutely delicious and a perfect main dish for fall.
With fall being in full-swing now, you should start to seeing apples going on sale. We have already seen a couple of really great sales and I have taken full advantage of them. This recipe is a perfect way to use them up because the apples really add a great flavor to the chicken itself and the glaze.
The way I made this stuffed chicken was with a paleo and a whole 30 mindset with the type of flour that I used. You can always make it with all-purpose flour, or any kind of flour that you have,  if you aren't following a paleo or whole 30 diet.
A great tip - you will want to make sure you have extra toothpicks laying around. They make it easier with keeping the apple chunks in the chicken. If you do not use them, you will have to be extra careful when flipping them on the other side. The first time I didn't use toothpicks and I had to place the apple chunks back inside. Toothpicks = your best friend here. 🙂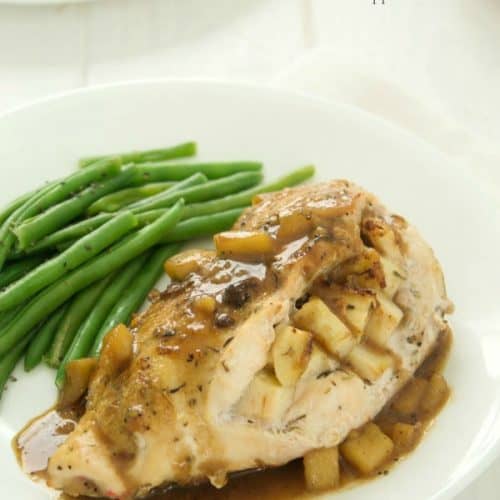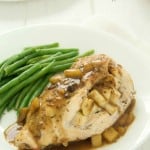 Apple Stuffed Chicken Breasts with Sweet Apple Glaze
Ingredients
3-4

medium-sized boneless chicken breasts

¼

cup

flour

I used tapioca flour + extra for thickening sauce to your liking, you can use any kind of flour you prefer

¼

teaspoon

dried rosemary

¼

teaspoon

dried thyme

1

medium apple

sliced into very small chunks

2

teaspoons

lemon juice

2

tablespoons

oil

¾

cup

chicken broth

1

teaspoon

apple cider vinegar

½

cup

apple juice

2

teaspoons

pure maple syrup

salt and pepper

to taste
Instructions
Prepare the flour mixture by whisking together the flour, rosemary, and thyme. Set aside.

Place your chicken breasts on a cutting board and slice in half, make sure you do not cut all the way through. You just want to slice enough to where you can stuff it with the apple. Place the apples into the chicken breast, enough to where the chicken breast can still close. Place a toothpick in the middle to make sure the apples do not fall out. Repeat with the rest of the chicken breasts.

Add the oil to a large skillet and preheat the pan on medium-heat for a couple of minutes. Dip each side of the chicken breast until the flour mixture, place the chicken breasts into the warm skillet. Sear on each side for a couple of minutes, enough to create a crust. Preheat oven to 350 degrees. Bake for 30-35 minutes, or until the chicken is done.

Remove the chicken breasts from the skillet and prepare your glaze in the same skillet. Whisk together the chicken broth, apple cider vinegar, apple juice, and maple syrup together and allow it to simmer for 5-10 minutes. Add in flour to thicken the sauce to your liking, making sure to whisk it in so it does not clump. Add salt and pepper to taste.

To serve, pour the the glaze onto the chicken breasts and serve with your favorite side dish.
Have a lot of extra chicken in your freezer or refrigerator, you can make any of these chicken recipes too!
Follow Chelsea Haga's board Chicken for Dinner on Pinterest.