Grilled Pork Tacos with Mexican Corn Salsa – Pork tenderloin marinated to perfection and smothered with an incredible Mexican corn salsa. The corn salsa is so good you may even spoon it directly into your mouth! Every day of the week easy!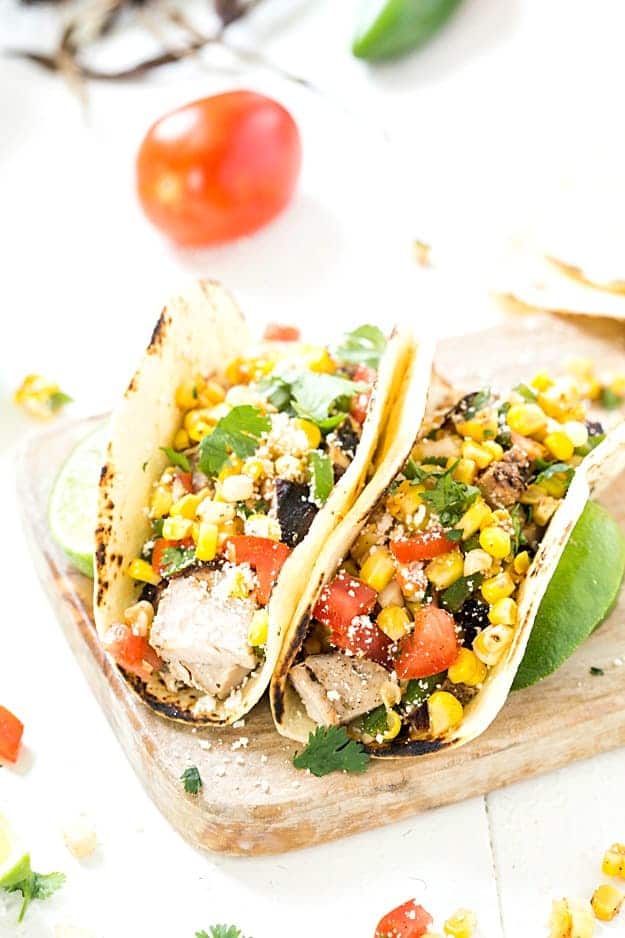 Doesn't it always seem like after a trip you are always scrambling around to get everything back into full swing? That's pretty much how this week and last week have been for me. It's during those times where I do not feel like slaving over my oven, stovetop or even grill for too long. The massive heat wave we are experiencing either doesn't help the situation.
So I thought it would be great to share a recipe that can be made in only 30 minutes from start to finish! It's a real flavor real fast meal solution for any day of the week. It's one of my favorite summer grilling reasons, and I love how I do not have to use my kitchen at all for this recipe. It's a win-win in my book!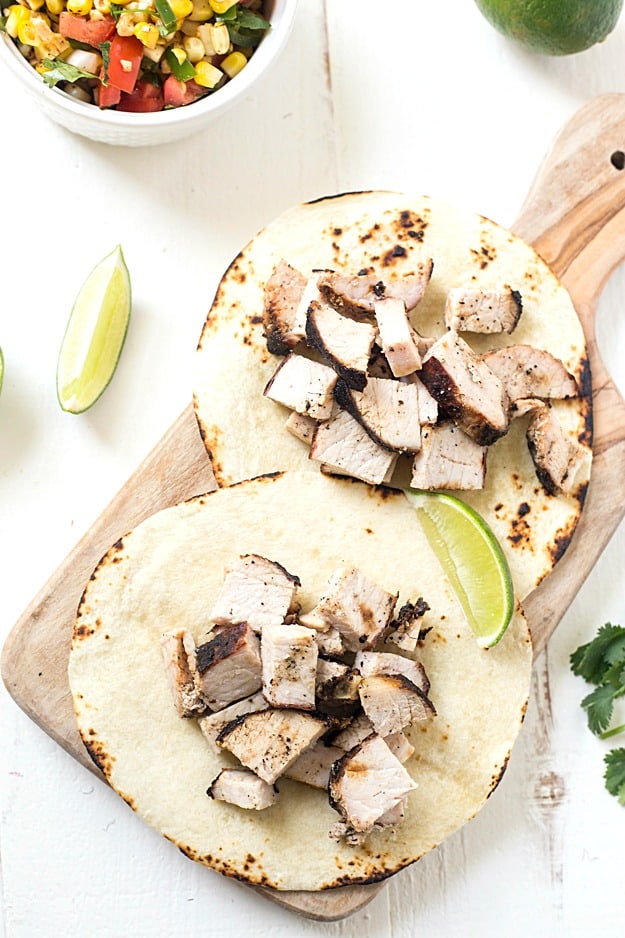 Have you ever had Mexican street corn before? It's to die for, and the flavors are incredible. I took the components from the Mexican street corn and incorporated them into my Mexican corn salsa. I was originally going to call the salsa Mexican street corn salsa, but I decided not to for one reason.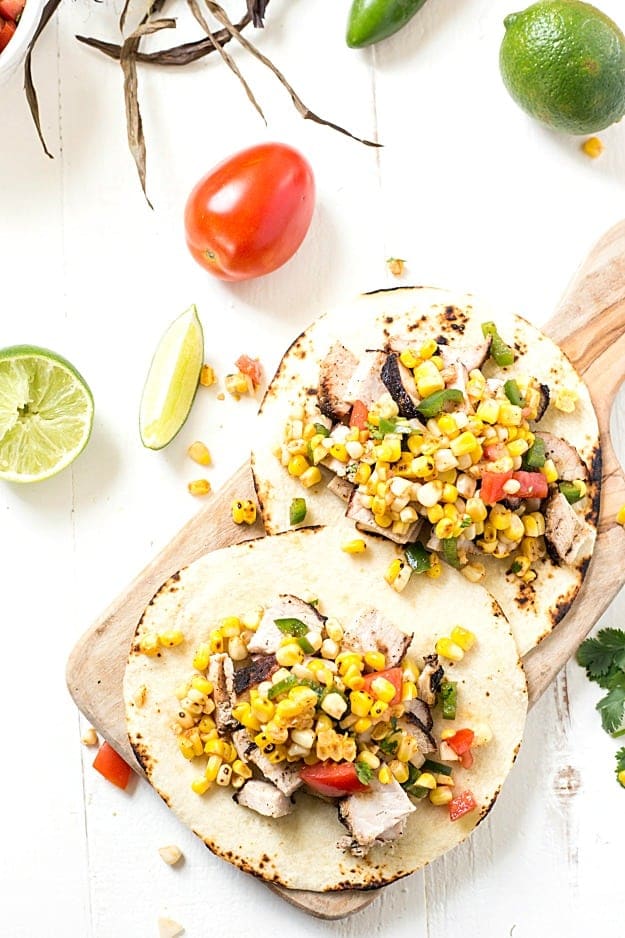 It doesn't have the cream like Mexican street corn does. So I decided just to stick with corn salsa. It's so good you can spoon it directly into your mouth. I may have tried it that way when I was making it. It's seriously that good, friends.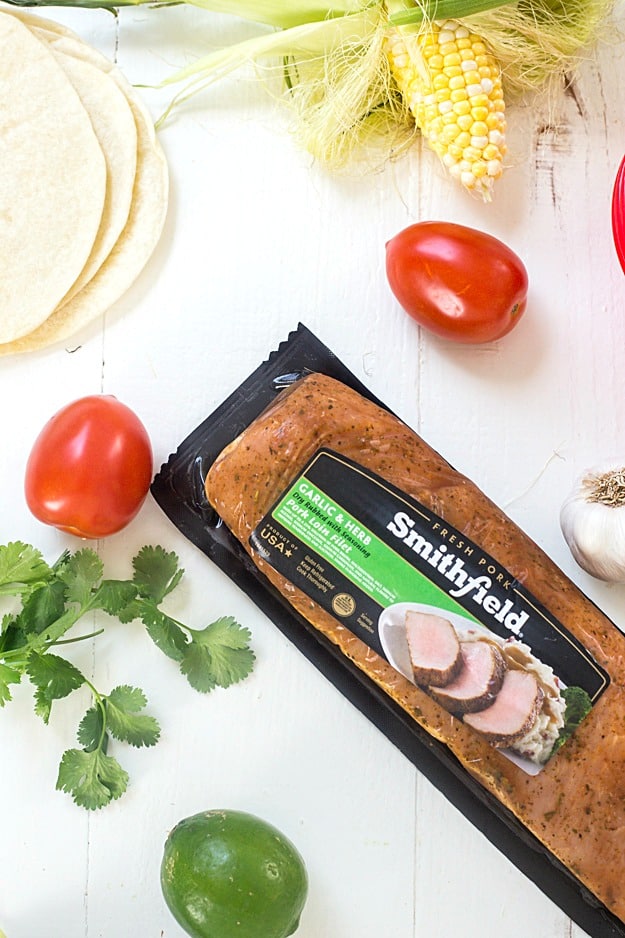 So what makes these grilled pork tacos with Mexican corn salsa stand out from the others? For one, it can be made in 30 minutes from start to finish, the main ingredients can be grilled, and this pork tenderloin is already marinated. For the pork, I decided to go with Smithfield Marinated Pork in the Garlic and Herb flavor.#RealFlavorRealFast Not only can it be grilled, but we love it roasted or sautéed.
Look for Smithfield Marinated Pork at your local Food Lion store. You can see even more recipes using Smithfield Marinated pork here.

Grilled Pork Tacos with Mexican Corn Salsa
Author:
Chelsea @ Gal on a Mission
Ingredients
Smithfield Marinated Pork Tenderloin in Garlic & Herb
Mexican Corn Salsa
2 ears of corn, husk removed
1 medium jalapeno, deseeded and diced
1 medium Roma tomato, deseeded and diced
¼ cup onions, finely diced
1 garlic clove, minced
1½ tablespoons fresh lime juice
¼ teaspoon ground cumin
¼ teaspoon dark chili powder
salt and pepper, to taste
cilantro, to taste
Tacos
Instructions
Grill the pork tenderloin according to the directions from the manufacture until internal temperature reaches 160 degrees F, approximately 30 minutes.
While the pork tenderloin is grilling, add the corn during the last 10 minutes and turning to cook all sides evenly.
Remove the pork tenderloin and corn from the grill and allow the pork to rest for 10 minutes.
Prepare the Mexican corn salsa by cutting the corn from the cobb and placing into a medium bowl. Place the jalapeno, tomato, onions, garlic, fresh lime juice, cumin, dark chili powder into the medium bowl and mix until combined. Taste and season with salt and pepper and garnish with cilantro.
Slice the pork into thin strips and dice into 1" chunks. Set aside.
Prepare the tacos by adding the grilled pork and then topping with the Mexican corn salsa.
Sponsored post written by me on behalf of Smithfield® Marinated Pork. The opinions and text are all mine.