Asian Chicken Pasta Salad – Made with an incredible vinaigrette and simple ingredients! Ready to go in 30 minutes and can be made with or without mandarin oranges. Perfect for picnics and potlucks.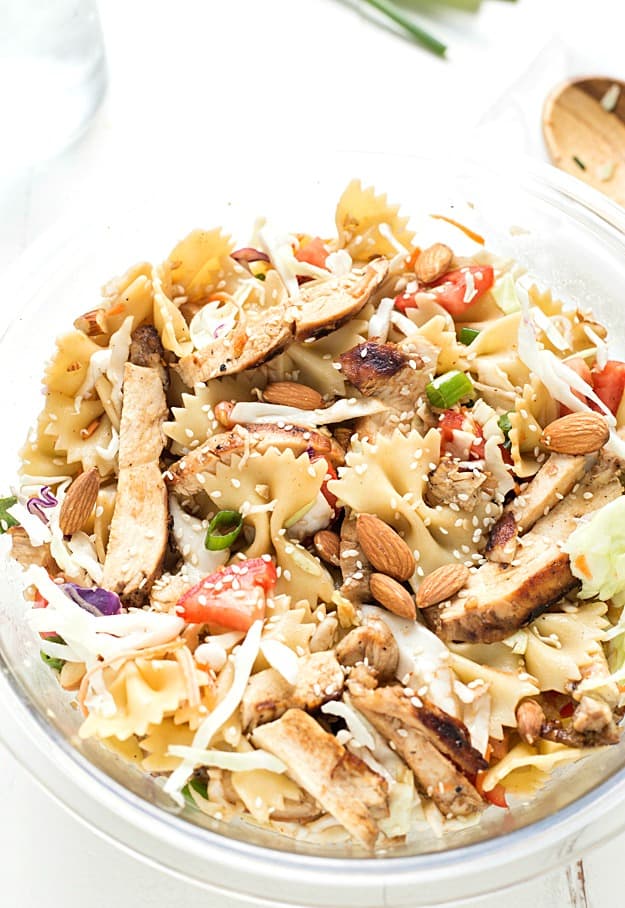 It's been a little hectic around here lately with summer in full swing and traveling. We just got backed from our long weekend trip to Chicago and let me tell you; it was a blast! Chicago has so much to offer, the food is delicious, and I have found my new love – deep dish pizza. It's hard to believe those four days went by that quickly. I am starting to go through my photos from the trip, there are a lot, and will start posting about my trip next week. Can't wait to share it with you.
With that being said, let's chat about this Asian salad for a second. I thought it would be great to share this recipe with you after the 4th of July because everyone is on a hot dog and burger kick during the 4th, as you should be. Who wants an Asian chicken pasta salad for the 4th? Well, maybe I would, but I'm usually the oddball of the bunch.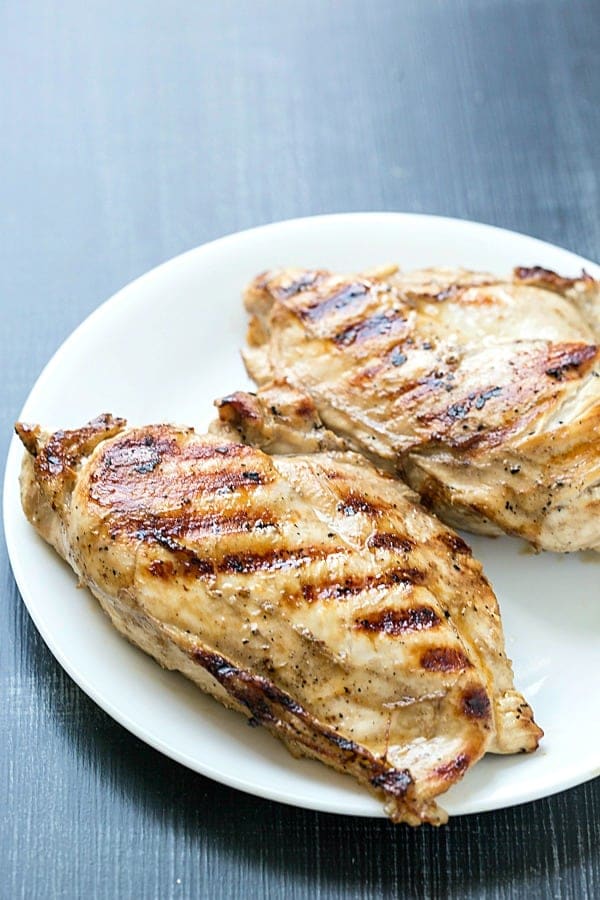 Looking for other summer salads? I recommend trying our simple Caprese zucchini summer "pasta" salad simple, BLT tortellini salad, or even our BLT macaroni salad.
I am inspired by an Asian chicken salad from when I still lived at home, and my parent's loved Chicken Out, a restaurant down the street from our home. Have you heard of it before? If not, it's the best for all kinds of chicken dishes and, of course, an incredibly tasty Asian chicken salad. I thought I would change it up a bit and add bowtie pasta and omit the mandarin oranges, which aren't my favorite, to begin with. Love mandarin oranges, add them!
The other flavors in this Asian salad are simple: red wine vinegar, toasted sesame oil, hoisin sauce, ground ginger, and sriracha. I recommend not omitting the hoisin sauce from this salad because of the flavor it adds. The flavors in hoisin sauce are soy beans, red chiles, garlic, vinegar, Chinese five spice, and sugar. A little bit goes a long way. You can usually find it in the Asian section of your local grocery store or even purchase it on Amazon.

Asian Chicken Pasta Salad
Made with an incredible vinaigrette and simple ingredients! Ready to go in 30 minutes and can be made with or without mandarin oranges. Perfect for picnics and potlucks.
Author:
Chelsea @ Gal on a Mission
Ingredients
¼ cup red wine vinegar
3 tablespoons toasted sesame oil
3 tablespoons reduced sodium soy sauce
2 tablespoons hoisin sauce
½ tablespoon ground ginger
1 teaspoon sriracha
2 teaspoons light brown sugar
salt and pepper, to taste
2 medium chicken breasts
8 ounces farfalle pasta, cooked al dente and cooled
1 cup coleslaw mix
¼ cup whole or chopped almonds
1 roma tomatoes, diced
sesame seeds, to garnish (optional)
green onions, to garnish (optional)
Instructions
Whisk together the toasted sesame oil, soy sauce, hoisin sauce, ground ginger, sriracha, and light brown sugar in a small ramekin. Taste and season with salt and pepper.
Place half of the mixture into a ziplock bag, add the chicken breasts and place in the refrigerator to marinate for 15 minutes. Reserve the other half of the mixture for the salad dressing.
Remove the chicken breasts from the bag and grill or cook on the stovetop until the internal temperature of the chicken reaches 165 degrees F. Slice into thin strips when cooked through.
Place the cooked and cooled farfalle pasta into a large bowl, add the reserved dressing, the coleslaw mix, almonds, tomatoes, and grilled chicken and mix until combined.
Garnish with sesame seeds and green onions. (optional)
Serve or store in the refrigerator covered for no more than 3 days.
Here are more recipes to use hoisin sauce: