Crispy Baked Chicken Wings with Peanut Sauce – Crispy, crunchy exterior, and tender interior. Topped with an out-of-this-world peanut sauce!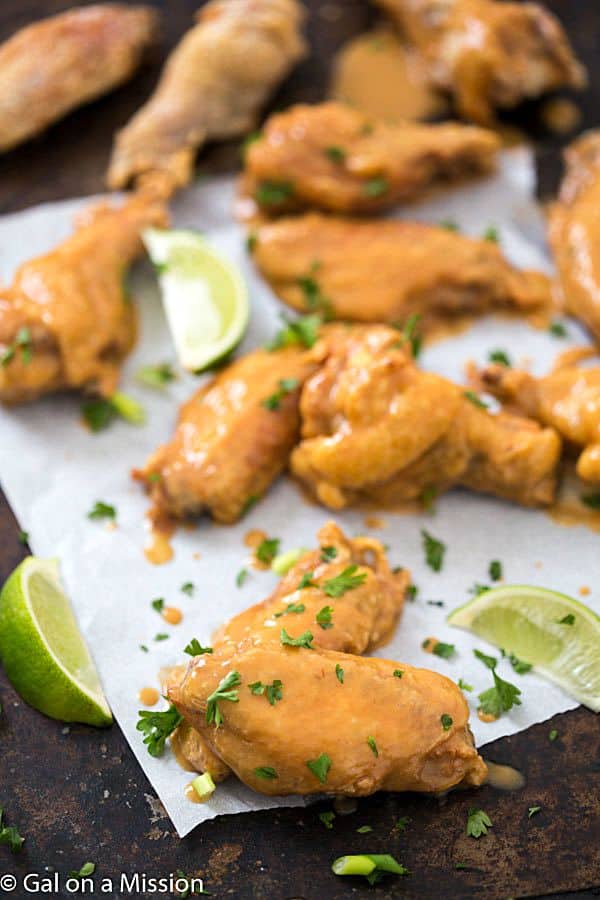 With football and comfort food underway, I thought how perfect it would be to create truly crispy baked chicken wings with an out-of-this-world sauce. You are in for a treat today, friends.
We are a chicken wing fan club in our home, and we try to make them every chance we get. Our favorite any time of the year is butter and garlic chicken wings, or apricot glazed grilled chicken wings during the summer! What if I told you, you can obtain a truly crispy baked chicken wing. That's right, not fried but baked and they are incredibly easy.
The key to truly crispy chicken wings is having the fat drip off the wings at a high temperature. We like to cool a cooling rack on top of a baking sheet.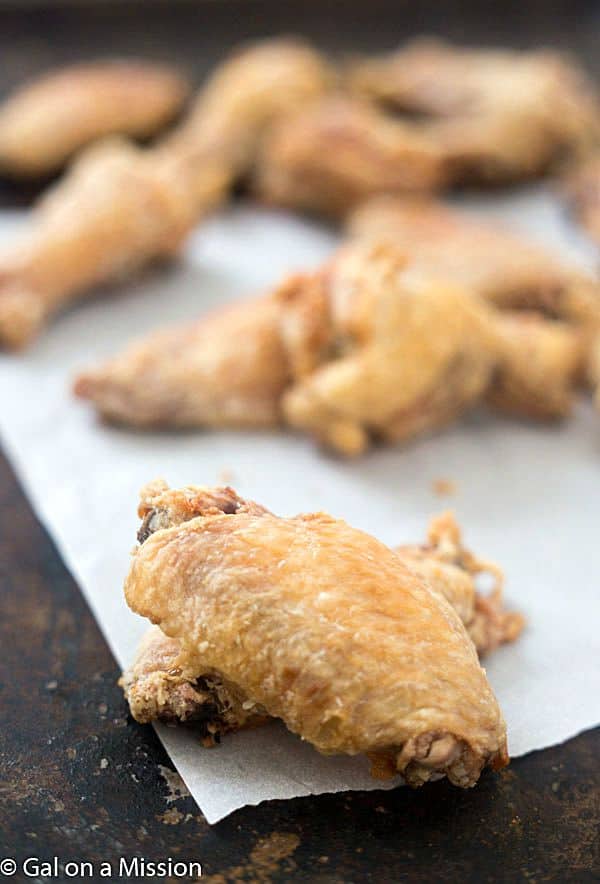 The trick to creating a crispy baked chicken wing is to create a coating. Then bake them at a low temperature, and then at a high temperature  It may seem like a lot of baking time, but it allows the fat to render. Rendering the fat allows for a crispy exterior crust.
Then you are free to whip up a fabulous sauce to drizzle on top or to dip in. For my sauce, I thought a peanut sauce would pair perfectly with my cravings. For the texture of the sauce, I didn't want a thick sauce. There are two different components in the peanut sauce – creamy peanut butter and peanut powder.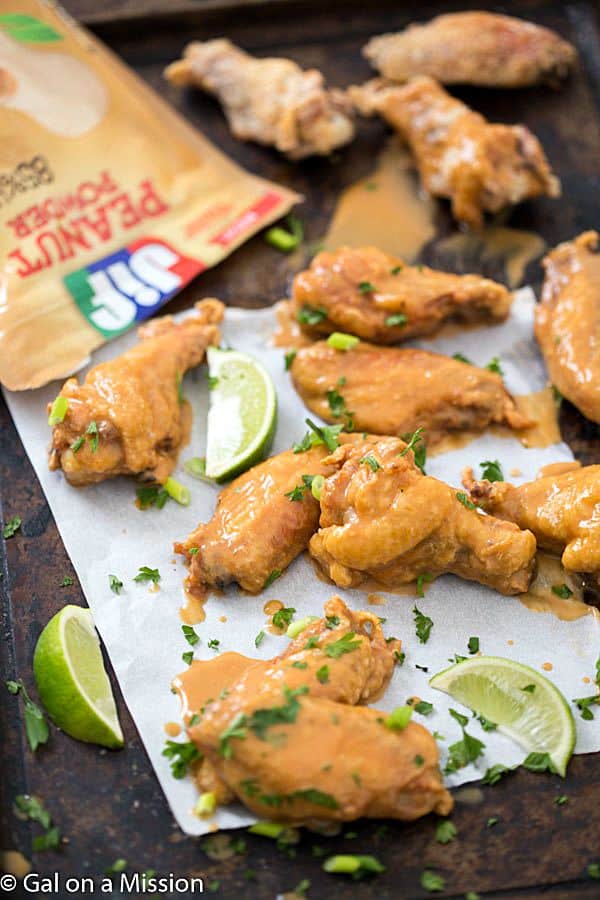 The powder gives you the peanut butter taste without the thickness and calories. Did you know Jiff Peanut Powder contains 85% less fat than traditional peanut butter; 7-9 grams of protein per serving? Oh yeah! #JifPeanutPowder #WalMart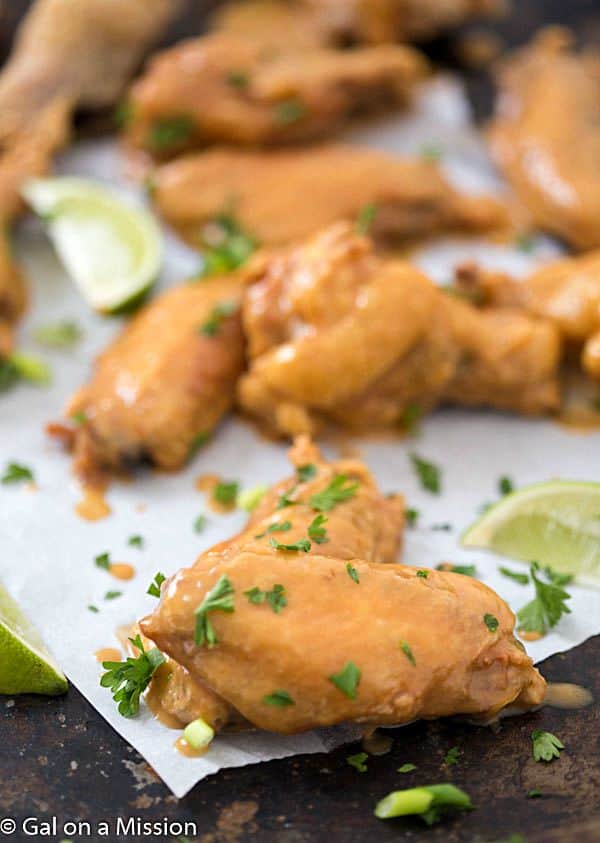 It's perfect for peanut butter smoothies and perfect as a baking alternative. Think peanut butter blondies with less fat, I'm in.

Crispy Baked Chicken Wings with Peanut Sauce
Author:
Chelsea @ Gal on a Mission
Ingredients
Chicken Wings
1 tablespoon oil
4 pounds wingettes and drumettes
2 tablespoons baking powder
¾ teaspoon salt
Peanut Sauce
1 teaspoon fresh ginger, grated
1 tablespoon lime juice
1 tablespoon honey
1 tablespoon sriracha
2 tablespoons soy sauce
3 teaspoons sweet chili sauce
⅓ cup creamy peanut butter
⅓ cup filtered water
1 tablespoon Jiff Peanut Power
Instructions
Chicken Wings
Preheat oven to 250 degrees. Place aluminum foil on top of a large baking sheet, place a cooling rack on top of the aluminum foil. Grease the cooling rack with the oil, I used canola oil. Set aside.
Add the wingettes and drumettes to a large ziplock bag. Add the baking powder and salt into the ziplock bag, seal and shake to coat the wings. Place the wings on top of the cooling rack.
Place the oven rack on a lower shelf. Bake for 30 minutes.
Preheat oven to 425 degrees. Place the oven rack on a high shelf. Bake for 20 minutes. Rotate the baking sheet, and then bake for another 20 minutes.
Peanut Sauce
Whisk together ginger, lime juice, honey, sriracha, soy sauce, sweet chili sauce, peanut butter, water, and peanut powder in a medium-sized mixing bowl.
Drizzle the sauce on top of the chicken wings or dip the chicken wings in the sauce.
This is a sponsored conversation written by me on behalf of JM Smuckers. The opinions and text are all mine.