A refreshing and amazing coconut cucumber limeade ice pops that are a perfect summer treat! 
For some reason, this summer I have been craving lemonade and limeade or anything that is refreshing. It hasn't been a super-hot summer here at all. I would say a very mild one, which doesn't happen very often.
At our local grocery store they were having a fantastic sale on limes and cucumbers. We always try to stock-up on items like that when they go on sale. Do you?
Speaking of limes, in our area the price of limes shot up like crazy for cinco de mayo. I couldn't believe it! Did that happen in your area as well or we just the unlucky ones?
I was at first thinking of making a cucumber limeade drink, but I thought adding coconut water and making them into ice pops would be perfect!
When we first got married back in April of 2013, we purchased a lot of items at Ikea and I completely forget we purchased these cute little ice pop containers. I missed out on making ice pops the beginning of summer, so I think I will have to make it up.
When usually means, we are having ice pops for breakfast, lunch, and dinner. 🙂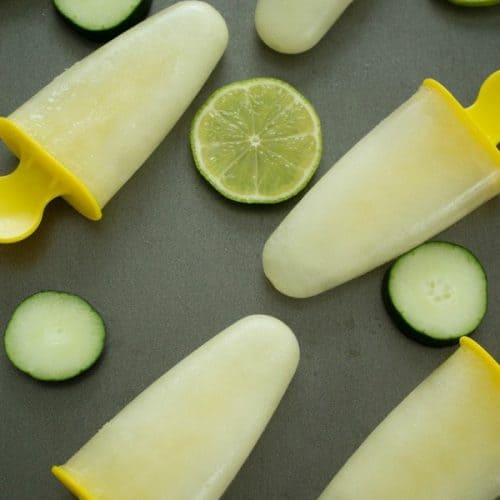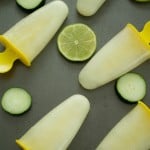 Coconut Cucumber Limeade Ice Pops
Ingredients
1

cup

coconut water

2

tablespoons

granulated sugar

or any kind of sweetener you prefer

2

medium limes

1

large cucumber
Instructions
Combine the coconut water and granulated sugar, or any kind of sweetener you prefer, in a large pot and turn the stove to low-to-medium heat. Keep stirring until all of the granulated sugar has melted. Set aside.

Juice both of your limes and dice the cucumber into chunks.

Combine the sweetened coconut water, lime juice, and cucumber chunks into a large blender and blend until the cucumbers are pureed.

Strain the mixture and pour into ice pop molds. Freeze for at least 6 hours, overnight is best.