Healthy cilantro lime squash fries that are easy to make and are super-delicious! Perfect for snacking or as a side dish! 
During the summer, I love on squash and zucchini. I can never seem to get enough of it. Well.. I know why I love it so much, it's inexpensive in the summer because it's in season, it's delicious, and you can do so much with it.
The possibilities are endless. You can be as creative as you would like and it still tastes fantastic! Okay, I might take that one back now. The hubby might get his hands on his and ruin it.
I am saying this because he cannot cook anything at all. He's tried and tried. It's okay because I would rather do all of the cooking. Does your hubby help out withe cooking? If so, is he pretty good at it?
Did I mention how healthy this squash is? It only requires a couple of ingredients that you probably already have in the pantry or fridge. During the summer, there is always fresh cilantro in the fridge. If you do not have that, it's pretty inexpensive.
The other day at the store, I think it was around $0.68 for a bunch, something like that. I love it!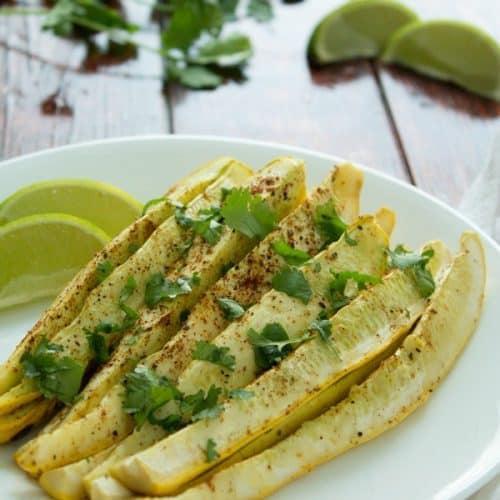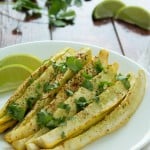 Cilantro Lime Squash Fries
Ingredients
2

medium squash

quartered

⅛

teaspoon

dark chili powder

¼

teaspoon

garlic powder

¼

teaspoon

ground cumin

pinch

of salt

pinch

of pepper

½

lime

juiced

cilantro
Instructions
Preheat oven to 350 degrees and line a baking sheet with parchment paper. Place the quartered zucchini on top.

In a small bowl, mix together the dark chili powder, garlic powder, cumin, salt and pepper. Set aside.

Pour the lime juice on all of the zucchini and sprinkle on the spice mixture. Bake for 15 minutes. Broil for another 4-5 minutes or until slightly brownies. Garnish with fresh cilantro.